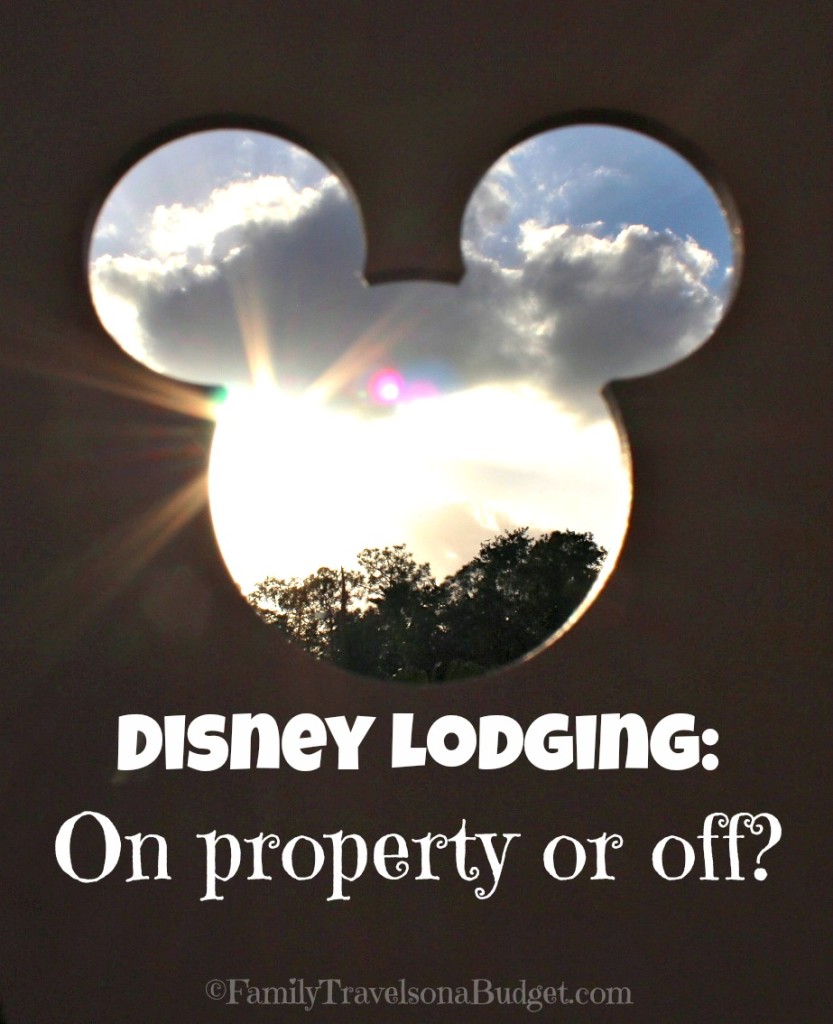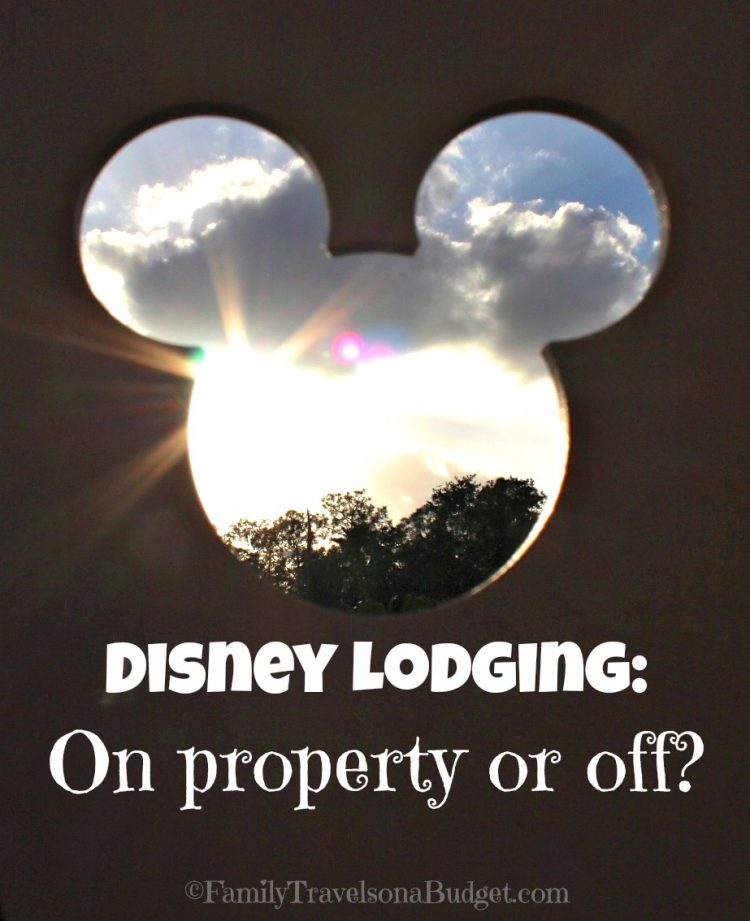 So, you're going to Disney!
Will you stay at a hotel at Disney or will you stay off property? There are so many great hotels in Orlando that this is one of the hardest decisions to make.
We've been to Walt Disney World at least 20 times, and have stayed on property and off property. You'll have a great vacation no matter what you choose. But to decide what's best, we made a list of the pros and cons for Disney lodging options both on and off property to help you decide.
If you have questions, leave a comment at the end of the post! Or ask on Facebook or Twitter!
Disney Lodging: On Property
Disney offers a wide variety of
resort options
on property for visiting guests. The value resorts like All Star Movies, Sports and Music cost around $80-$160 per night depending on season. Peak season includes Christmas week, Thanksgiving week, Spring Break (March-April). The best value season and rates are offered in September. Luxury resorts such as the Animal Kingdom Lodge begin around $260/night and can run up to $500/night or more. These resorts offer more space, more luxurious amenities and nicer views than value properties.
Advantages of staying on property:
Convenience. Because the resorts and parks are part of the same system, guests who stay on property benefit from free Disney transportation by bus, boat or monorail to and from the parks. Also, room keys/magic bands can be used to charge purchases of food and souvenirs, no wallet needed.
Complimentary airport transfers through Disney's Magical Express. Guests tag their luggage at home, check it in at the departure airport and it's delivered directly to the room.
Disney Dining Plan savings and convenience. Amusement park dining can be expensive, and Disney is no exception. The Disney Dining Plan, available only to Disney resort guests, offers prepaid, discounted dining options. The quick service dining plan, offering two quick meals and a snack each day, offers a 10% savings over regular prices. The deluxe dining plan, offering up to three meals and two snacks per day, offers up to a 35% savings over regular prices.
Guaranteed park entry. Disney hotel guests have access to the parks, even when the parks close due to full parking lots. During peak season, this can become a factor.
Extra Magic Hours. Disney hotel guests have more time to play, because parks offer early entry and extended evening hours to resort guests. Especially important during summer heat and peak vacation seasons, resort guests can visit the parks before they get crowded, head back to the resort to take a nap or play in the pool, and return to the parks in the evening when they're less crowded.
Vacation package discounts. Guests staying on property get the "best" Disney vacation package offers, including tickets, meal plans and extras. Off property hotels might include theme park tickets, but they do not include meal plans and other extras.
Book Fastpass experiences 60 days before travel. Guests who stay on property get first dibs at booking fastpass reservations.
Disadvantages of staying on property:
Cost. Staying on property is expensive compared to similar hotels off property.
Slow transportation. Using the Disney transportation system means lines for buses back to hotels, especially at park close or when the weather is bad. The shuttles run a regular schedule, but it can take up to an hour to get to the parks from your hotel.
All Disney, all the time. The theme never ends! (Kind of like the song from "It's a Small World" — once you ride, it's with you all day!)
Disney Lodging: Off Property
The greater Orlando area, second only to Las Vegas in the number of hotel rooms available, offers a wide variety of hotel options to guests, many less expensive than Disney hotels. Why stay off property?
Advantages to staying off property:
Planning to visit other places in Orlando. If your itinerary includes Sea World, Universal Studios or other Orlando sites, why pay the premium price for the convenience of staying on Disney property? Instead, book a hotel or vacation home convenient to everything planned. Many resort hotels offer free shuttles to Universal, Sea World, the outlet malls and more.
Suites for less. While Disney offers vacation villas — suites with bedrooms, living area, kitchen and laundry — they are pricey (can run more than $400/night). All suite hotels offer similar space at lower prices off property. For instance, Buena Vista Suites offers two rooms (living room with sleeper sofa and bedroom with two queen beds sleeping six) with complimentary breakfast and hotel shuttle to the parks for as little as $79/night. Prices can run higher. The Residence Inn by Marriott offers two room suites for about $119/night, and Marriott rewards members earn points for stays. Vacation homes offer all the comforts of home, usually including laundry and a private pool, for about the same price as a hotel room.
Disadvantages to staying off property:
Driving in Orlando. With so many tourists, driving in Orlando takes great patience. The roads are crowded! It takes forever to get anywhere in the tourist zone.
Parking at Disney. It costs $20/day to park at Walt Disney World. While many hotels offer "shuttles" to the parks, they don't run very often and many require a fee to use. One resort had a $7/person fee! Yikes.
Book fastpass experiences 30 days before travel. On property guests get first dibs at fastpass experiences, which matters most when traveling during peak season.
Fewer hours in the parks. There are no extra magic hours for off-property guests.
Disney Lodging: Money Saving Tips
Those guests arriving by car in Orlando during evening hours might consider staying off property at a standard hotel the first night and staying on property the rest of the trip. Why pay the premium price for an on property stay without being able to appreciate the benefits of the Disney Parks and resorts? Consider using Groupon or other hotel discount sites to book a room for arrival night.
Happy travels.