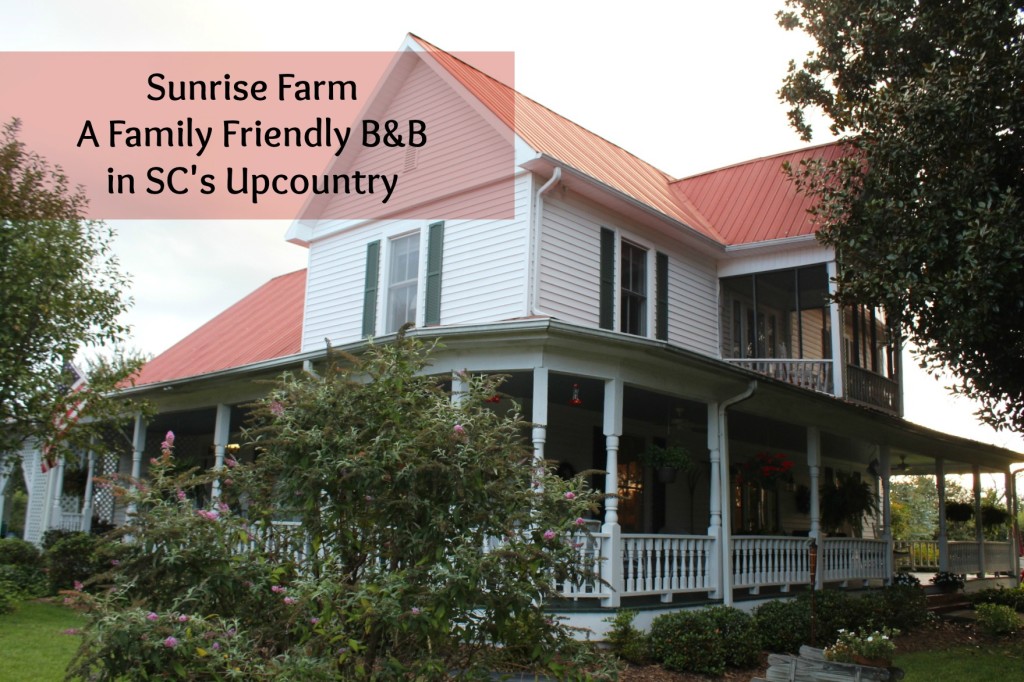 Last weekend, my husband and his three brothers had their annual "brocation" (brothers' vacation) weekend and it was our turn to host. I love my brothers-in-law tremendously, and the last thing I ever want to do is infringe on their brotherly bliss, so the kids and I packed our bags and headed west, to the Sunrise Farm Bed and Breakfast. Owners Jeff and Julie have been here for seven years and are the third owners of the B&B.
The Farm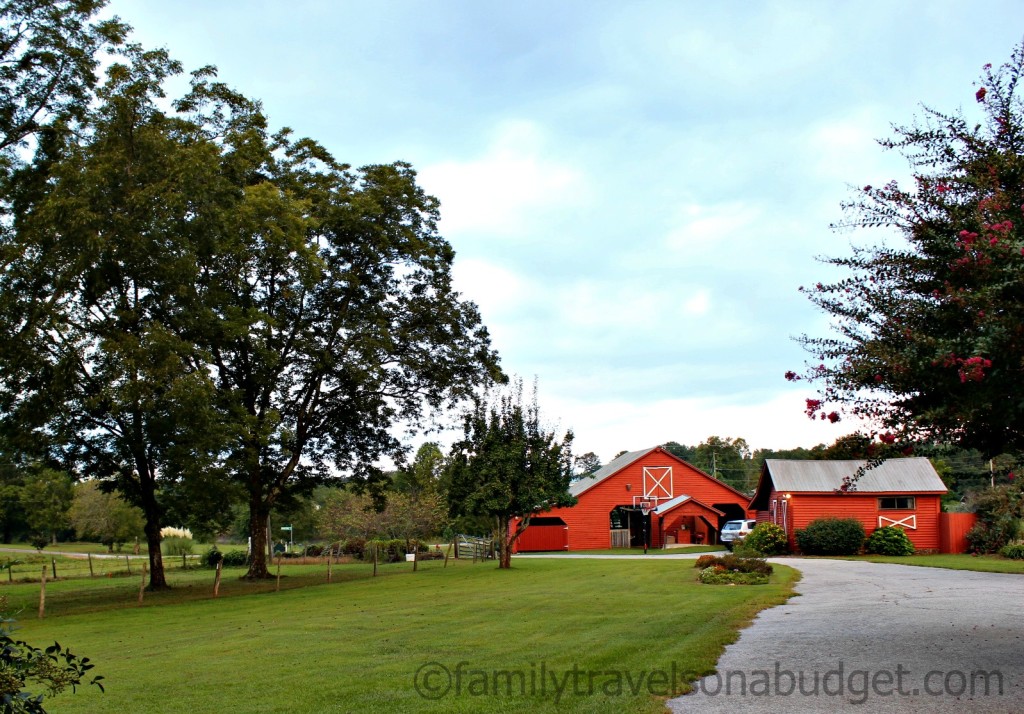 Sunrise Farm,  a family friendly B&B located in South Carolina's "upcountry," sits on ten acres in Oconee County in the northwest corner of South Carolina (about 25 miles from Clemson University). The farm is home to llamas, goats, sheep, miniature horses, a pig, several cats and the family dog, Buddy. Everyone but Buddy lives outdoors.
On arrival, we were greeted with fresh baked cookies. Julie took Ben and me on a tour of the house while Ellie fed the animals with Jeff. She showed us the public areas first and explained how everything worked. Upstairs she showed us the snack area and then our room. She explained how to use the remote, the switches in the bathroom and the latches on the antique wardrobe.
Ellie enjoyed feeding the goats and sheep so much that she woke up bright and early Saturday morning to help again. And she did the same thing Sunday. My little diva turned cowgirl in no time! The animals are friendly and well-mannered… at least as well-mannered as pigs and goats can be!
Besides the animals, there's a basketball hoop. Yes, Ben was ecstatic! There's plenty of lawn space to enjoy frisbee or catch.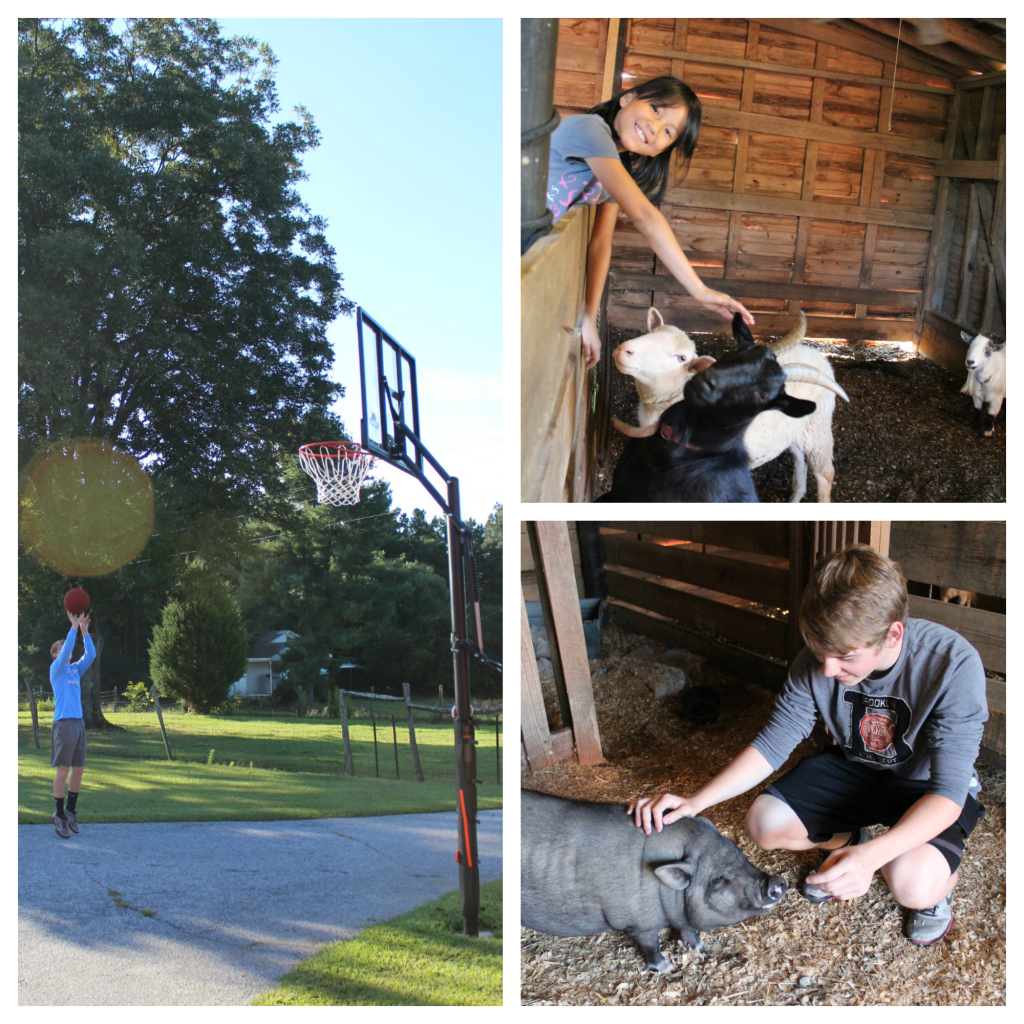 The Accommodations
I've always been reluctant to take my kids to a B&B because so many involve shared walls and/or bathrooms. While that works for some, it's not that great with kids. At Sunrise Farm, all accommodations are separate — no shared walls — and have a private bath.
We stayed in the Hummingbird Suite, at the front of the house with a great view of the barn. My kids were curious about the room's name. No, it does not include caged hummingbirds. The birds are plentiful on the farm and there's a nod to them in the room, but no live birds!
Besides the Hummingbird Suite, there's another suite across the hall and a large, two-bedroom suite at the back of the house, that includes a private sitting area and sleeps six. On the main floor, there's a dining room which comfortably seats eight and a living room with lots of seating, a flat screen TV, movies, and a fireplace. It's bright, sunny and comfortable. The entire house is tastefully decorated, but not as cluttered or heavy as some B&Bs I've visited. In other words, I didn't worry about the kids breaking things! Phew!
Sunrise Farm B&B offers two separate cottages as well. The "Corn Crib" has room for only two guests. Besides the sleeping area, there's a private bathroom, kitchenette, dining area, sofa and private bath. It also has a private, trellised porch with chairs, bistro table and grill. This is definitely the place to stay for a romantic weekend! Ellie, my future journalist, reports that they deliver breakfast to the Corn Crib!
There's a larger cottage on the grounds, as well, and dogs are welcome to stay in cottage suites. Next trip, I'm taking Daisy!
For photos of the suites and rental information CLICK HERE.
My favorite part of the house is the wraparound porch. It's open and inviting, just like a farmhouse porch should be! Bring a book — or borrow one — and enjoy quiet, relaxing hours in the fresh mountain air.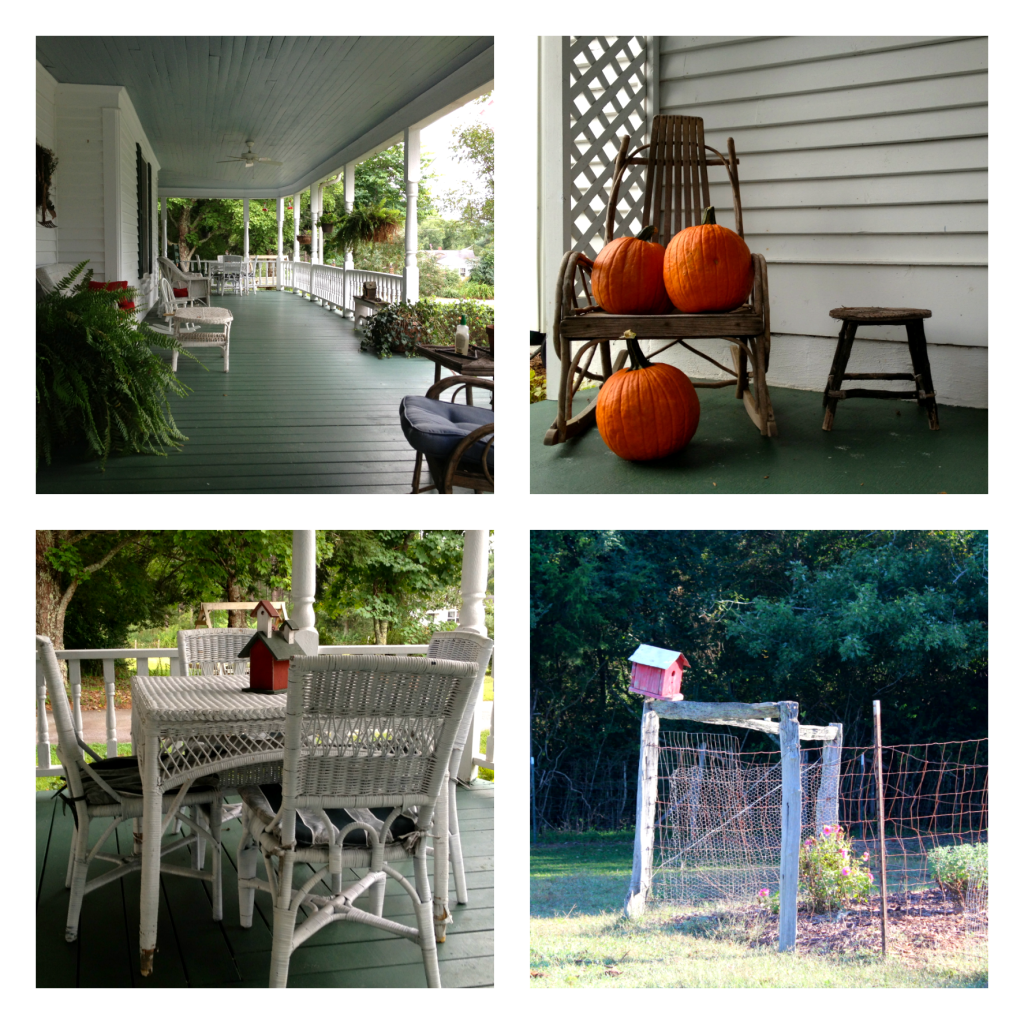 The Food
Regular readers know that we are a foodie family. Sunrise Farm B&B did not disappoint in that department either. Of course, fresh baked chocolate chip cookies on arrival sets a great tone when it comes to food! They also provide a Keurig for coffee and tea 24 hours/day, a snack area upstairs with breakfast bars, popcorn, soda, water and a bottomless cookie jar.
Breakfast was delightful. The first morning, we enjoyed banana butterscotch bread, apple pancakes with homemade apple-cider syrup, eggs and fresh fruit. Ben noted that the meal was balanced with grains, fruit and protein. He also said we need to step it up on weekends at home.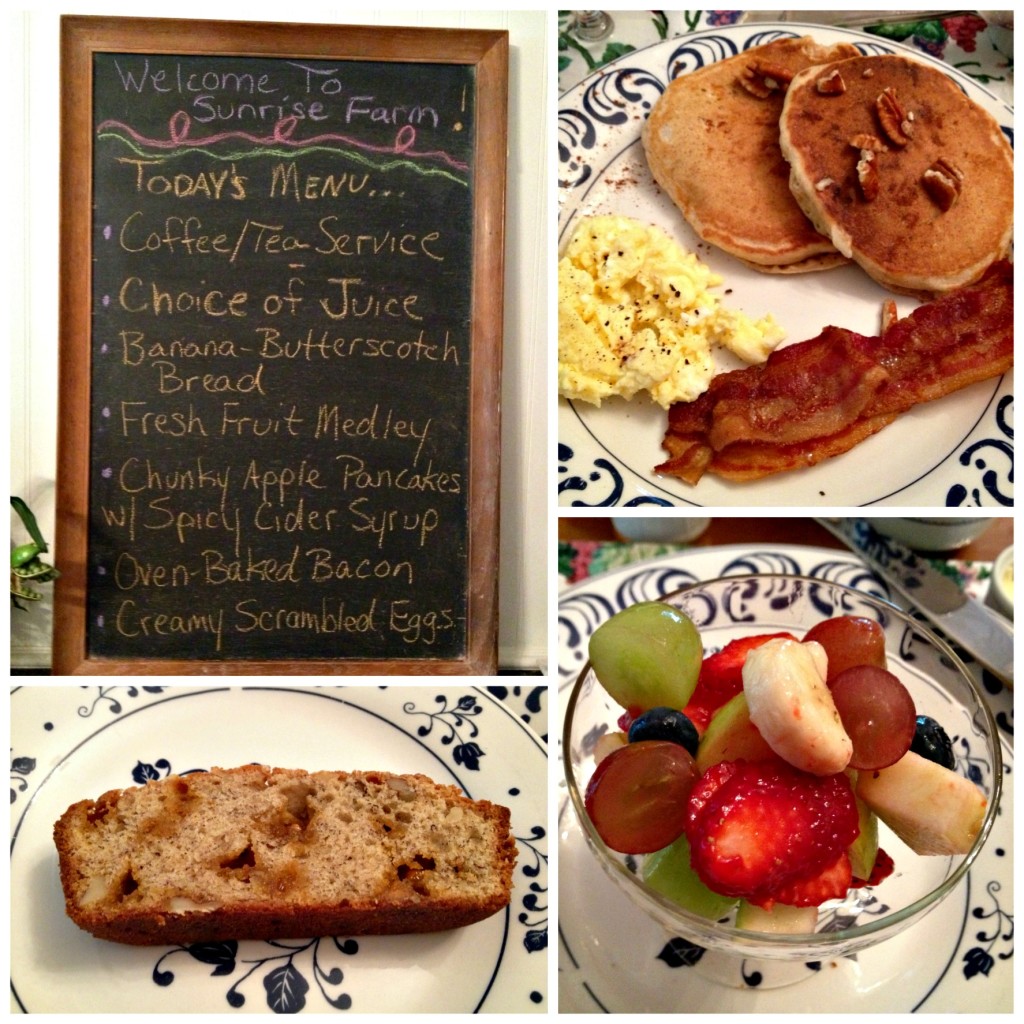 Sunday morning, Ben brought me a cup of coffee while we were getting ready for the day. As he entered our room, he gushed, "We're having coconut-chocolate chip muffins today!" I asked if he had snuck into the kitchen, and he said, "No. I read the menu board… but mom, coconut-chocolate chip muffins." Besides the muffins (which were my favorite food of the weekend), we enjoyed eggs, ham, and melon.
One thing I really enjoyed was the change in plates from one day to the next. Such a little detail, but it exemplifies the meticulous thought that Julie and Jeff put into the guest experience at Sunrise Farm.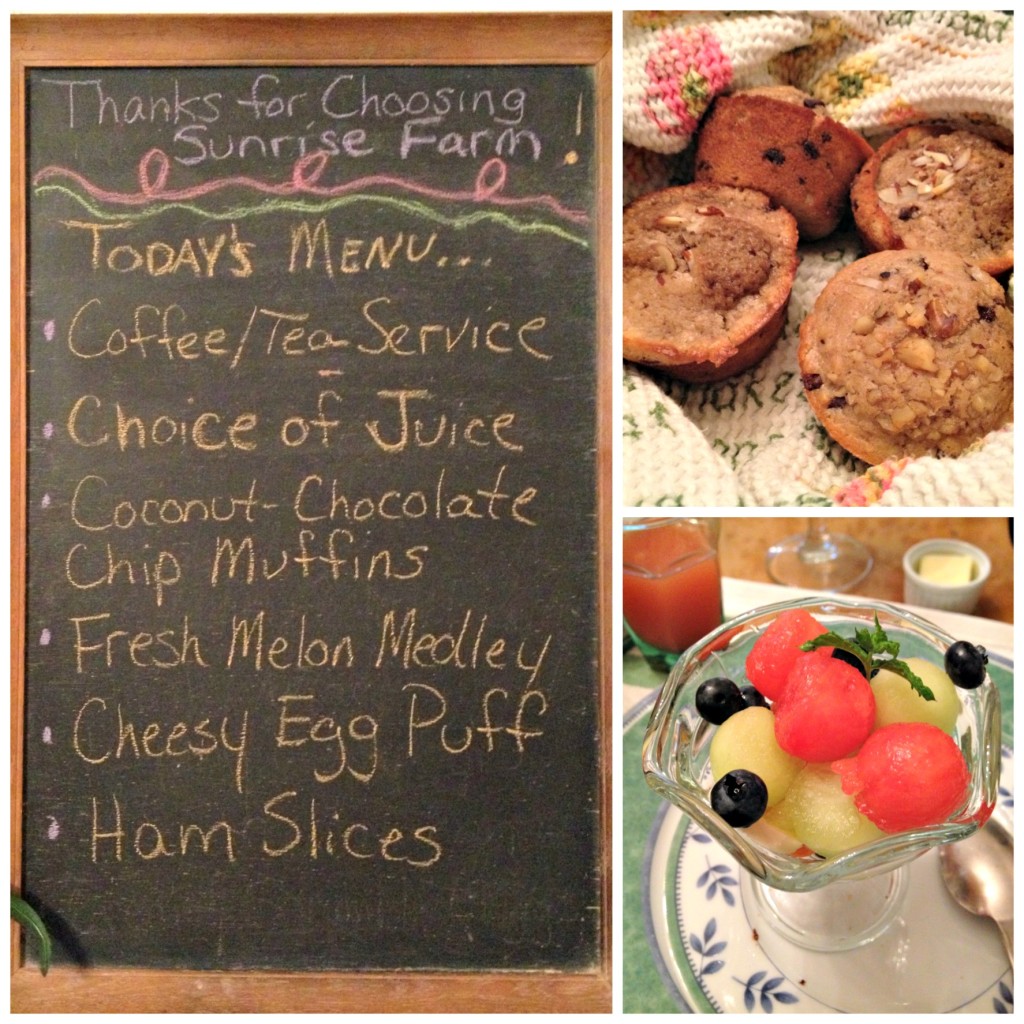 Visiting Sunrise Farm B&B
Location and Contact Info
Sunrise Farm B&B is located at 325 Sunrise Drive, Salem, SC 29676.
Phone: (864) 944-0121
Email: sfbb@bellsouth.net
Website: sunrisefarmbb.com
Reviews and Recognition
Reviews are available at TripAdvisor (58 5-star and 3 4-star reviews. None lower) and bedandbreakfast.com (score of 4.9 out of 5 based on 177 reviews).
Sunrise Farm B&B is inspected and approved by the South Carolina Bed and Breakfast Association.
Tips and Advice
We enjoyed our stay, thoroughly. I include this information to help you determine if a visit to this bed and breakfast would be appropriate for your family.
The main house at Sunrise Farm B&B is an authentic farm house built in 1890. The floors squeak, which is part of its charm. Families with light sleepers might not like that feature, though.
The stair rail in the main house is original to the house, and is lower than "standard" stair rails.
The steps leading up to the wooden porch are made of concrete — which means they're sturdy, but that can be dangerous for little ones.
The cats do roam freely outdoors — but have you ever seen a cat you could contain behind a barnyard fence?
A pack-n-play is available for little ones.
The suites include bathtubs, which is great for families.
They will address food allergies. Be sure to mention that at the time of your reservation.
Breakfast is served in courses. It's not rushed like school day mornings, but is meant to be savored and enjoyed.
Ben and Ellie's Review
Ben (16) says, "Why haven't you taken me to a B&B before? This place is awesome." When I asked what he liked best, he said, "Everything." I pointed out that everything isn't the most helpful answer. He added, "I like the squeaky floors. It makes it feel so homey. I like that the basketballs were inflated and not mushy. I like how there's a big yard to play frisbee — and next time we come back (big breath) — we will come back, right? — We need to remember our frisbee. I loved breakfast and how we didn't have to rush to eat. And, there are 259 hummingbirds in the hummingbird suite. It can keep its name."
Ellie (9) says, "My favorite part was everything." (Really, kids? I need more than that.) When asked to elaborate, she said, "I liked meeting Anna best (another guest, age 9, visiting from California). Second best was feeding the animals and helping take the horses to their pasture. Third best was having my own bed. Fourth best was the food. And fifth best was (pause) just everything!"
Both my kids want to return and bring dad next time. And a frisbee too!
Have you ever stayed at a B&B with your kids? How did it go? If not, why not?
Sunrise Farm B&B allowed us to stay free in exchange for this article. The opinions stated herein are completely my own. For more information, see my disclosure policy.