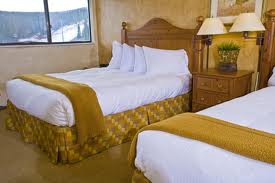 Standard U.S. hotel room
Vacation. Does that make you think cramped hotel room? Lots of dinners in restaurants? Kids, toys, clothes and junk everywhere? While the "traditional" hotel vacation is still widely used, there are so many other options out there.
When considering vacation lodging, the first thought that might come to mind is "hotel." In Europe, travelers spent an impressive, record-setting 1.6 billion nights in hotels in 2011. The cost of one night in a hotel in the U.S. averages between $90-$150, higher in major cities like New York and Los Angeles. Obviously, accommodation expenses dramatically affect a vacation budget.
Travel tip: A few years ago, I booked an inexpensive hotel room for an overnight stay on a car trip. We pulled up to our money-saving accommodations horrified to discover that the hotel was over-run by high school students in town for a state competition. Needless to say, we did not get the rest we hoped for that night! Sometimes, super-cheap should raise a red flag. I now know to call the hotel before booking that 70% discount to find out why they're offering the room for such a great rate.
A more costly hotel might offer improved comfort and views. The drawback, of course, is that the more you spend on lodging, the less you have to spend on other activities like dining, shopping and excursions.
When planning your vacation, consider these factors when choosing the best lodging:
how many people are traveling?
how much time will you spend in the hotel room? (just for sleeping or will you relax there too)
do you plan to eat all your meals in restaurants? (particularly important for families with young children or large groups)
does anyone have special needs? (little kids who need naps or elderly relatives who need some privacy to relax)
Lots of lodging options!
There are so many different vacation lodging options out there that you shouldn't have to settle. To make your decision making easier, we've got the pros and cons for major lodging choices out there.
Hotels
– Available around the world.
Advantages:
Easy booking through the internet, by phone or walk-in
Discounts easily obtained through travel sites like kayak.com, priceline.com, hotwire.com and expedia.com (others are available as well)
Reward programs (such as Hilton Honors and Marriott Rewards)
Predictable accommodations, especially within a chain (though not always. See below)
Customer satisfaction is often guaranteed (A hotel recently refunded the cost of our overnight stay because the shower rod was loose and the curtain would not stay closed.)
Amenities: daily maid service, free wifi (often), workout equipment, pools, free breakfast (varies by hotel and location)
Disadvantages:
Space is limited
No kitchen (most hotel chains)
"Sterile" (Hotel chains tend to offer the same basic furniture. You don't experience the culture of the location)
Can be expensive (Especially in Europe and Asia where rooms are small. A family of four would need to book two hotel rooms or pay a premium for a larger suite)
Inconsistency within a chain (The quality of accommodations and service is impacted by local management)
Camping
– Yes, camping! The adventurous might consider tent camping. Those who are less adventurous, like me, might consider staying at a
KOA
(Kampgrounds of America) location or in a cabin at a state or national park.
Family friends took a three week trip through the western U.S. staying in KOAs along the way. Staying in KOA cabins, they had more space and privacy than a hotel offers. They also could cook meals, relax by the fire in the evening, and wash laundry. A KOA value kard, the VKR, offered them a 10% discount for each night, further adding to their savings.
My extended family, brothers and sisters, cousins and grand-parents, held a reunion at a state park in South Carolina recently. Each family rented a cabin that suited their size and needs and none was more than $60/night. We met for cookouts in a central area, hiked the trails, biked the back roads and fished in the pond (catch and release). The slow pace and wide open spaces gave everyone time and space to connect on a new level.
Advantages:
Less expensive than hotels
Adventure is included: hiking, swimming, and biking are readily available. Some state and national parks offer horse-back riding, fishing and more
Quieter than a hotel (generally)
Space
Relaxed
Great for groups
Disadvantages:
More rustic
Off the beaten path (though this is sometimes an advantage!)
Fewer restaurant options
A bit harder to research
Limited accommodations available, so plan in advance
Apartment or home rentals
– When planning a longer trip (six nights or more), staying in a major city, or desiring more space, an apartment, house or condo rental might be a good option. Sites like
homeaway.com
and
vrbo.com
make finding the perfect vacation home easy. Just use your due diligence — look at reputation of the owner and read reviews of the property before you sign on the dotted line. It also helps to locate the residence on a map and make sure it's convenient to the places you want to go.
On our trip to Paris, France, the cost for two hotel rooms (approximately 300 square feet total) per night would have been $350-$600 US, for a "two star hotel." For seven nights, the cost would have been a minimum of $2,450, not cheap! Instead, we booked an apartment (living room, dining room, kitchen, split bath, two bedrooms and free laundry) in a neighborhood near the Eiffel Tower and paid only $1050 for the entire stay. We enjoyed leisurely coffee and breakfast in the morning, late evening snacks at home and carried less luggage since laundry was on site. AND, we got to experience life the way Parisians do rather than be set apart in a touristy area.
Advantages:
More space, including kitchen, living area, sleeping quarters
Unique accommodations (of course, this might be a disadvantage for some)
Neighborhood setting where you can experience what it's like to really live in that place
Less expensive than hotels
Save on food by preparing some meals at "home"
Disadvantages:
Unique accommodations (no two "homes" are the same)
Researching apartments takes time
No travel rewards program for free stays
Some require that you bring your own linens, bath soap/shampoo, etc.
Bed and Breakfasts
– Especially for individuals or couples, a bed and breakfast might be desirable, especially in smaller communities that don't offer much else.
Advantages:
Breakfast is included
Unique accommodations
Off the beaten path (and some are available in big cities as well)
Personalized attention
Disadvantages:
Inconsistent quality (some are better than others)
No travel reward program for free stays
Some research is required to make sure you understand what you're getting for the price
Not all offer private bathrooms
Not necessarily less expensive than a hotel
To make the most of your travel accommodations, know what you need (space, amenities, and cost). Consider all the options that might meet your needs before making a decision. Then choose, based on what best meets your needs and fits your budget.