Last week, I ventured to Zihuatanejo,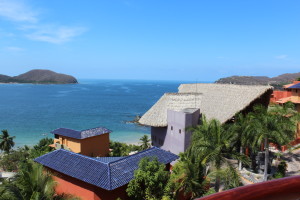 Mexico with a long-time friend and her kids. Since January we counted down the weeks, days, and hours to the beach. I flew into Atlanta, to join them for the rest of our trip….
Well, that was the plan anyway.
After landing in Mexico City, we passed through customs with a few minutes to spare. YAY! We tossed our luggage on the conveyor belt and headed toward the next gate. Almost there. Then… WHAM!
The security officer wouldn't let my friend or her family pass. Somehow, they weren't issued boarding passes for this leg of the trip! Their luggage passed through just fine, but not them. I took her carryon to speed their time through security and headed toward the flight.
Of course, explaining why I had two computers with my limited Spanish wasn't easy… I finally settled on, "Mi amiga esta en el baño." (My friend is in the bathroom.) That worked, though it cost me precious time.
Cleared with only minutes to spare, I shoved our computers into the bags, grabbed everything else and ran to the screens. I couldn't find my flight number, but with only one listed flight to Zihuatanejo, I ran for that gate… Of course, it was the last gate. It's always the last gate!
I boarded the flight and collapsed into my seat, out of breath. The attendants checked their watches, then the flight manifest, then their watches. Agony! I felt a panic rise up. NO! I glanced back at their seats — what? Did I think they'd magically appear? I asked the attendant if she could check on my friends.
She was sympathetic, but shook her head no. Slowly, she pulled the door shut, and the guys on the ground pulled the stairs away from our little plane to paradise. I did not cry. I breathed deep. I assessed my situation. I asked God for some help.
There I was, in Mexico as a guest. I hadn't planned the trip. This was my vacation from what I do — trip planning. I didn't have our reservation confirmation for the hotel or the confirmation for the cab. Worse, I had no idea where my friends were.
Across the aisle, Joy and Earl took an interest in my plight. They asked questions and offered suggestions. They were sympathetic and, smartly, encouraged me to enjoy my quiet evening. They reminded me that the airline would take care of my friends — while I knew that, their reminder helped. They helped me think through issues of luggage and transportation.
Upon landing at Zihuatanejo, a couple passengers offered suggestions on who to contact once I arrived at my hotel. One guy gave me his business card and told me to call if I needed anything. Joy and Earl stuck close as we arranged transportation. Could they tell I was nervous about heading off into the Mexican sunset alone with my taxi driver?
Of course, it all worked out. The taxi driver was courteous and introduced me to his beloved Zihuatanejo. I settled into the hotel and enjoyed my incredible, albeit lonely, view. The next day my friends arrived and vacation officially began!
In those critical moments, when I felt so very small and alone, Joy and Earl became my travel buddies. I will always remember this kind couple from Brooklyn, New York. They were the best travel companions a girl could ever have!
Joy and Earl, my travel companions, taught me of three things:
Always be kind to fellow passengers. You might be on the receiving end one day!

Never panic! There's always a solution, but panicking isn't part of it.
New Yorkers get a bum rap! They are as nice as anyone. (Had to throw that in there!)
If you happen to know Joy and Earl from Brooklyn, please pass along my thanks! Maybe you could share this on facebook with all your friends in New York? Let them know there's a great restaurant in Zihuatanejo that they should consider…. It's called Temptaciones.
Like this post? Please share!