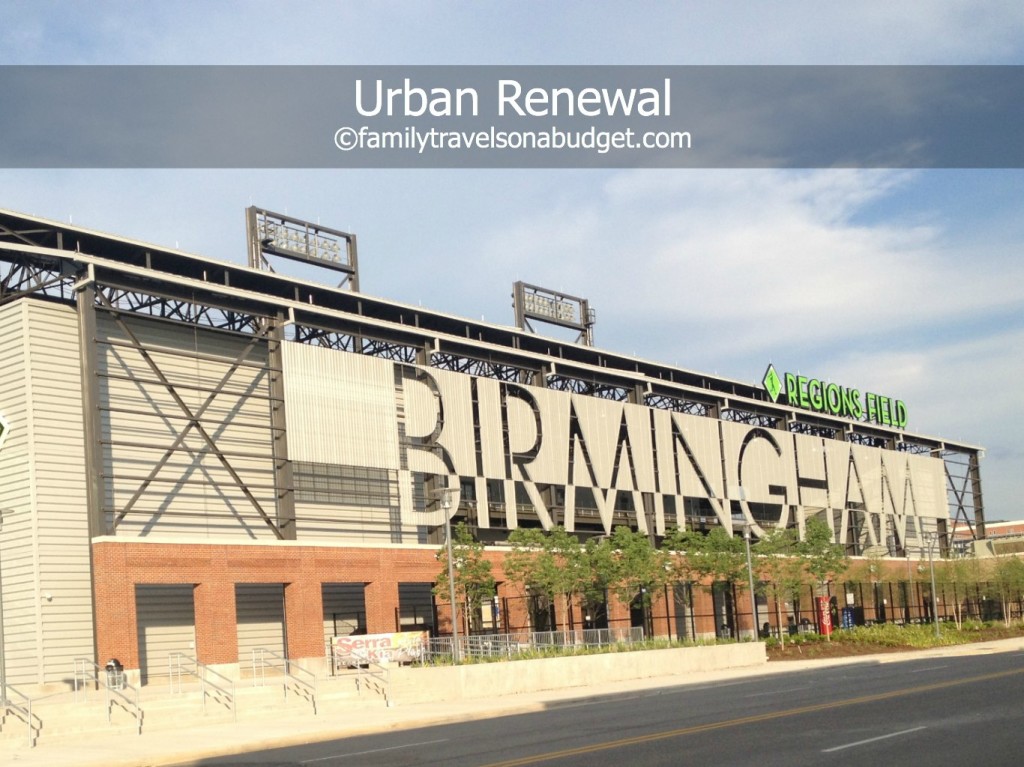 URBAN RENEWAL (noun) • a construction program to replace or restore substandard buildings in an urban area.
The whole idea of urban renewal fascinates me. I'm drawn to cities like Raleigh, NC, Columbus, OH, and Nashville, TN which have successfully redefined the urban landscape to create family friendly city centers worthy to visit. These cities have incorporated green space, many with water playgrounds for the kids, ball parks, fitness areas and free concert space. Restaurants, multi-family housing and vibrant shopping areas mean there's something for everyone "downtown." Today's vibrant city centers offer family friendly hotels — the city center isn't just for business and conventions anymore!
Urban renewal?
Before 2011, suburbs had consistently outpaced big city growth since 1920, with the rise of the automobile. Today, "cities have become more appealing to young people, with more things to do and places to see," said Mark Obrinsky, chief economist at the National Multi Housing Council, a Washington-based trade group. "Many of the cities are committing themselves to regrowth and development, and in newer cities like Dallas we're beginning to see new restaurants, bars and apartments in the downtown areas that put it a bit closer to being a 24-hour city." (Washington Times, author Hope Yen)
Early urban renewal efforts didn't work well in part because cities and states used eminent domain to take land and repurpose it, destroying established neighborhoods (Wikipedia). Today's urban renewal programs are more thoughtful, focused on renovation of existing neighborhoods and investment in new business, housing and entertainment offerings to enhance and revitalize existing areas.
Urban Renewal in Birmingham, Alabama
I lived in Columbus, Ohio as the city underwent its urban renewal. I moved to the Raleigh, NC area about 12 years ago and have watched the city recreate itself. Because my son attends college in Birmingham, Alabama, I'm privileged to have a "front row" seat as I watch this beautiful city redefine itself through urban renewal. The more time I spend in cities like these, the more I appreciate America's mid-size cities as a place to vacation — and even to live!
Birmingham is called "the Magic City," built specifically to compete with northern steel cities, it "magically" appeared seemingly overnight. The city was intentionally built with broad roadways and a practical layout centered around the railroad line to move steel in and out efficiently. Everything in early Birmingham led to its success as an urban factory city. When the demand for steel declined, so did the city's economy. Racial conflict also hurt the city — understandably. Like other cities, Birmingham's survival is directly tied to successful urban renewal.
Birmingham's Urban Renewal Plan
The cornerstone of Birmingham's urban renewal plan is Railroad Park, developed on land formerly home to neglected warehouses and brick making sites. Railroad Park offers walking paths, wide open spaces to run and play, a water fountain to play in, plazas and ponds. It connects the declining north side of the city with the vibrant, university centered south side to become the core of the city's revitalization plan. The park hosts outdoor movies, "the Crawfish Boil, which attracts a throng of 30,000 each year, or crunk fitness. It's even encouraging healthier lifestyles." (Birmingham Urban Renewal) But enough talk…. Take a look!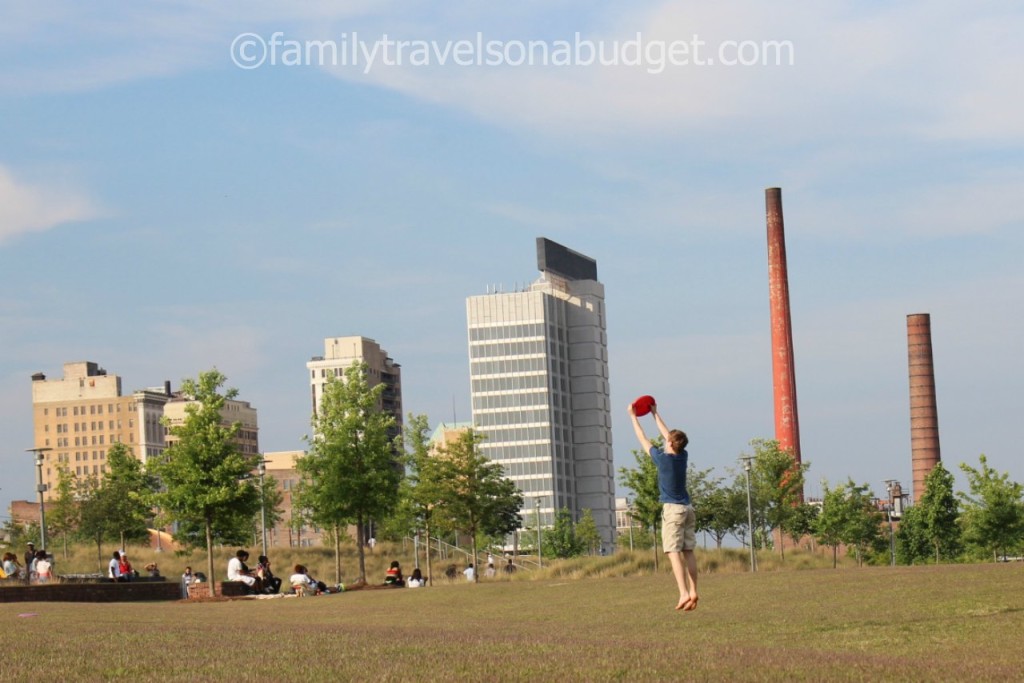 College Kids take a break to play frisbee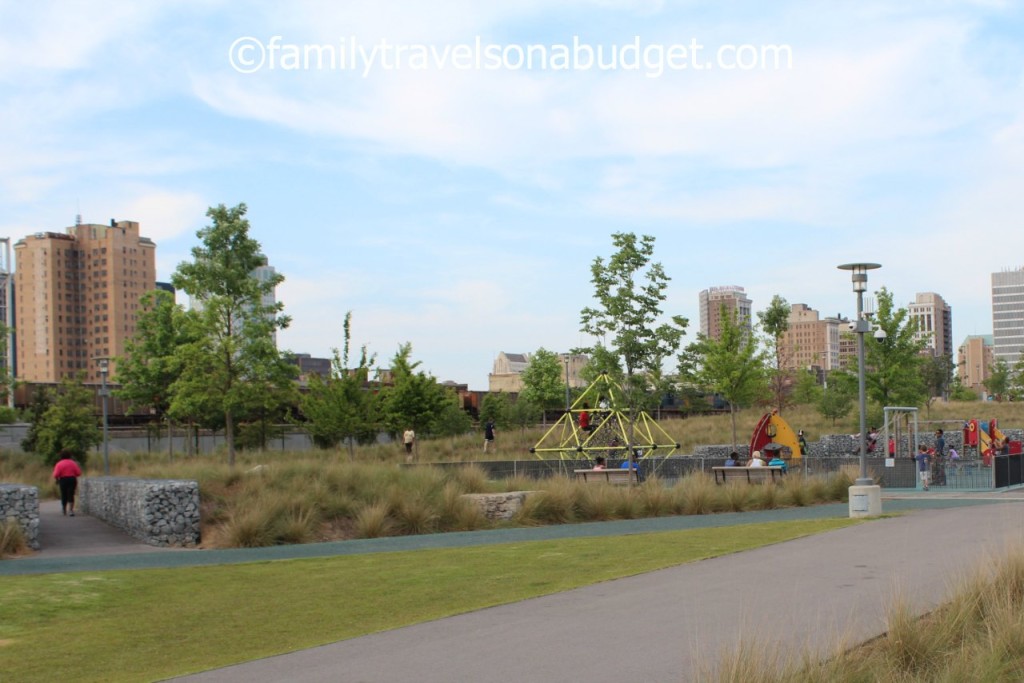 Set against Birmingham's banking giants, Railroad Park's walking trails and playgrounds
Couples, Kids and Dogs enjoy the wide open space next to the Birmingham Barons ballpark
"A lot of people didn't think they could do this," Leader says. "Birmingham has an inferiority complex. It was a Civil Rights battleground and had a lot of inertia in terms of organization. … [The park] did take five years, but it's been a real urban catalyst. That's something we always talk about, and sometimes it happens and sometimes it doesn't. In this case it did." (Birmingham Urban Renewal)
Urban Renewal and You!
Successful revitalization depends on you! Smaller cities have smaller budgets. Urban renewal means we have to look at cities differently and see the possibilities. When cities create park spaces, we need to use them! Go downtown. Enjoy the park. Take in a ballgame. Patronize local restaurants (not just the big chains). Look to America's mid-size cities as vacation destinations! YES, go and visit!
Better yet, visit your nearby mid-size city and enjoy all it has to offer… vacation at home! You save money on travel costs and your city gains tourism revenue.
Our city leaders are redefining their purpose, making cities a great vacation value. Take a look at the cities near you… when's the last time you took a look? Odds are, it's not the city you remember!
Let's talk… What's your favorite mid-size city? What makes it special? PLEASE share!