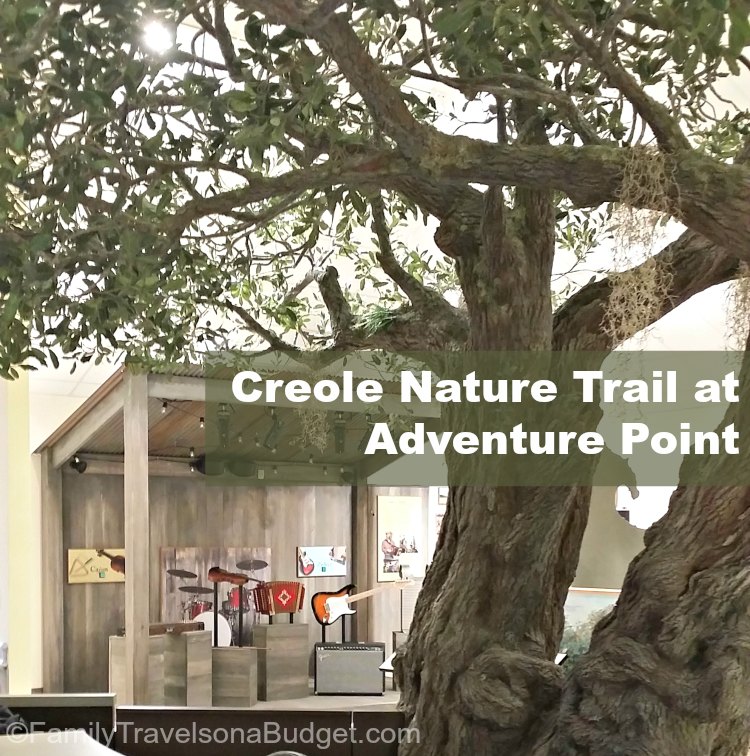 The Creole Nature Trail in
Southwest Louisiana
is one of the United States' designated "
All-American Roads
." With 180 miles of roadways, visitors can experience the culture, food, music, outdoor adventures and native wildlife of the region. I've explored portions of the trail twice and can honestly say it's unlike anyplace else in the world.
New in 2015, the Creole Nature Trail Adventure Point is a fun, free attraction along the western gateway of the Creole Nature Trail All-American Road. Designed to provide an educational, immersive experience showcasing Southwest Louisiana, the exhibits highlight everything from the marshland to the spices and music of the region. Each exhibit is informative, but also designed for hands-on exploration by kids — and kids at heart!
Shelley Johnson, executive director of the CVB, explains,
"While the Creole Nature Trail All-American Road is a destination unto itself, research shows that people are seeking authentic experiences when they travel. Much of what visitors see and experience along the trail, they cannot fully understand without a comprehensive orientation such as the exhibits offered at Adventure Point. The interactive displays are meant to be memorable, entertaining and educational, and we are thrilled to have an opportunity like this in our area so that others can embrace our unique culture and landscape before experiencing it for themselves."
Exhibits at Creole Nature Trail Adventure Point
Photos don't do this place justice as each exhibit at Creole Nature Trail Adventure Point is designed to fully immerse visitors in the culture of Southwest Louisiana. Dress in hunting gear. Sniff the spices used in Creole cuisine. Play the washboard — essential to the zydeco sound. Then, head out on the trail with the interactive app to explore the region and see it all again ~ in its real life setting!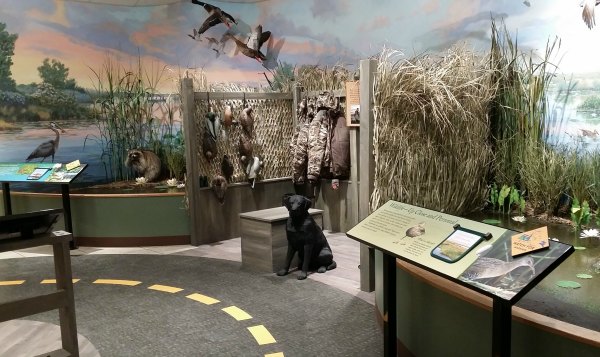 The "trail" winds through the exhibits, telling Southwest Louisiana's story.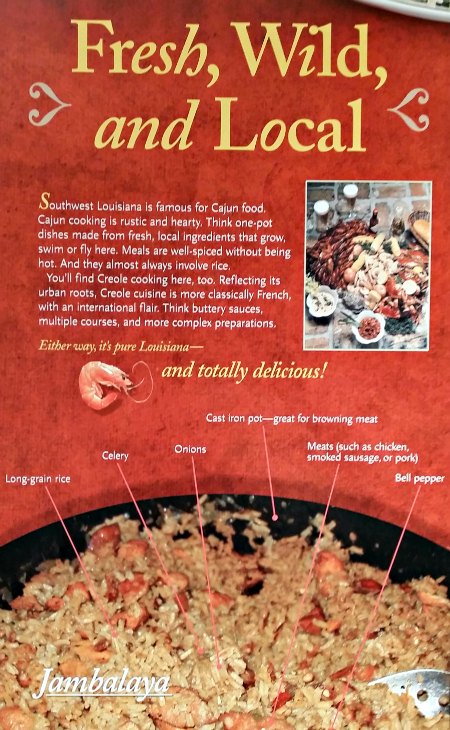 Generations of history combine to create this region's unique flavors. Visitors to Creole Nature Trail at Adventure Point learn what goes into Jambalaya.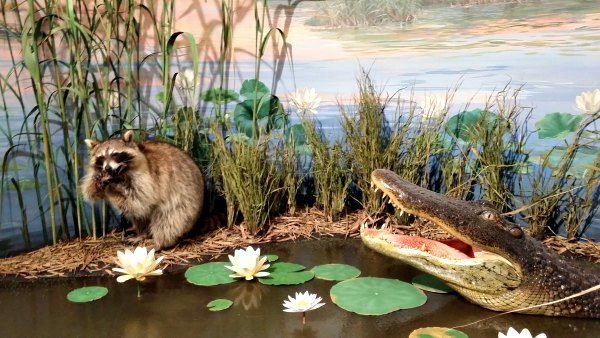 See the critters and plants of the marshland on display. This is the one place in Louisiana where it's okay to be a raccoon ~ that gator's already "stuffed."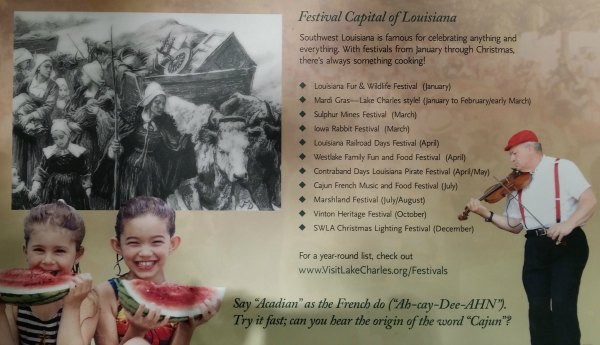 Ever since my first visit to Southwest Louisiana, I have appreciated the locals' dedication to fun! I'm not at all surprised that the people here are among the happiest in the United States. Whether celebrating at a festival or just cooking jambalaya at grandma's house, relationships and heritage are most important.
Plan your visit to Creole Nature Trail Adventure Point
Location: 2740 Ruth Street, Sulphur, LA 70665 (Near Exit 20 on I-10)
Hours: Monday-Friday, 8:30 – 5:00. Saturday-Sunday, 8:30-4:00
Admission: FREE!
Planning Tips:
If possible, stop here before exploring the Creole Nature Trail. It helps you understand what you see out there!
Allow 1-2 hours to visit the center.
Facility is air-conditioned (good for the deep south in summer) and has indoor restrooms.
Friendly staff are there to answer questions and assist with travel plans.
Handy Links:
CVB webpage for Creole Nature Trail Adventure Point (Updated information and photo gallery)
Louisiana Travel page (includes overview and Google Directions link)