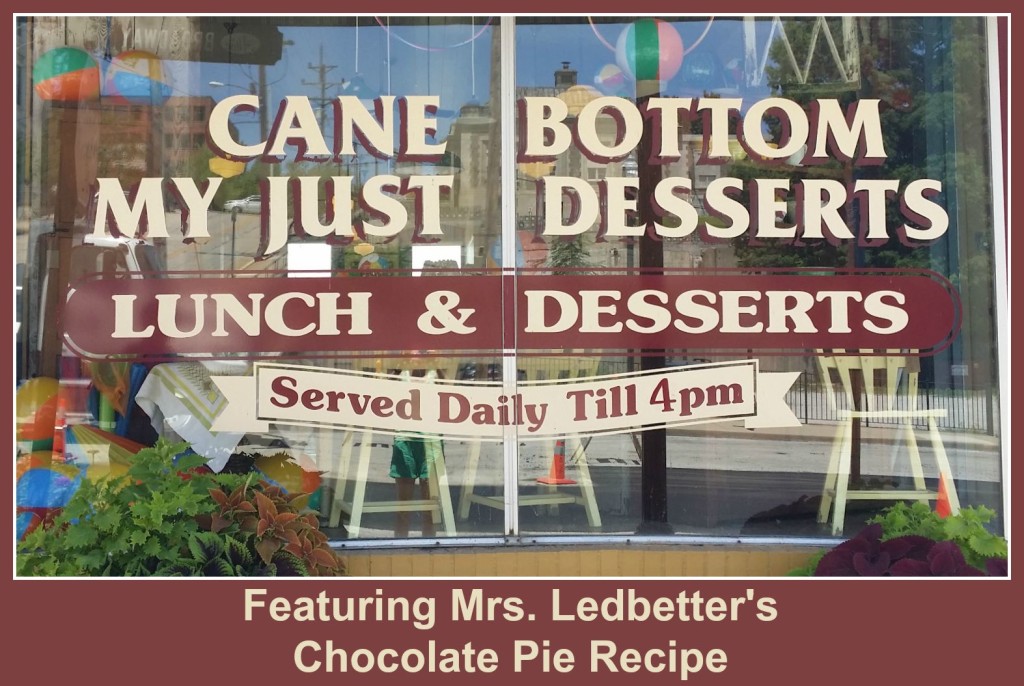 Yesterday, I shared my top ten list of reasons to visit Alton, Illinois and promised the recipe for Mrs. Ledbetter's Chocolate Pie. Ann Badasch, the owner of "My Just Desserts" has been serving this pie forever (or 1989… close to forever). And, while my version turned out quite tasty — sweet, crunchy, gooey  and coconut-ty, it wasn't quite as good as hers. Maybe when I make it 3,000 more times, I'll have the recipe mastered too.
Or maybe, this old-fashioned recipe just tastes better in its traditional setting, the historic Ryder Building, where Abraham Lincoln practiced law. Today, the building is one of the first stops on the historic Lincoln & Civil War Legacy Trail. The restaurant preserves much of that old, frontier town feel with quilts on the walls, creaky floors underfoot, and classic farmhouse kitchen tables for guests.
Perhaps, the charming setting and friendly staff make the restaurant version make it seem to taste better? You know?
I don't know… but I can confidently say this recipe is easy, tasty and sure to please!
Mrs. Ledbetter's Chocolate Pie
Ingredients:
1 4 oz. bar of German Sweet Baking Chocolate
1/4 cup margarine (works better than butter… I tried)
2 large eggs
1 1/2 cups sugar
3 Tbsp. corn starch
1/2 tsp. salt
1 12. oz can evaporated milk
1 tsp. vanilla
1 10 oz. unbaked deep dish pie crust (I use Pillsbury)
Coconut and pecans for topping (I use 1/2 cup of sweetened coconut and 1/2 cup of chopped pecans)
Directions:
Heat oven to 350 degrees
Melt chocolate and margarine together and stir (1 minute in microwave seems to work)
In medium bowl, beat eggs.
Add sugar, cornstarch and salt. Beat until smooth.
Blend in chocolate mixture.
Gradually add milk and vanilla (I just pour the vanilla into the condensed milk and give it a quick stir with a table knife)
Pour into unbaked pie shell.
Top with coconut and pecans.
Bake 50-60 minutes (my oven leans toward 48 minutes)
Check center with knife (should be thick, not runny)
Allow to cool before serving.
Top with whipped cream!
It's really a quick and simple recipe. My daughter, age 11, can make it herself. (I'll help with the oven part!)
When you visit Alton or nearby St. Louis, be sure to include lunch AND Mrs. Ledbetter's Chocolate Pie at My Just Desserts! The menu, the decor and the historic building combine perfectly for a memorable experience!
Related articles