For most vacationers, the most expensive part of travel is lodging. Savings tips to keep hotel costs down make a huge difference in the budget! The less you spend on lodging, the more you have to do the fun stuff. At the same time, it's no vacation if the hotel is dirty, out-dated or in a poor location.
To maximize the vacation budget, I try to get the best price for the hotel room that I can. With the abundance of discount travel websites on the internet, the options can leave a weary travel planner's head spinning. There is a method to the madness, though, that I have found to work quite well. And, I must admit, I love getting a great hotel bargain. (My best so far is $50/night for a hotel room with a "rack rate" of $229/night and a "typical" rate around $150/night.)
Tips to get a great rate for your hotel stay
1. Negotiate a great rate!
• Check hotel prices at kayak.com (or another hotel price comparison site). I like Kayak because it lists the current prices offered by several sites and the current rate the hotel offers. At a glance I know the prices at a variety of sources without having to research every one (see the blue prices listed below each hotel listing in this snapshot?). I can also see how other hotel guests rank the hotels.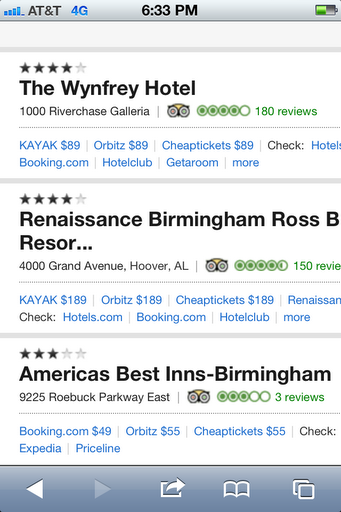 • Compare the prices at Priceline.com and Hotel.com or similar sites. They don't always show up on a Kayak search.
• Call the desired hotel to ask for their best rate. I say something like, "I'm checking hotel options in your area. Would you be able to offer me a room at a better price if I book by phone?" Often, hotels will offer a price a few dollars below the listed price. On a weeklong vacation, those few dollars add up!
• If you can't get a better price directly with the hotel, you can always bid on a room through Priceline.com. (I bid through Priceline to get the great rate I shared above.) I don't use bidding through Priceline when I travel with my whole family, because I have less control over things like amenities, location and age of the building. However, when I travel alone, with my husband or just one of my kids, I am quite willing to bid.
• Hotels within city limits tend to be more expensive (for the quality of lodging) than hotels outside the city. Can you expand your search to include suburbs without sacrificing the quality of your vacation?
• View affects price. How much time will you really spend in your room? Will a parking lot view room affect your enjoyment of your room, or will you mostly be there to sleep?
3. What about hotel reward programs?
• Hotel reward points do not accumulate when you price through a hotel discount site. If you travel often, you might do better calling the hotel for their best rate. (Ask for a manager. If the hotel isn't busy, they might just accommodate your request!)
• If you have a hotel reward card (why not? they're free), don't forget to use the points for a free night sometime!
I am traveling with my son in June. We don't need anything special, just a place to sleep. We have appointments at 8:00 the morning after our arrival. For this trip, choosing a basic hotel (2 star) close to where we need to be is important. We won't have time for the pool or other amenities. I'll book the cheapest hotel with comfortable beds that I can find. 
Related articles