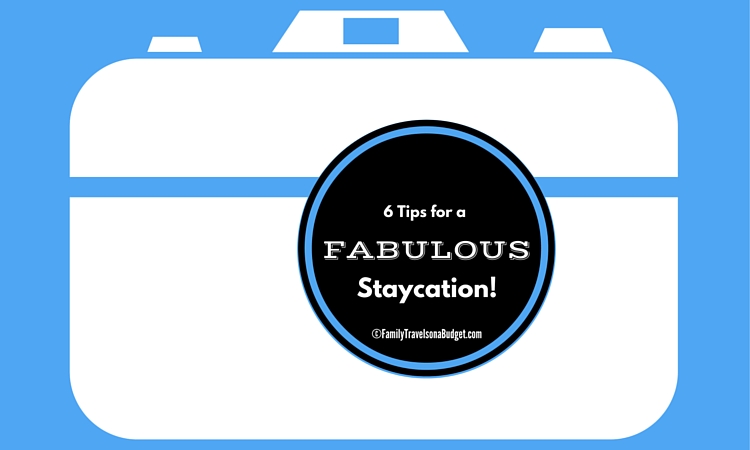 A staycation is a budget-friendly alternative to expensive family vacations. But, if they're not planned, staycations can look like any other day of the week. Our "failure to plan" mistakes in the early years meant we learned the hard way. Hopefully these tips will save you some of our frustration — and some money!
6 tips to plan a fabulous staycation
Tuck away the to do list! This is vacation, not honey-do time. Pitch a tent in the back yard or family room and camp "in." The advantages: working plumbing, hot showers, a refrigerator and shelter from the rain. Not to mention it's free!
When our boys were young, we moved all the furniture out of our family room and slept in sleeping bags on the floor. We cooked outside on the grill and ate at the picnic table. I loved sleeping in air conditioned bliss. The boys loved crawling all over mom and dad. Remember, this is family time. The to do list will still be there when normal life resumes.
Make a budget. Consider gas, dining and activities, just like any other vacation but without the added expense of lodging. A zero budget staycation is possible, but if you splurge on local activities you haven't done before it makes the vacation more special. Ideas include visits to the local water park, dinner out at a restaurant you've been wanting to try or a trip to the museum.
Treat your hometown like a traveler would. I tend to forget about the wonderful adventures waiting at my back door and look far and wide for things to do, but I live in an area rich with recreational opportunity: hiking trails, kayaking, museums, restaurants, parks, swimming and golf. Sit down with the family and select something special for each day. If the kids are old enough (mid-elementary and above), perhaps let each family member plan a day — get tips here. We drive up to two hours for staycation activities. Decide how far you are willing to explore, then go. Don't forget to check your visitors' bureau website (Search with <city name> and CVB to find yours) for valuable coupons and to find ideas you might not know about.
Eat someplace new. It's vacation, so why not try someplace new? We have a long list of "maybe we should eat there one day" restaurants and a staycation offers the perfect opportunity!
Look for freebies. Chances are, your hometown offers discounts just like trendy vacation destinations do. Check for restaurant discounts, museum passes, and other online freebies as you plan your activities. Besides CVB discounts, check Groupon, Living Social and other discounters.
Turn off the phones. Our first staycation was a disaster. Because we stayed local, the boss thought nothing of calling my husband about this or that. Since that first time, we have learned to let all work-related calls go to voicemail just like we would on a "real" vacation. We inform family and friends that while we are home, we are still on vacation. Our kids know that vacation includes unplugging for a few days to reconnect with the three dimensional people called family. Trust me here. Staycations feel more like vacation when you unplug!