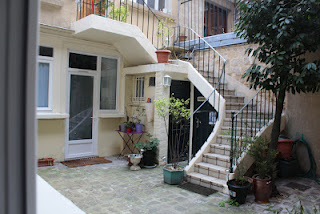 The courtyard outside our rental apartment
Paris, France 2012
Believe it or not, hotels are not the only way to travel!
Today, vacation homes and apartments are available for long and short term rental in cities around the world. While beach houses have long been popular for family reunion vacations, house vacations are becoming more common, not just in the big cities like New York and Paris. Smaller cities offer them too.
Vacation home rentals offer space at a better price than hotels. They provide conveniences like kitchens and laundry. Many offer additional amenities like pools, decks, and fireplaces. Extra space often helps when traveling with children who need downtime now and then.
Vacation home rentals offer the opportunity to experience the location differently than a hotel would. In a city, a vacation home or apartment puts you in the thick of it — not set aside as a visitor. You have the opportunity to experience the local culture from a whole different perspective.
How does a vacation home rental work?
For the most part, vacation homes are advertised on rental websites such as homeaway or flipkey. You can search by location, square footage, number of bedrooms, number of guests or the price range. Each home is unique, so be sure to comparison shop for the details that matter to you (space, recent renovation, smoking policy, pets allowed). Homes are either offered by owners or property management companies.
Once you select a home that looks to meet your needs, contact the owner using the email form on the website. Be sure to include your days of travel and any special needs you might have (how many cars are allowed, early arrival, late check-out). I also enquire if the home is a regular rental or if it's being offered while the owner is away. Expect a response within 48 hours.
Sometimes owners offer their personal homes for use while they are away on vacation. This is also common for major events such as Mardi Gras in New Orleans or in New York over Thanksgiving and New Years Eve. When someone offers their personal home, it might not have the same quality of care that a permanent investment rental has. A homeowner will be accustomed to dog hair on the sofa and may not clear out closet space for your rental needs. Be sure to clarify what you expect with the property owner before arriving.
Our story
Planning a recent trip to Paris, France to celebrate our son's graduation, we needed a place with two bedrooms to accommodate five, that was close to the metro system and allowed early check-in. I mentioned all these requirements in my initial email to the owners of three different properties. One said he would not accommodate the early check-in (and I wasn't going to haul luggage through Paris all day) so that was out. The second and third met all the requirements, but one of them offered a discount. We chose to rent her place. As we prepared for the trip, she answered travel specific questions by email and even provided breakfast for us on our arrival. 
The how-to for vacation home rental
Downpayment and fees. Most rentals require a down payment of 25-50%. Some include taxes in their listed fee, but others tack on the taxes and cleaning fees as additional charges, so make sure you understand fees from the beginning. When I receive a response about a vacation home rental, I email the owner back to confirm the pricing details, dates, and amenities expected saying something like, "I want to confirm that this is $750 price inclusive of tax and cleaning fees for the dates of… for the apartment located at…" Once I receive an affirmative response, I will sign the contract and submit the deposit.
Check-in. On arrival, I generally meet the owner or manager at the property. Sometimes a property listing will state to get keys from a management company office. If so, confirm that the office will be open at the time you arrive and that you have directions to the office and to the rental property from there. When I rent through a management company, they have always agreed to meet me at the property if not located conveniently nearby.
On our most recent trip, the property owner walked me through the kitchen, bathroom and laundry room showing me how everything works. She showed us how to close the window shutters at night. This information was invaluable since I couldn't read the French operating manual. At the end of our stay, we simply dropped the keys into her mailbox and were on our way. 
Fine print. Some rentals require that you strip the sheets and throw out all the garbage on checkout. Be sure you know what the expectations are. Notice cleaning fees as well. Those aren't usually included in the overall booking price.
Why rent a vacation home when a hotel is easier to book?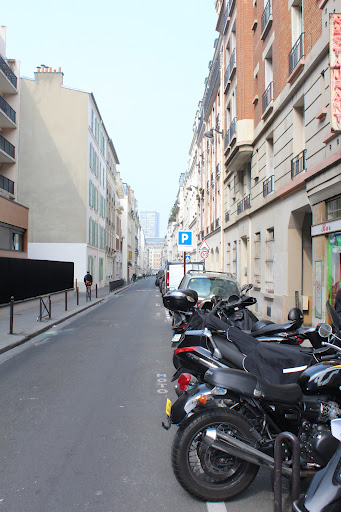 Our Parisian neighborhood
Vacation home rentals offer many advantages. They are larger. They are less expensive. They offer the opportunity to cook your own meals (or heat leftovers). They provide you the chance to immerse yourself in the culture. The better question is why book a hotel when I could have all this space for less?
When we first considered a trip to Paris, I called a travel agent who told me that it would cost a minimum of $12,000 and up to $20,000 for a family of five to travel there for a week. She factored in hotel costs (two rooms each about 150 square feet) at approximately $4,000, conservatively. We found an 850 square foot, two bedroom rental apartment seven blocks from the Eiffel Tower, near restaurants, shopping, and the metro for less than $1,000 for the entire week. That means I had $3,000 to spend on food and shopping. And my kids had space to "chill" at home.
Four simple steps to rent a vacation "home"
Research available apartments where you plan to travel. Consider size, cost, location and amenities. Sites I use are "homeaway.com" and "vrbo.com" (vacation rental by owner)
Select two or three units that appear to meet your needs and email the owner to enquire about availability. Be sure to include any special needs (close to metro) in the initial enquiry.
Confirm price (taxes, cleaning fees, additional person fees) and dates before signing a contract.
Make sure you understand check-in and check-out policies before you arrive.
Save all emails!
A word of caution about Craig's List
While I like saving money on vacation I do not recommend that you rent a property through Craig's List or other sites. Instead use trusted sites like flipkey and homeaway which offer some protection against fraud. This is your vacation. Trusted sites are always the best choice! That great deal on Craig's List might really be "too good to be true."