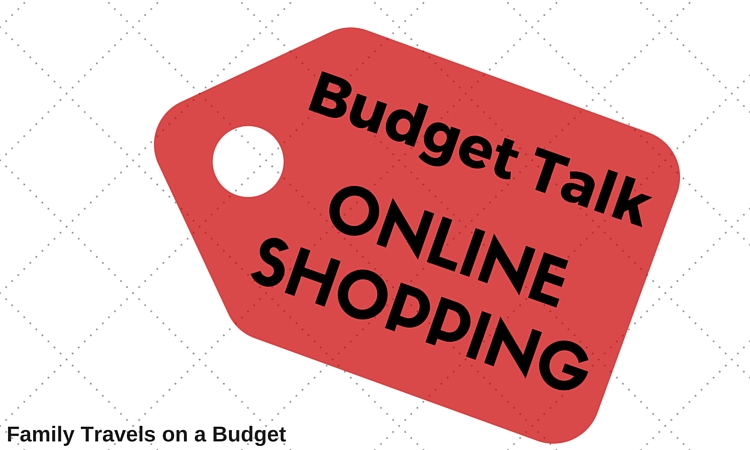 Over the past 5 years, online shopping sites have gained so much market share that they outsell many brick and mortar stores. Sites like Amazon.com, Overstock.com and Wayfair.com promise low prices on first quality goods. For a really long time, that was true. True enough to convince us, collectively, to change our shopping habits.
In years past, I've shopped a lot on Amazon. You have, too, I bet. And why not? It's convenient. Shipping is often free. Sometimes, you can avoid paying sales tax. But is it always a good deal? No!
Here's a good example: At the Sears' online shopping website, this Coleman cooler is $44.09 after tax with free shipping. On Amazon, the same cooler is $52.99. I can think of lots of things to do with the $8.90 savings — you? (NOTE: In stores, this same cooler is only $30.04 — even greater savings!)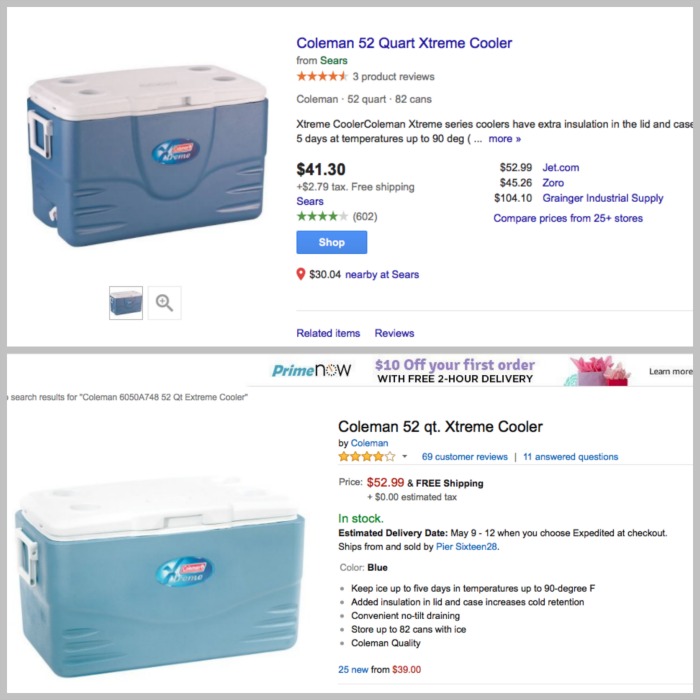 It's not just Amazon. I've purchased things for my house at Overstock, and I felt like I was saving. Certainly that's what the company wants you to feel. Overstock's "about us" page says,
At Overstock.com, we strive to provide our customers with quality products at the best prices possible. All the while, we make all efforts to give them a level of service that they will never forget, making them want to come back for more.
But the savings isn't always there! Here's a clear example. Today, May 2, 2016, a gas stove ranges from $2,549 at Home Depot to $2936.99 at Overstock.com. What could you do with $387.99 savings?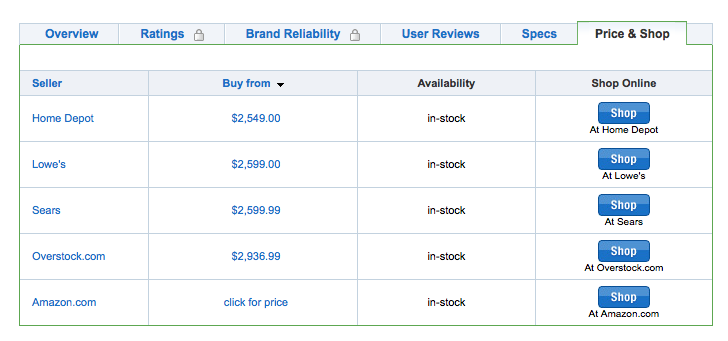 Wayfair's got "just what I need," and they promise up to 70% off every day. As savings go, Wayfair still seems to offer good prices, but I've gotten a few items that were "seconds," not first quality. And I have never seen anything close to a 70% savings.
I'm not trying to keep you from shopping online — I'd be a hypocrite! Online shopping is so convenient, and Amazon, in particular, has GREAT customer service. BUT, I would like to ask you to think before you click that magic purchase button!
Not all online shopping is created equal!
Understand the mentality! Online retailers know we like the convenience of online shopping, and they know we're in a hurry, often shopping from our phones. They don't worry about prices across the board — offer a few big sales, and people assume the rest is a great value too. Resist the convenience and spend 5 extra minutes researching prices on the same model —>
Comparison shop! Use your phone to find the best price. Simply google the product you want and the word price. A list of retailers offering that product will come up. Compare prices to save the most. Consider shipping, return policies and other add-on costs when comparing.
Look for a price match guarantee. I recently purchased a new iPad and saved $80 on my Best Buy purchase. In store, I did some comparison shopping on my phone and found a better price from a competitor. Right there, Best Buy adjusted the price and I walked out the door one happy customer! Read the fine print on price match guarantees — some places, like Best Buy, only price match against certain online retailers.
Simply put, don't let the convenience of quick click online shopping keep you from saving on your purchase. Just because an online retailer has a reputation for savings, doesn't mean you'll always save. Remember, "budget isn't cheap, it's smart!" The less you spend, the more you have for other things, like vacation!
How do you save when online shopping?
Research has shown you might also like