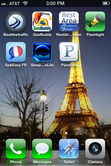 Headed toward Washington, D.C. a few weeks ago, we brought along some mail to drop off at the post office. Of course, we forgot to make that slight detour and realized it somewhere in southern Virginia. I groaned. My husband chuckled and said, "Look for a post office. I'm sure there's an app for that!" It was my turn to chuckle! I think there may well be an app for just about everything!
Turns out, there is!
My favorite FREE* road trip travel apps (for the iPhone)
Beat the Traffic. This handy little app provides real time information about traffic conditions. When traffic slows, I pull up the app to find out whether the traffic isslow or if there's an accident up ahead. We use it to slip around major backups on the highway.
Rest Area Finder by Guidebook Galactic. This handy dandy feature provides information about upcoming rest areas. Moments after the kids say they have to go, you can tell them just how long the wait will be!
Gas Buddy. How many times have you stopped for gas only to discover that gas at the next exit was ten cents cheaper? With Gas Buddy, that is a thing of the past. Load the app. Allow it to recognize your location and then find the cheapest gas nearby. This app has saved us up to 15 cents/gallon. (It's a great app to use anytime!)
Other FREE* apps to make travel easier
Speak Easy. Traveling to another country? Learn essential phrases in other languages to help you communicate during travel. People always prefer to hear you speak their native tongue and appreciate your efforts.
Pandora. This wonderful app provides music that you want to listen to. No more searching through the local radio stations to find what you like!
Sleep Machine Lite. Having trouble falling asleep? Then play sleep machine lite and let the sound of the ocean lull you to sweet dreams (not while you're driving please!)
Flashlight. Hotel rooms are notoriously dark. Waking during the night often means turning on a light so you don't stub your toe. With the flashlight app, you have access to light that won't wake the rest of the family.
There are hundreds of thousands of apps for iPhones, droid and other smart phones. Yes, even a post office locator! What's your best travel app tip?
*Because I travel on a budget, I prefer free apps!
Related articles