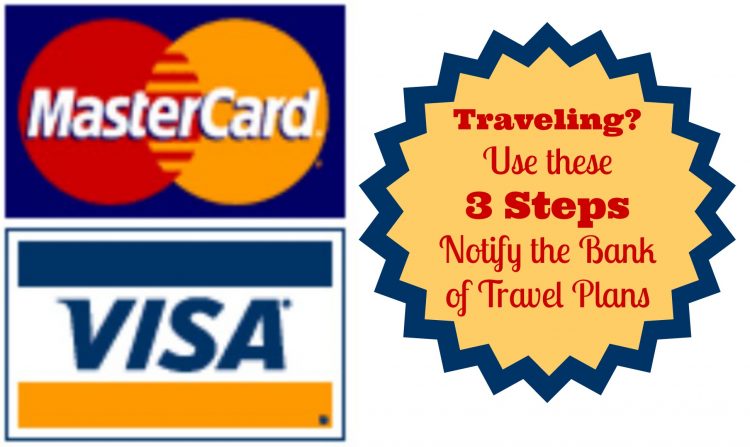 Today's post is inspired by a reader who learned the hard way why you should notify the bank of travel plans. She shared her experience trying to use her bank debit card on a recent vacation,
We were in Pittsburgh, PA from 8/17 to 8/20. Our bank put a stop to our debit card, so we were not able to use it as a debit or credit card while out of state! I understand that it's for fraud prevention, but geesh it was embarrassing to be declined when you are buying souvenirs and such and you KNOW you have the money in the bank. We had to verify purchases one night and the very next day we were denied again. It was frustrating, and scary at the same time. But we finally got it straightened out after speaking to a live person about it! So just from experience, CALL THE BANK before you go on vacation!!!!

Thanks for writing all the little bits of information for those of us who want to travel but don't have a clue how to go out about it reasonably without a travel agency!
How-to: Notify bank of travel plans:
Contact your bank and/or credit card company before travel, especially if traveling outside the country. As the reader stated, banks and credit card companies put holds on cards when they notice suspicious or unusual behavior on the account. Those who don't travel often or whose spending changes significantly are most likely to be flagged.
Find the contact number on the back of the card or on the monthly statement.

Speak with a customer service representative to provide travel dates, destination and expected expenses. The more information you provide, the better they can protect your account.
That's it! It's also wise to give a
trusted friend or family member
the company's emergency contact number, just in case your card is lost or stolen during vacation. At the very least, keep a list of contact numbers. The bank or credit card company can locate your card number when you call to provide necessary assistance.
Of course, I hope you never lose your cards on vacation! Use the tips provided throughout this site to prevent stress and chaos when traveling.
Thank you to the reader who provided today's topic: How-to notify the bank of travel plans! Learning from experience is frustrating, but once that lesson is learned, it is never forgotten!
Remember: It takes just a few seconds to notify the bank of travel, but that might save hours and hours of frustration!