Disney Cruise Line: 6 tips to stretch your vacation budget
You've compared the cruise lines and decided to take the plunge — Disney Cruise Line it is. Or maybe you're on the fence, and a few tips for planning a Disney cruise on a budget might just sway you. Either way, we've got you covered. I discovered these 6 budget stretching tips for Disney Cruise Line on our [amazon_textlink asin='B07MXQ31Z3′ text='family vacation' template='ProductLink' store='famtraonabud-20′ marketplace='US' link_id='0d807fdb-b7bc-49d3-82a5-8dfec391d078′]. I hope they help you as you plan yours!
If you're new to cruising, these posts are a great resource: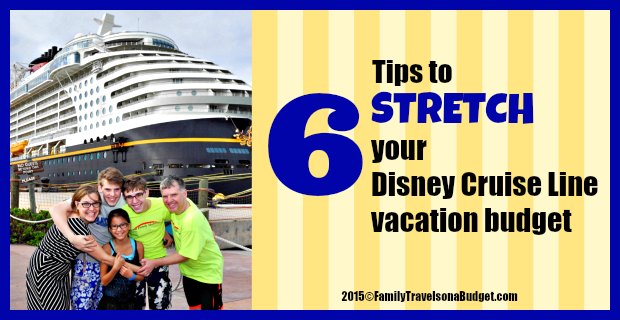 This post contains affiliate links for which I earn a small commission.
Planning a Disney cruise on a budget tips and tricks
1. Save on your cabin: Skip the verandah.
How much is a Disney cruise? A lot! But, you can save on your Disney cruise cost by choosing a lower priced cabin.
With so many Disney cruise activities throughout the ship all day and evening, you really don't need a high priced verandah cabin. There are lots of places to watch the water from pool decks and even from huge porthole windows in public spaces on lower decks. Besides that, you'll be so busy enjoying shows, activities, Disney cruise characters and all the other fun onboard, you'll hardly use your cabin.
While inside cabins and oceanview cabins are less expensive, they have all the features that make Disney Cruise Line a standout for family cruising. The smallest interior cabins sleep 3 and come with a full bath, including tub. You won't find that on other cruise lines! They also come with a virtual porthole, created by Disney Imagineers. The porthole provides a 24 live feed from a camera mounted outside the ship with the added Disney magic of favorite Disney characters swimming by. You won't even miss the real window!
With the money you save on accommodations, splurge on a fine dining meal for two at Palo. This restaurant serves modern Italian cuisine in an adults-only restaurant for an upcharge over standard dining while the kids enjoy the evening in their Oceaneer Club.
2. Pay for your cruise with the Disney visa card.
When our kids were young and we went to Disney often, we had a Disney visa card. We used it to pay our monthly bills and paid the balance in full each month to avoid interest charges. We earned points toward Disney vacations, and used those points to help pay for our first Disney cruise back in 2001. The card also offers Disney visa discounts, so using a Disney cruise credit card can help offset the cost of your cruise.
3. Register and check in online for your Disney Cruise Vacation!
Guests in regular cabins can check in 75 days before the cruise (Suite guests and gold members can check in 90 days ahead). Be sure you check in that day if at all possible. The earlier you check in online, the earlier a boarding time you can secure. That means you get on the ship before most everyone else to enjoy a less crowded lunch or nearly empty pool. NICE!
Also, the earlier you complete online check in, the more options you have to reserve specialty dining, shore excursions and other extras. We checked in 74 days before travel and secured a 10:45 registration. We boarded the ship about 11:30 and had lunch before the big crowds arrived by bus. If you are using Disney transportation to the cruise ship, your check in time is whenever the bus gets to port. You do not select a check in time.
Insider Tip: Early check in means more time on board!!!
4. Pre-purchase the photo CD and make a [amazon_textlink asin='B07BTHRGP7′ text='photo book' template='ProductLink' store='famtraonabud-20′ marketplace='US' link_id='4c724ffb-34fa-4d54-9026-4c719bc8b472′] at home.
[amazon_textlink asin='162809091X' text='Disney Cruise Line' template='ProductLink' store='famtraonabud-20′ marketplace='US' link_id='5df996e4-e705-4e0b-9ddd-e4cbc049ae14′] has partnered with Shutters to provide cruise photos. We don't normally purchase cruise photo packages, but this company does a great job! If you pre-purchase online, you save 15% compared to buying it on the ship. If you don't use the photo package or are unhappy with your photos, you can cancel anytime BEFORE the last day of the cruise for a full refund. If you keep the packages, Shutters gives you all rights to the images. Be sure you check your photo CD as soon as you get home — as the refund warranty is limited.
Budget saving tip: When we got home, I ordered a [amazon_textlink asin='B001E6LI1O' text='memory book' template='ProductLink' store='famtraonabud-20′ marketplace='US' link_id='d9734973-b275-4f9f-8cc9-60356e1c61c7′] through an online company for another $20. My favorite souvenir of all. Special thanks to my hubby for reminding the kids that this particular splurge was my Christmas gift. 🙂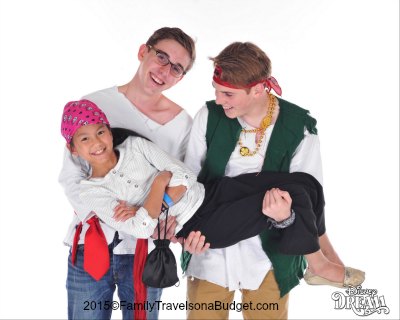 My goofy kids…. Arrrghhhhh…. I mean my pesky pirates!
The guy I get to do life with! He's a keeper!
5. Use Disney gift cards to pay your cruise gratuities. 
I'll be honest, I'm not sure if this was worth the hassle to me, but it can save you some money, so I'll share it. Purchase discounted Disney gift cards at home (either through the Target red card which saves 5% or through discounters like BJs and Sams Club which offer similar savings).
When you board, go to Guest Services to have the gift cards applied to your account (basically prepaying on board expenses and gratuities). It takes a bit to have the cards uploaded, but you do save money. If you don't use the full value of the gift cards deposited, you have to go back to guest services to get a refund the last evening of the cruise (again, standing in line). We saved $45 using gift cards, but spent about 45 minutes in line. I guess the more you plan to spend, the better the value!
6. Get Disney cruise character meet and greet tickets and skip the line.
After stopping at Guest Services to drop off autograph items, head to the Port Adventures desk (on the Dream, it's one level up from Guest Services) to get Disney cruise character meet and greet tickets. For our cruise, these tickets were available for the princesses and the [amazon_textlink asin='B079355VQH' text='Disney Jr. characters' template='ProductLink' store='famtraonabud-20′ marketplace='US' link_id='52431e18-ebfe-4d67-b3a4-3ccc34c5aa63′]. The tickets work much like a fast pass at the parks. You bypass the regular line when the characters are scheduled, saving you time. Disney cruise character meet and greet tickets are free, just like the Disney fast pass!
Less time waiting in line means more time to play!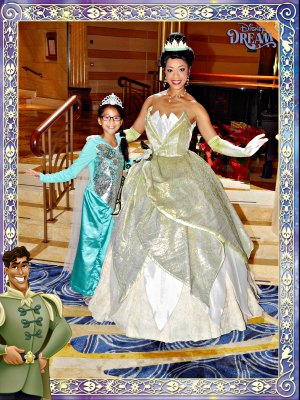 While you're at it, be sure to visit the Oceaneer Club on embarkation day to register your kids. If your kids are like mine, they'll spend a fair amount of time in the Disney cruise kids' clubs which are jam-packed with quality Disney cruise activities. On embarkation day and various other times throughout the cruise, the ship offers an open house allowing adults to visit to see what's happening in the Disney cruise kids' clubs. Take advantage of these opportunities to snap some photos of your child! You can't do it during regular Oceaneer Club hours. This won't save you money, exactly, but at least you'll have some photos of the kids to remember what you paid for! Disney cruise kids club activities in the Oceaneer Club are included with the price of your cruise.
AND be sure to check out the world's most amazing hand washing sink. I want one at home!!!
Maybe not a budget-saver, but a great way to preserve memories.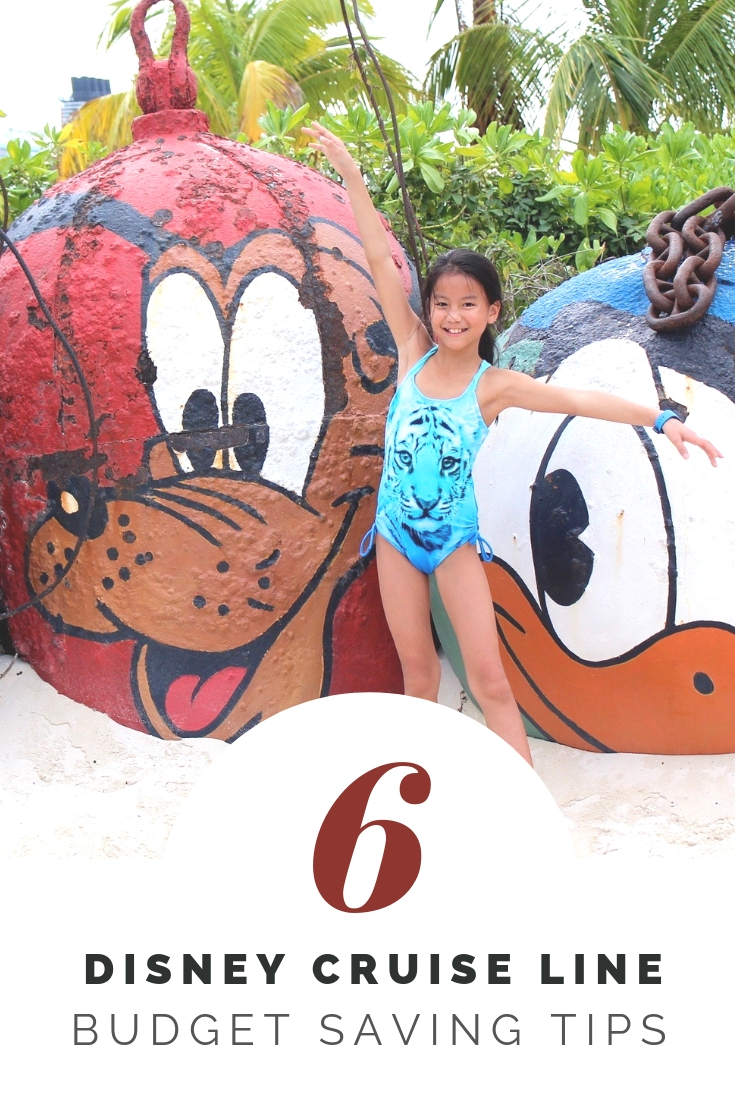 There you have it…. 6 tips for planning a Disney cruise on a budget! Use them to maximize your time on board, save money and get a one-of-a-kind souvenir. Beyond stretching the budget, I hope they help you have the most magical Disney Cruise vacation ever!