We've all heard it… Perhaps we're guilty of doing it a time or two, but…
really… You can't judge a book by its cover!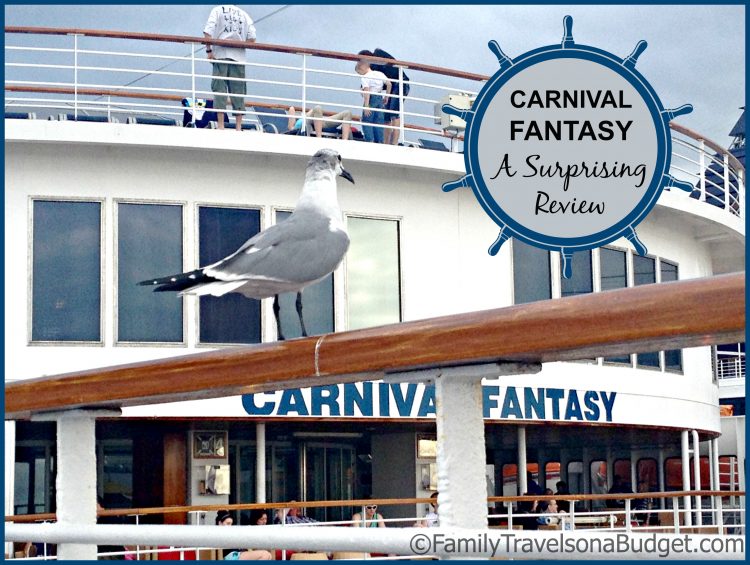 I confess I am guilty of judging Carnival Cruise Lines…. And I apologize!
Save $53on a Disney World 4-Day Park Hopper! Hop through all 4 parks.
I had heard the stories of drunken guests staggering through the halls and of tiny cabins and poor quality… As I stepped on board the Carnival Fantasy for my first Carnival cruise last week, I expected…
Not much!
Boy was I wrong! Very, very wrong!
Carnival Fantasy: The Ship
The Carnival Fantasy is the oldest ship in the Carnival fleet, first sailing in 1990. In 2008, the ship entered dry dock to be upgraded with Evolutions of Fun amenities that include upgraded spa services for adults, expanded family fun that includes water slides and miniature golf, expanded recreation and activity areas, improved menus and luxurious bedding! Seriously, the beds on the Carnival Fantasy are amazingly comfortable. All cabins include luxurious amenities as well, including feather duvets, spa bath robes and high quality beach towels.
While I read about these improvements (and my mom had told me the beds are REALLY comfortable), I still doubted.
I stepped onto the ship and took in my surroundings. The Fantasy is old — 23 years to be exact. That shows. It's not bright and shiny like the newer ships. Some public areas are scuffed up. The cabins are tiny and only offer ONE electrical outlet. Yes, ONE! There are no blow dryers onboard either (maybe in the suites, but not in the regular cabins). She's an old ship…

But…
This is an important but!
The ship is immaculate! On other cruises, I've seen dishes stacked in the elevators (really!) and garbage in strange places, but not on the Fantasy. The ship's staff hustled to clear plates and cups all day every day. Garbage didn't have a chance to collect anywhere.
Okay, Fantasy. You surprised me!
Carnival Fantasy: The Casino
The Disney fleet doesn't have casinos, which in my opinion is fabulous. I am not — and never will be — a gambler. I'm about as conservative as they come. On my first cruise (1993), my husband and I allocated a whopping $5 each to the slot machines. We called it "entertainment money." After I lost my first three quarters, I flipped out. No way!
So…. One thing I absolutely LOVE about the Carnival Fantasy is that guests do not have to pass through the casino to get from one end of the deck to the other. The casino was packed — except in port when it was closed — but I didn't have to go there. YAY!
The only drawback of the casino and bar area was the cigarette smoke. While smoking was limited to designated areas, it did build up through the cruise. Eventually, I could smell it in public areas nearby and down the stairs in that section of the ship.
Carnival Fantasy: The Cabins
It bears repeating, the cabins on the Carnival Fantasy are tiny! They don't offer a sitting area or much storage. They don't have blow dryers, AND they only have one outlet! To make sure I hadn't missed them, I called housekeeping to ask where the outlets were. The gentleman who answered confirmed that there is only one outlet in the cabins and then added, "The ship IS 23 years old, ma'am."
Surprisingly, the outlet issue was a non-issue. We charged our phones and iPads at different times and took turns using the area to get ready for the day. She uses an electric scooter — which we charged overnight. No problems.
The cabins are quite drab. Ours, M298 on the main level, was added to the ship to meet ADA requirements. It's carved out of a crew area and the cabin is NOISY! All day, we heard the laundry. Then, during the night, the crew used the door next to our cabin and let it slam. Noisy! The cabin also has bunks which we didn't need. I expected to hit my head during the night — which kept me from sleeping well the first couple nights.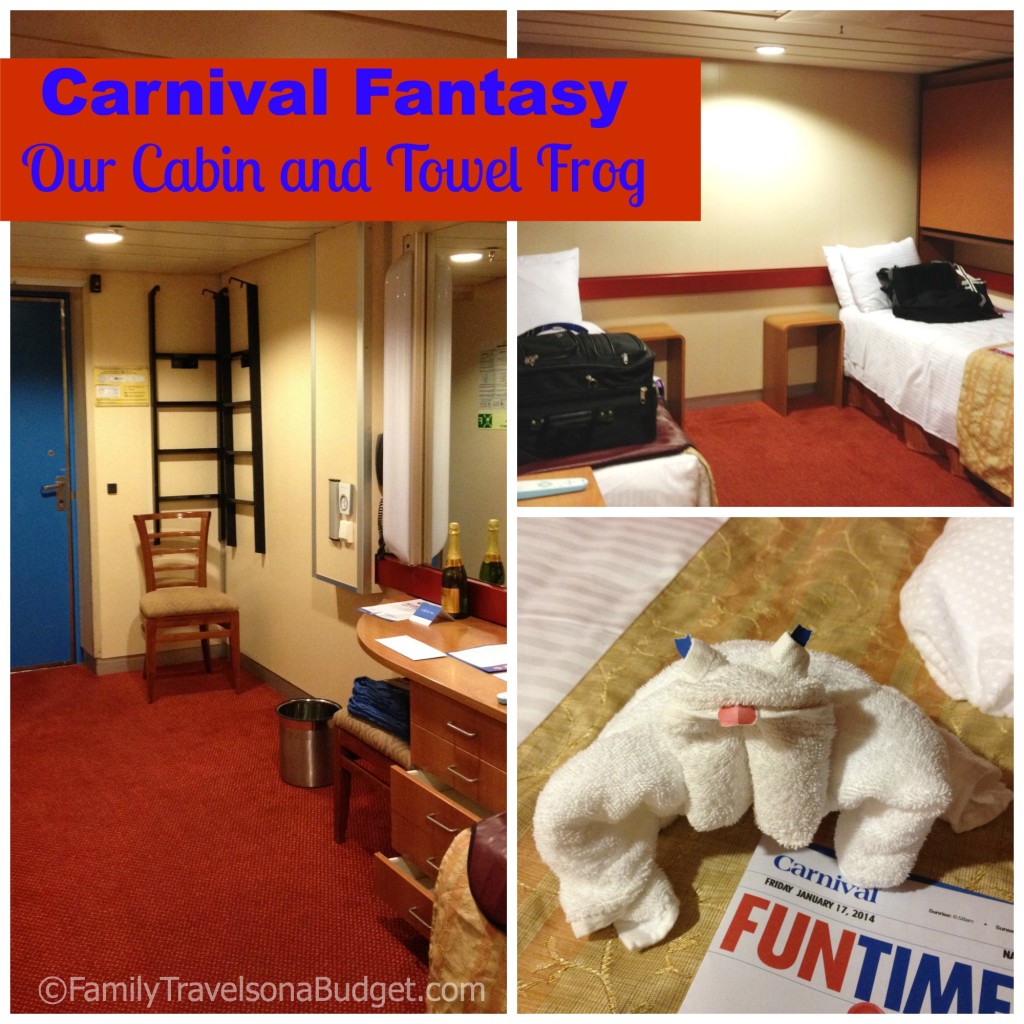 What the cabins lack in decor is made up for in service. "Su" was the best cabin steward I've ever had. I didn't realize the duvets were real down (I'm allergic) until the third day on ship. I thought I was getting a cold. HA! Anyway, I asked Su if he could swap out my duvet. Not only did he completely change my bedding, he changed my friend's bedding as well and left us a couple extra blankets in case we got cold at night.
Lesson learned! Don't Judge a Book by its Cover
As I disembarked from the Carnival Fantasy, I left reluctantly. The entertainment, more on this in my next post, was spectacular. The crew — incredible! The ship itself is nothing too look at — but it's only the vessel. What makes the Carnival Fantasy stand out is what it carries: A crew that cares about the guest experience! Evolutions of Fun — Yes, Fantasy, you have it! (NOTE: The Evolutions of Fun upgrades on the Fantasy are limited — make sure you check amenities for the specific ship you plan to cruise to make sure it offers the amenities you desire. More on this in a later post as well.)

By the way, I never saw a single person stagger through the halls, either. 🙂 As family friendliness goes, the Carnival Fantasy rocks. Of course, spring break and early June when the college kids flood cruise ships might lead to a slightly different impression.
Chime in! Have you ever judged a destination or attraction before going? Were you pleasantly surprised, like me…. Or was your opinion spot on? Do tell!
I paid for this vacation. This is NOT a sponsored post.
I will cruise Carnival again. Gladly!