Agritourism at Richardson Farm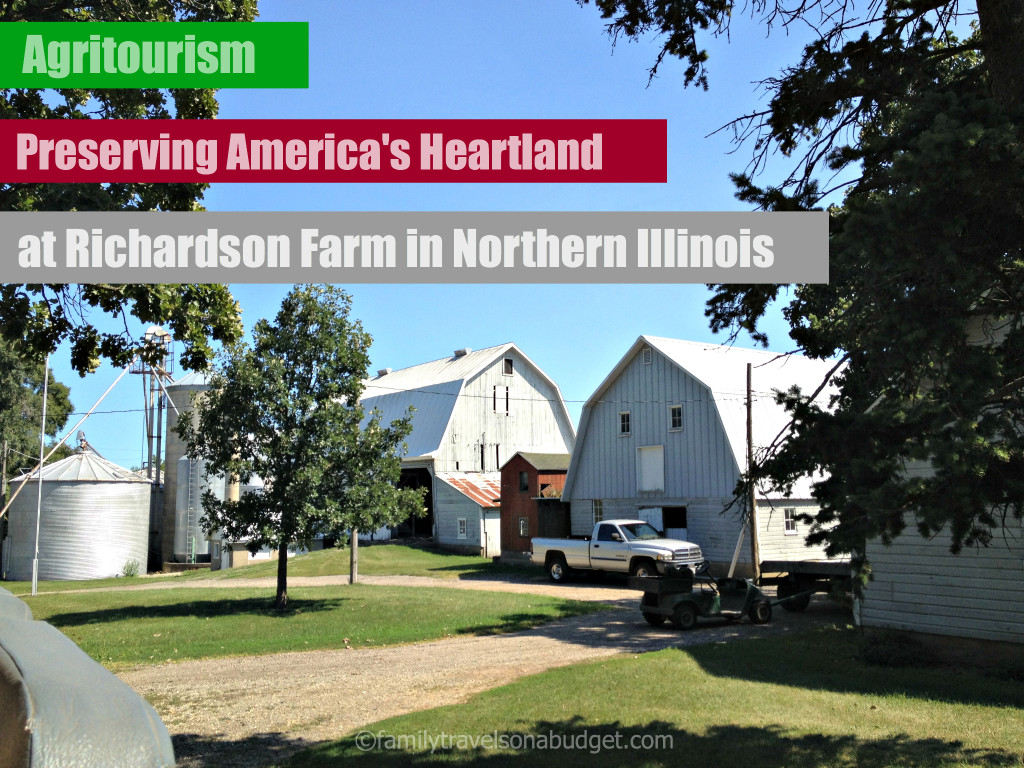 Agritourism, a term coined in the late 1970s, involves agriculturally-based activities that bring visitors to a farm. It encompasses everything from roadside stands and pick-your-own farms to wine tasting, cheesemaking demonstrations, honey tasting, horseback riding and corn mazes. Agritourism connects the public to the rich heritage of America's Heartland.
Agritourism at Richardson Farm
On a recent trip sponsored by Travel Media Showcase and the Lake County CVB, I visited one of the finest examples of agritourism in the country, Richardson Adventure Farm in Lake County, Illinois. The family homesteaded the farm in 1840 when Robert Richardson emigrated from England. For decades, they focused on pigs, but a surplus of pork in 1998 caused the pig market to crash. (I know… I share the most fascinating information!) The Richardsons had already stepped into agritourism by offering cut-your-own Christmas trees, and the Christmas tree income buffered the blow of the pig market crash… some.
When the pig market didn't rebound quickly, the Richardsons realized that to save the farm, they needed to diversify. After attending a corn maze seminar, they opened their first corn maze in 2001. Today, the corn maze sits on 28 acres and offers 10 miles of maze to 50,000 visitors annually. Guests can also enjoy pig races (a nod to the family's farming history), singing chickens, bon fires, hay rides, a zip line and more.
The Making of a Corn Maze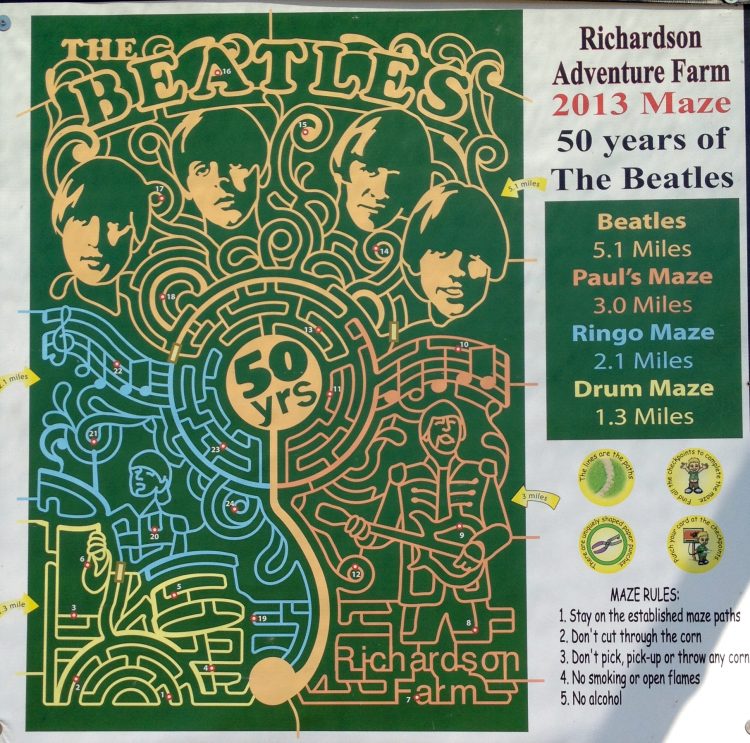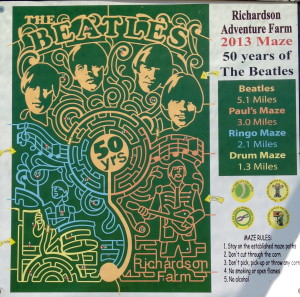 Do you know how corn mazes are made? I didn't until last week!
Each Richardson corn maze centers on a theme; this year honoring the 50th anniversary of the Beatles' first album release. The family comes up with a rough sketch or design idea and then submits it to an Idaho corn maze designer. Yes, such a job exists! The family and maze designer fine-tune it throughout the winter.
In late May-early June, when the corn is about knee high, the designer comes to the farm and plots out the maze using GPS attached to his tractor/tiller. As summer goes on, the family clears those paths, turns the corn under, widens paths to 6 feet, and levels the dirt — it's amazing really! They add lookout bridges, check-points, games, and directional signs to the maze to help tourists navigate. In August, a fabulous maze with 10 foot tall walls of corn stalks is ready for guests to enjoy!

Support Agritourism with a Farm Visit
If you live near Lake County, Illinois or you're heading that way this fall, include a day at the Richardson Adventure Farm corn maze to your itinerary. I visited with a couple doubters who had never experienced a corn maze before, and they teased me incessantly for being so excited to go. After experiencing it themselves, they agree: corn mazes are great entertainment! Our only complaint was we couldn't stay longer.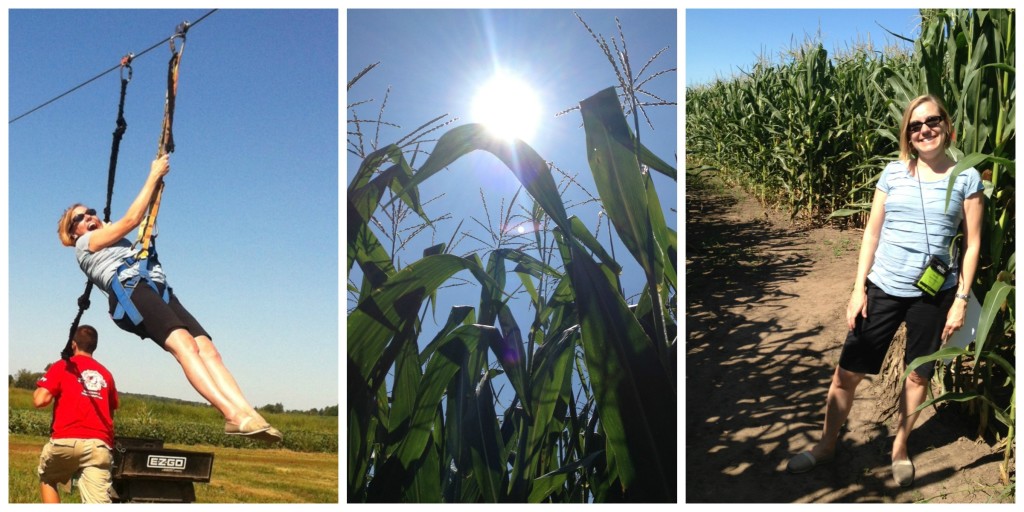 Admission includes the maze, observation tower, pedal bikes, pedal trikes, 50′ tube slide, and much more. Pumpkins, food, zip line, wagon rides, and ORBiting and other activities are available for an additional fee. Please see the website for specific details.
August (Open Friday, Saturday, Sunday)
General Admission $11.50 (ages 13 and up)
$8.50 (ages 4 to 12)
Kids 3 and under FREE
September and October (Open Wednesday-Sunday):
General Admission $13.00 (ages 13 and up)
$10.00 (ages 4 to 12)
Kids 3 and under FREE
Click on this link for a money saving coupon from the Lake County CVB and Richardson Adventure Farm!
Interesting Facts and Tidbits
Researching something unique like agritourism at Richardson Adventure Farm, I discovered some interesting information.
Did you know…
…that corn silk is the tube through which corn is pollinated? Without the silk, there is no corn!
…that the corn used in corn mazes is sterile? That's right, those husks have no corn! Bummer.
…that a 500 acre agritourism farm can generate enough income to support THREE families? At least the Richardson's farm does! The agritourism business preserves our farming heritage and supports families. That's awesome!
Agritourism and You!
Do you know of other corn mazes out there? Please share the name and address (at least the city/region) of your favorite by leaving a comment below. It's the perfect time to experience agritourism!
I received complimentary admission to this attraction for purposes of this review. All opinions and photos are my own and reflect my honest opinion about the Richardson Adventure Farm.