Life Begins on Opening Day!
Major League Baseball fans rejoice! The winter sports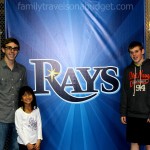 must finally move over and share the spotlight with America's pastime, baseball! While I love Buckeye football, I grew up on Cleveland Indians baseball, running the bases before the games, singing the National Anthem and gobbling up hot dogs and popcorn as if I'd never eaten before.. Life, or at
least summer, begins on Opening Day! The sounds, the food, the people… MLB is fun!
A few years ago, I started cheering for a new team (Sorry, Tribe… It's not that we don't love you)… The quietly superb Tampa Bay Rays stole our hearts!
Here are three reasons I love the Rays!
They are scrappy! This team, generally made up of young players, may have more heart than experience… They play inspired baseball and win games everyone else expects them to lose. Real Rays Fans know it's not over until the last out of the ninth inning! Or later!
In the final game of the 2011 season, the Rays did the unthinkable… They made it to the playoffs. Their season looked doomed through July, August and September. In the last game of the season, the Rays were down 7-0 to the Yankees. Their season was ending — with a bad game! Then… In the seventh inning, they scored 6 runs, closing the gap. In the eighth inning, they tied it up (too bad most of us were asleep by then). FINALLY, in the 12th inning, they beat the Yankees and made the playoffs. Don't tell me baseball isn't exciting!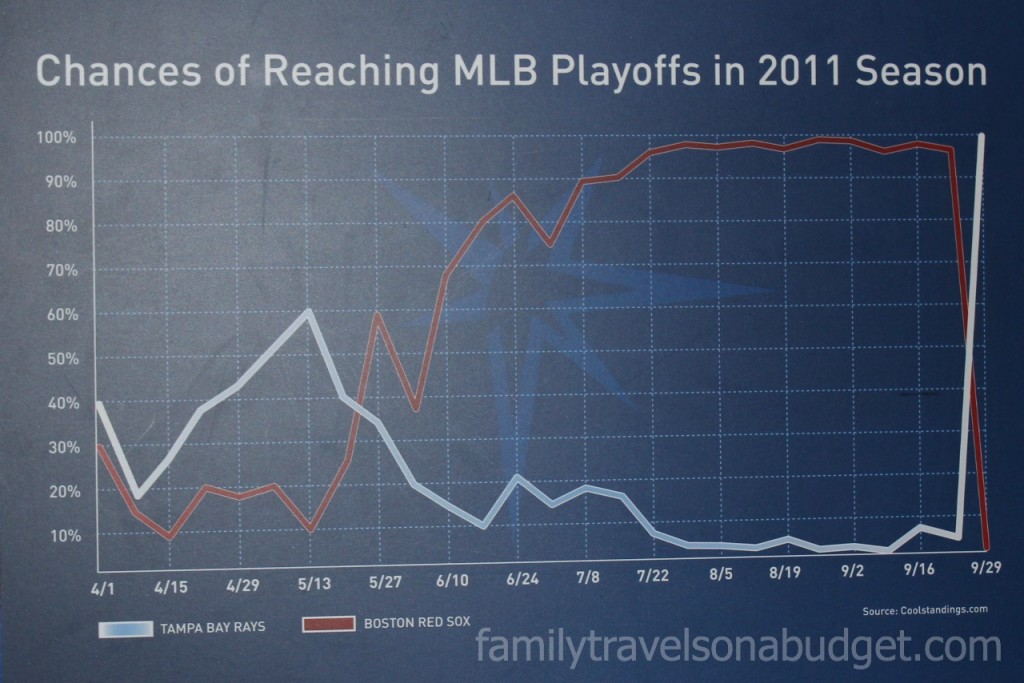 This display at Tropicana Field is one of many display items remembering "the game."
They are family budget friendly! In 2012, the Rays were recognized for offering the most affordable tickets in major league sports! For 2013, they've dropped ticket prices even lower! The Rays organization realizes baseball is about fans — not just players and stats. They make baseball affordable. Kinda nice to hear, isn't it?
I checked Rays' ticket prices online. If you wanted to attend Wednesday's game (Tuesday's Opening Day cheap seats are sold out already), you could purchase a ticket for $10! Not only that, but you can park in downtown St. Pete (sometimes free) and take the gameday shuttle to Tropicana Field. That's free too! Bring your own food (Yep, they allow it… just pack it properly) and enjoy a game for $10 per person! Awesome!
Compare that to the Yankees. Cheap seats: $23! Parking: $25 (minimum… It can go much higher). They do allow you to bring food into the park though. My family of five could attend a Rays game for $50. In New York, it costs $48 for me to go — alone! See, the Rays are a budget friendly team!
Most importantly, the Rays are a family friendly team! My kids love the stadium. It's small, which means all fans sit close enough to the action to connect with what's happening on the field. The concourses offer fun activities for kids who need a break. Even the central rotunda, inspired by the design of old Ebbets Field, creates a nostalgic feeling that other stadiums don't offer. I might sound corny, but it's fun to hang out here.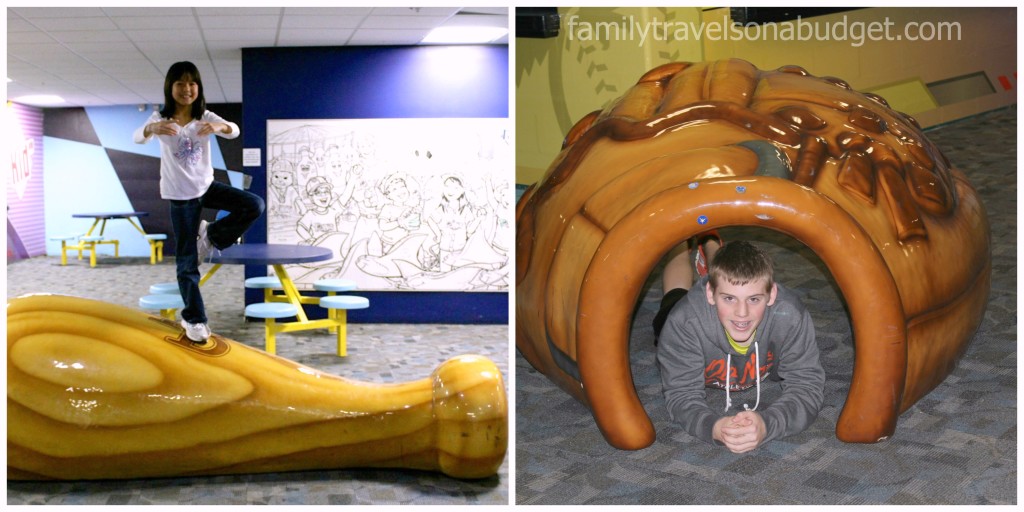 Two of my kids hanging out on the concourse (in January)
Buy me some peanuts and cracker jack… I don't care if I never get back…
Life begins on Opening Day!
What's your favorite baseball memory? Do you still attend games?