Top 5 college football towns for families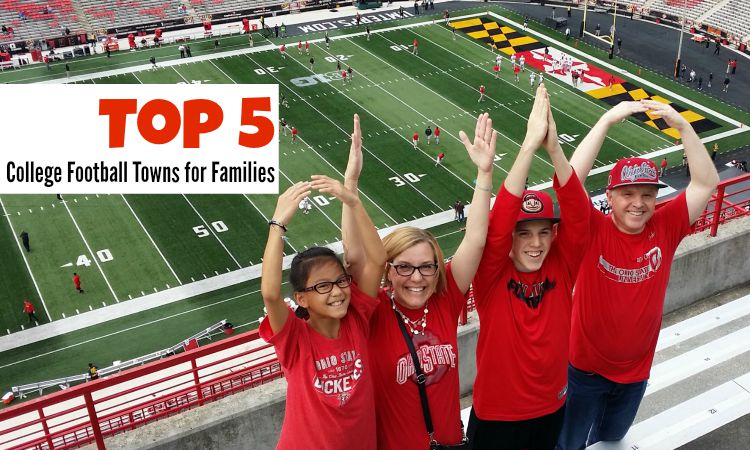 One thing I love about traveling is discovering the heart of a place. Sites like TripAdvisor might offer reviews of attractions, hotels and restaurants, but they don't share the heart of a place. As an avid college football fan — "O-H" to all my Buckeye friends — towns that revolve around the home team are some of the best!
I've compiled a list of the top 5 college football towns for families. During the football season, these towns come alive in a whole new way. Beyond the football element, though, the towns on this list offer something for families to enjoy besides the football game: family friendly activities, good food and fun!
Side note to Columbus: I love you! While you didn't make the cut here — you're bigger than "just" college football — you will always be my number 1!
5. Clemson, South Carolina
My parents moved to Lake Keowee in Upstate South Carolina about 15 years ago. When we visit, the kids always know we're getting close when we see the giant Clemson tiger paws on the streets. This town screams college football — from the roadways to the street signs. Need more proof? The city changes traffic patterns on football Saturdays! Clemson's slogan, "In season every season" rings true, but I think fall might be the best season! The town sits in the foothills of the Blue Ridge Mountains on the banks of Lake Hartwell which provides outdoor adventure options galore. Nearby Greenville, one of the top vacation cities in the world according to travel authority Peter Greenberg, so why NOT visit the region?
Save up to $109 on Universal Orlando Resort tickets!
Top Picks in Clemson:
4. Stillwater, Oklahoma
Home of "the other OSU," the town of Stillwater doubles in size during the school year. In football season, Cowboys fans take over downtown Stillwater. The friendly folks in Stillwater welcome guests like family. Besides Cowboys football — ESPN says OSU is a contender in the Big 12 this year — families visiting Stillwater will discover Red Dirt Music, Lost Creek Safari and a wide range of outdoor adventures on the region's lakes and trails. Be sure to pack your cowboy boots and hat when you visit! Then head to the visitors' bureau site for a chance to win tickets to an OSU Cowboys' football game!
Top picks in Stillwater:
3. Tempe, Arizona
Tempe, with its perfect fall weather and easy-to-use light rail system, makes visiting this charming town a delight and a perfect pick for our top 5 college football towns. Visitors should pack hiking shoes for a trek up A Mountain (officially called Hayden Butte Preserve Park) for views of the football stadium, campus and town. Tempe Town Lake — yes, a water oasis in the midst of the desert — provides water sports, hiking and biking, a splash park and more! Unique restaurants, great shopping and theater provide even more fun for visiting families.
Top picks in Tempe:
2. Tallahassee, Florida
Florida's capital city, home to the Florida State Seminoles, has been transformed in recent years. Near campus, restaurants and open space give families a number of options to enjoy pre-game and post-game activities. Beyond FSU football, the city boasts great weather, hiking and biking trails, water sports (kayak with a a manatee!), funky neighborhoods and museums for all interests. Tallahassee's restaurant scene, driven in large part by marketing efforts at Madison Social (our favorite restaurant in Tallahassee), has evolved, too. Restaurants throughout the city provide outdoor dining, many with big screen TVs to watch the game and cheer on the home team… or the opponent, if you dare!
Top picks in Tallahassee:
1. Baton Rouge, Louisiana
Oh how it pains me to admit that an SEC school is number one on our list of top 5 college football towns. Really! Cuts deep. BUT, there is no denying that LSU fans have taken the tailgate to a whole new level. Home game frenzy — sure! Most college towns can do that. In Baton Rouge, though, every Saturday is a tailgate Saturday. Jay Ducote, who gained national fame on Food Network Star earlier this year, launched his culinary career through LSU tailgating. It's a big, big, big deal here! Beyond the tailgate, Baton Rouge has great weather, a growing culinary scene, history and outdoor fun.
Not a football fan? Then Columbus is definitely your number 1…  Enjoy!