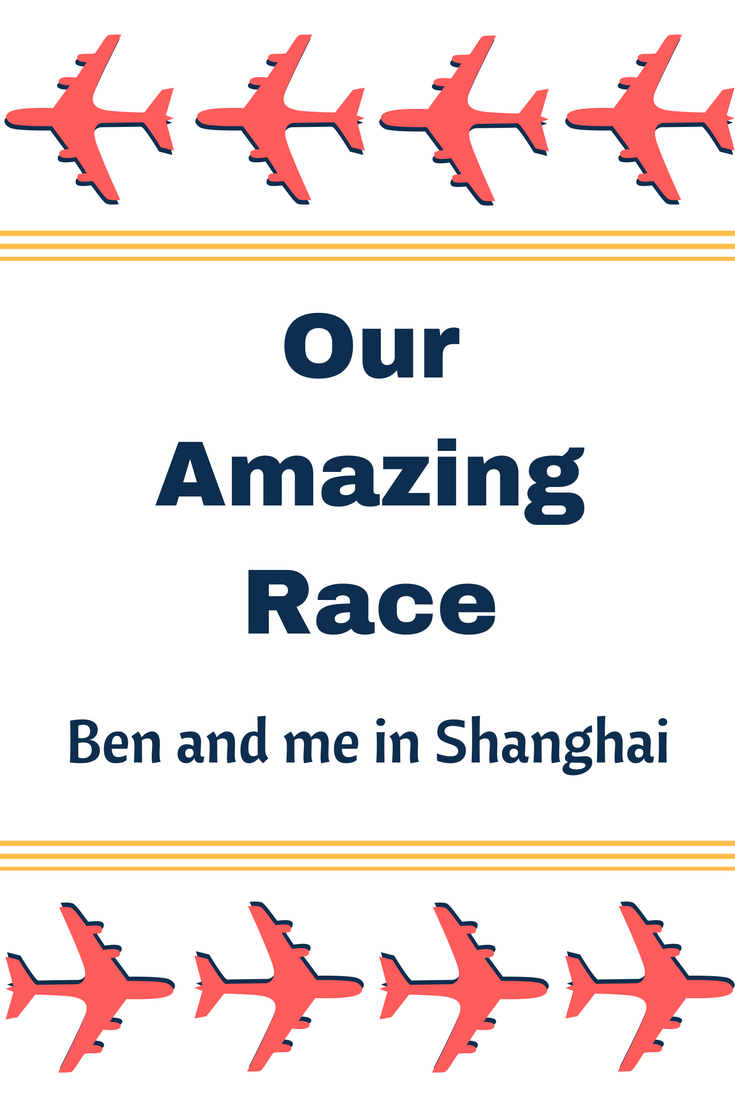 I'm just home from a quick four-day trip to Gulf Shores and Orange Beach, Alabama. To get there, I had to pass through Atlanta. It seems that almost all my flights lead through Atlanta — except for one very memorable flight that passed through Shanghai.
I had a chance to look back on that Shanghai trip — and my one experience in first class — thanks to the friendly Delta staff in Pensacola (amazing people)!
From our adoption trip journal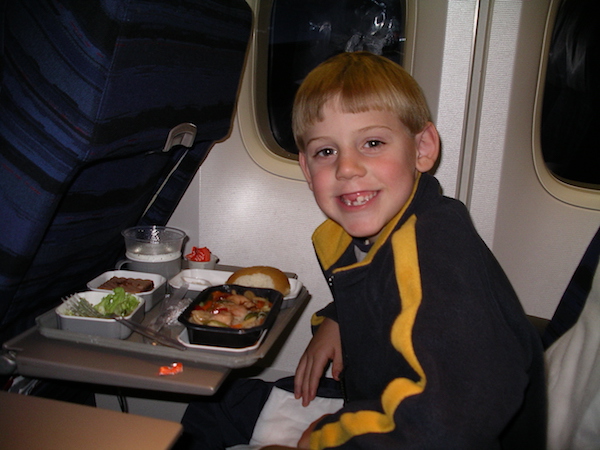 What a trip. We had an awesome trip to Shanghai China, total time 23 hours and 42 minutes. No big surprises!!!! Praise God that I was not fearful, at all, though we had a lot of bumpy turbulence the whole trip. Your prayers worked.

We had a three hour layover in Minneapolis, and the boys had a blast. While waiting on our flight, Ben found 2 Japanese 10 cent pieces (we'll have to look them up online — I see a future school project in the works.) He was so excited, jumping up and down, a smile from ear to ear.

The adults all around were quite taken with him! Then, one lady gave him two pieces of Philippino money. Two Chinese men gave the boys 7 yuan. And an American in the military gave them each a piece of Korean money. They were so tickled by it all!!! Their first "souvenir."

Our twelve hour trip from Minneapolis to Shanghai was my biggest concern, and again we were blessed beyond words. We met several other adoption group families on the flight and really managed to enjoy it. Ben and Nathan found ways to sleep anywhere.

Shanghai was a bit chaotic, but we got to our hotel and were pleasantly surprised at its cleanliness. For those of you who have cruised, the room was no bigger. We all got a bit of sleep….. And we needed every minute, because that's when the excitement began!
Our Amazing Race: The drama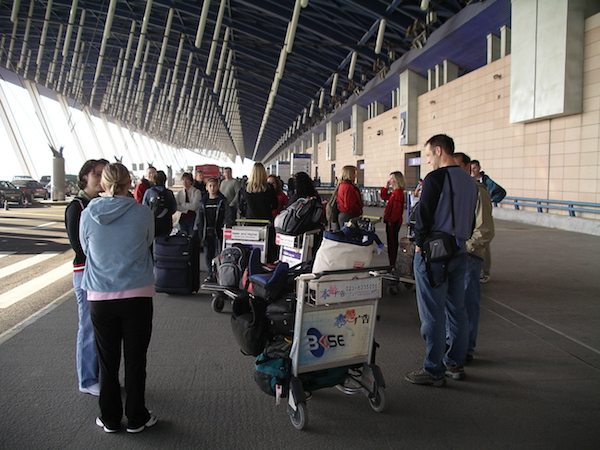 We went to the airport at 7:00 a.m. to catch our flight to Beijing. For some reason, though, Ben's ticket was not properly processed. Imagine, our whole group got their tickets, and there we stood asking and asking if we would fly. I'll spare you the gory, scary details, but those who know me well, can imagine my fear at being stuck in Shanghai!

With only 10 minutes until the flight, Rob and Nathan were sent to the plane, with all the rest of our group and our guide (who was also our mildly English speaking connection to the ticket agent).
2016: Rob also had our passports and all but $50 USD. I had no ID, no money, and no credit cards. The thoughts swirled — but I couldn't let Ben see me panic.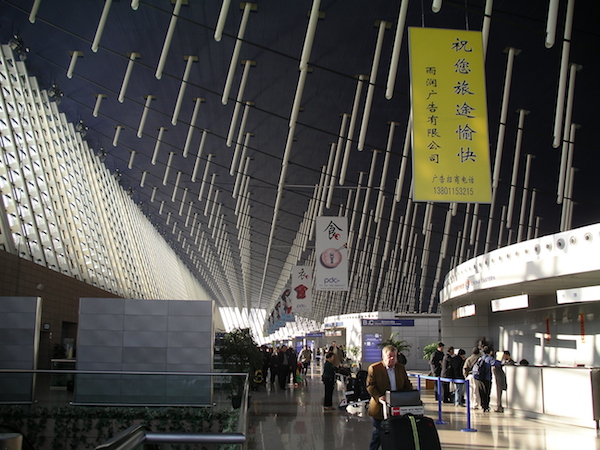 Ben and I were left alone in an enormous lobby with no ticket to board, and no idea if it would ever come. Ben looked at me with huge eyes — his look mirrored my thoughts, "What now?" I dropped to my knees, eye to eye with him, and said, "Let's pray." I felt so tiny in that cavernous ticket lobby.

Our guide returned a few minutes later and started talking with a ticket agent. I could tell the conversation was not going well. Apparently, a Chinese customer felt the same way and took over on my behalf. She stepped out of line and gave the ticket agent and guide a good tongue lashing.

Ben's ticket was finally printed, and with two minutes to flight, an airport official ran us down the hall, past 32 gates, and through the passport check station.
2016: 32 gates??? I've flown through Atlanta a lot since 2005. 32 gates is a long distance! EEK! It may be better that I didn't know how far we had to run.
Our Amazing Race, pushed to the limit!
2016: As we ran down the corridor past all those gates, my sweet Ben, age 7, with tiny little legs got winded. He got a stitch in his side and said he couldn't run anymore. I leaned in close and said, "You know the show Amazing Race? Well, buddy, this is our Amazing Race. We have to keep running to get the plane!" Now back to my journal…
We got to the gate, and the sweet lady there let us know we were OK. (I think someone held the plane for us, but will never be certain. We certainly weren't told.)
2016: Looking back, I still wish someone had told us they were waiting!
Ben and I stepped on the plane, and all our new friends cheered. We discovered that our seats were in first class (and somehow Nathan and Rob were waiting there for us) and plopped down. Emotionally spent. We enjoyed our two hours in first class, and arrived in Beijing without further incident.
2016: Ben enjoyed the experience more than I did — I rather shook like a leaf and cried for most of the flight. Adrenaline, you know.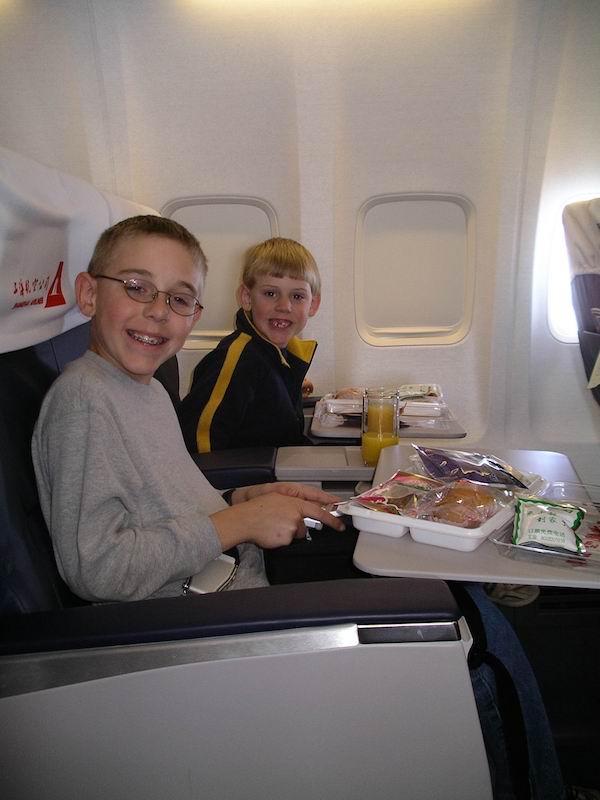 Lessons learned
That trip, I became a traveler. Until the Shanghai flight, messed up tickets, missed connections and delays stressed me out. I felt panicked whenever I flew. But, it's in these experiences we become travelers. I realize that I can't control airlines, but I can control my response.
I will smile in coach. I will not yell at the kid who kicks the back of my seat (It happened. This week. Kid didn't know there was a person in front of him and dad had his hands full with the freaked out little brother). I will not pout when food service doesn't make it to my row (though I might beg Delta for Biscoff cookies on Twitter)! I will not panic when my flight is messed up. I will say thank you to every person who serves me. And I will smile, even at the grumpy travelers! Who knows, maybe they're as scared as I used to be.