Yeehaw! Our wild west adventure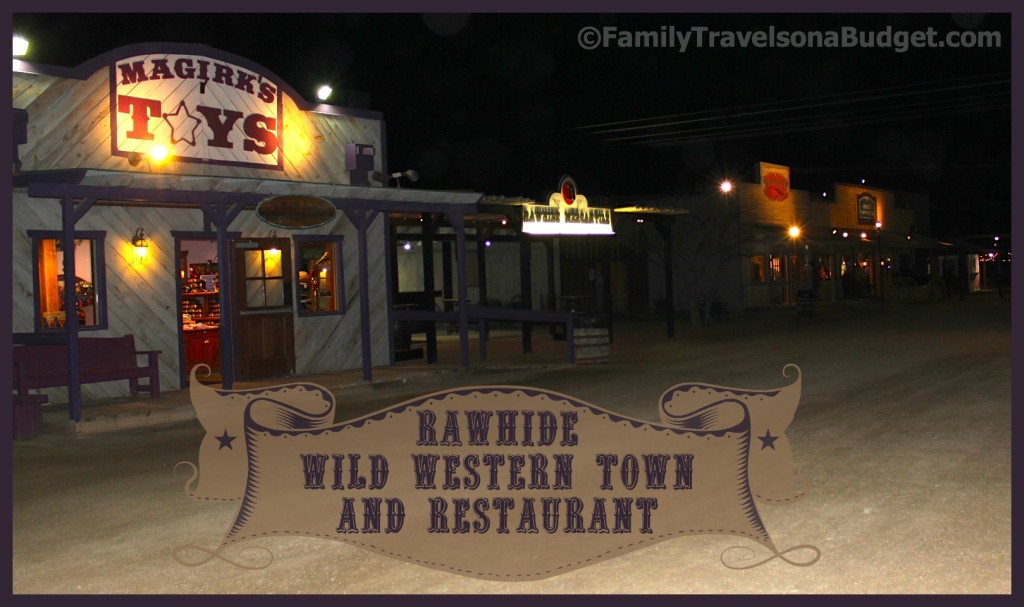 Wouldn't it be great to go back in time and peek inside another era? Like the wild west? The 1800s with stage coaches connecting small prairie towns?
Rawhide, an 1880s western town, transports guests back in time to experience the wild, wild west! Complete with gun-slinging bad guys, a saloon, an old jail and a general store, a visit to Rawhide is a memorable experience for all. Wander the town, shop at the general store and candy shop, gather with the townsfolk around fire barrels or to chat in the street. Watch out, though! When the bandits start causin' trouble, it gets noisy mighty fast!
Of course, all that gunfire is strictly for show… but the loud bangs and the hollerin' are authentic enough to scare the wits out of unsuspecting passers-by. (And just so you know…. the showdown in the middle of the street really is the kickoff to a stage show. Loads of fun!)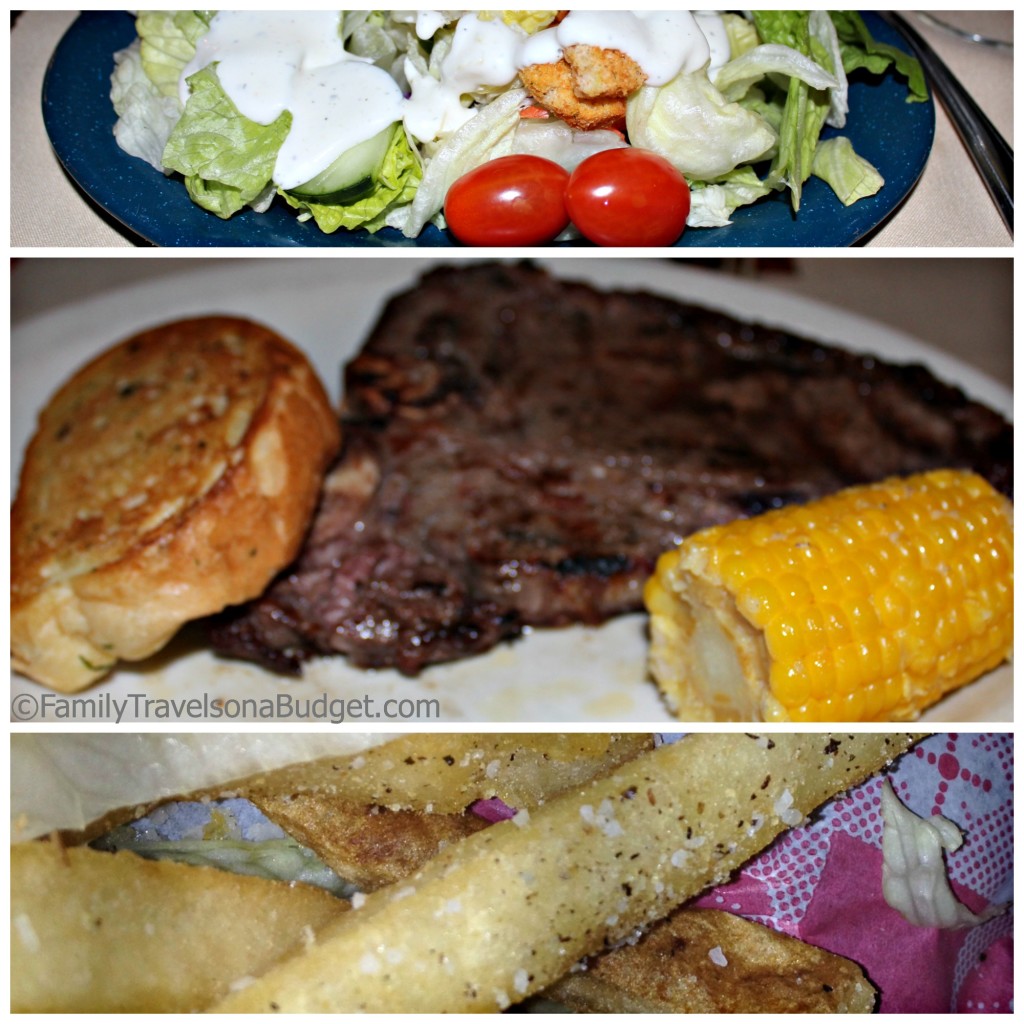 Besides the stage show, families can rustle up some grub at the steakhouse. Prices are reasonable. There's ample seating and a country-western band to add to the atmosphere. They've even got a dance floor, so get out there and have some fun. The food? Sure, it's good too. I recommend a wood-fire grilled steak (you can watch 'em make it). The fries were really salty, so you might want to ask them to back off on that seasoning just a bit. My salad came with a mini corn muffin filled with jalapeños — southwest style — filling and satisfying.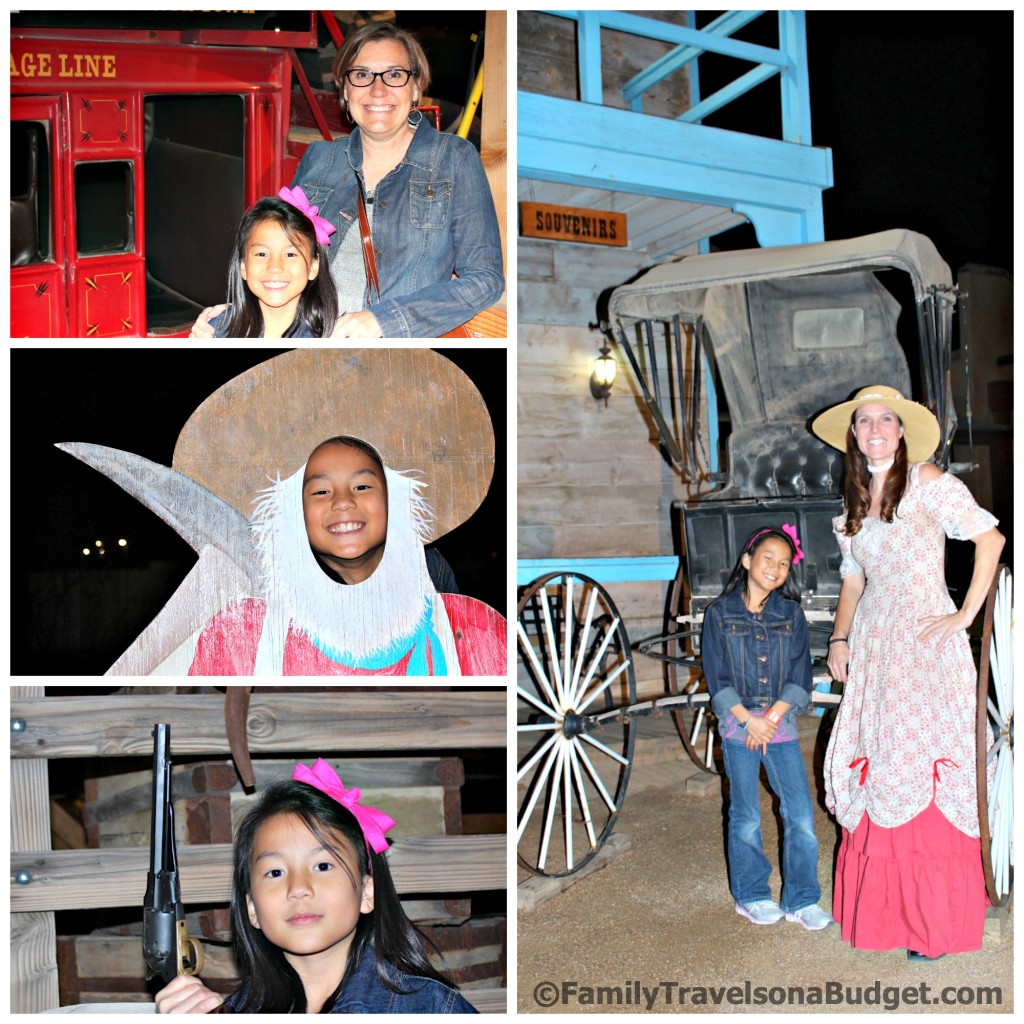 If you come to Rawhide just for dinner and to stroll through town you'll have a mighty good time. But, there's lots more to do — most of it geared toward the kids! Real-life stagecoach rides will make you appreciate your modern car's suspension! Kids can pan for gold (fools gold you know… but they don't have to know that!), ride burros (if they're under 90 pounds), visit the petting zoo, climb on the playground, shoot it out at the arcade and so much more.
Mom says – Kids say: Rawhide
Ellie and I visited Rawhide the night we arrived in Arizona, and we got there at her normal bedtime in North Carolina. We were hungry and tired! As we crossed the wooden bridge, we were transported into another era that bolstered our energy. A young lady, dressed from head to toe in authentic 1880's attire (though she confided that on cool nights she appreciates modern undergarments to keep warm) greeted us warmly and said, "Well, sweetie, aren't you just the cutest little thang." We smiled and headed to dinner since we were ravenous!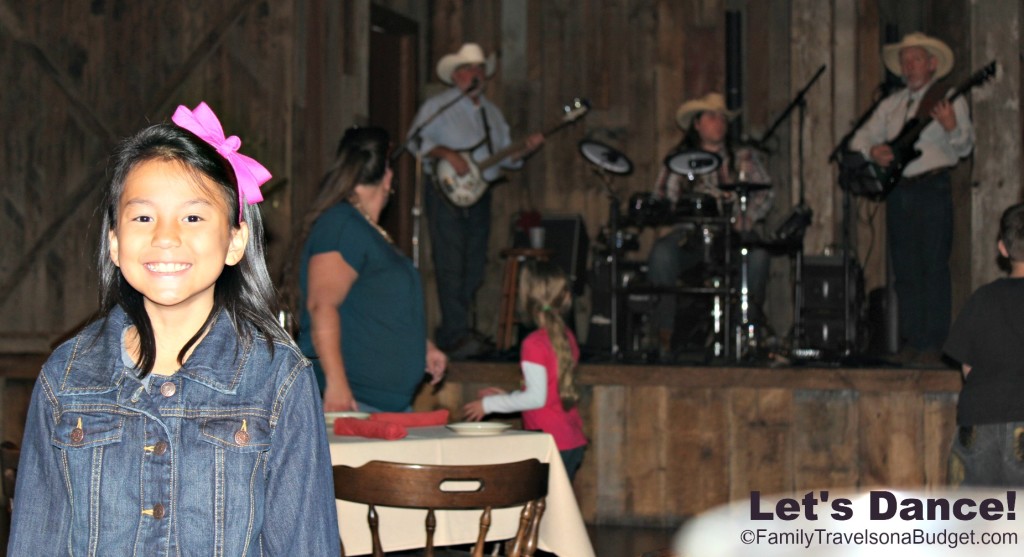 Mom says
I recommend Rawhide to families with elementary-age children and to those who like "the wild, wild west." The characters were friendly and really made the experience special. The animal handlers at the burros and petting zoo will gladly share how they care for the animals, each animal's history and how they are/were relevant to the development of America's Southwest. The guys working the gold panning area are rascally fun — what I envision those dreamers to be like! And the gun-slingers, wow! When the gunfight gets going, they really get into it. Though, they also add humor, so it's not too intense.
Families can pay by attraction or purchase wristbands that allow unlimited access to almost all the attractions onsite. For younger kids, panning for gold, riding the burros and bouncing on the inflatables are sure to be big hits. My daughter, age 9, seemed the perfect age for everything!
To get the most out of a visit to Rawhide, engage with the actors. Rawhide is a fully interactive wild west town. The more you engage, the more fun you'll have!
Kids say
Ellie thoroughly enjoyed her visit to Rawhide! Her favorites were riding the burros, panning for gold, tasting fudge at the candy shop, sitting by the fire with the people and the food. Her absolute favorite was the petting zoo. She liked the burros because they were gentle and soft and didn't go too fast when she rode them. She liked panning for gold because she got to keep the rocks. She liked the food because the server was really, really, really nice. (TRUE!) And she liked the town because she got to see how people dressed in the "olden days" and because of all the details wherever we went, like the covered wagons and the jail.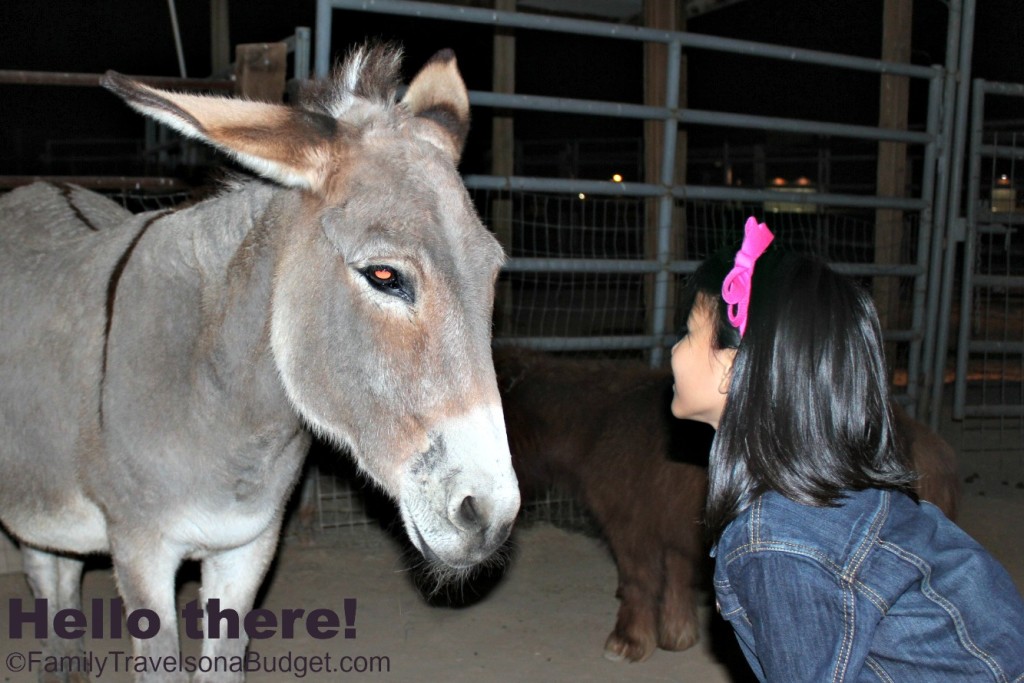 Ellie did not like the gun fight! Visiting so late in the day and after dark made it a bit more real to her than it really was. The characters did not pull her into the action, but allowed us to sneak by along the building fronts as if we weren't there at all. I (mom) appreciated their clear concern for her enjoyment.
Planning a visit to Rawhide
Plan to visit for 4-5 hours to get the most out of a visit. To enjoy dinner and stroll through town without the attractions, allow a minimum of 2 hours.
Location
The GPS address for Rawhide is  5700 W. Tham Yog North Loop Road, Chandler AZ 85226.
Just outside the city limits of Chandler, Rawhide is a 160 acre attraction built in the Gila River Indian Community on the Sonoran Desert, allowing ample space for thousands of visitors daily.
Admission
Admission to the town is free.
Individual attraction tickets are $4.95 + tax per attraction
All day wrist bands are $14.95 + tax.
Parking is $5 per vehicle. It includes a discount on dinner or general store purchase.
Hours
Rawhide is open weekdays from 5-10 p.m.
Saturday and Sunday, the town is open from noon-10 p.m. The steakhouse serves lunch from 12-4 and dinner from 5-10.
Before you go, check the Rawhide website for current hours and special events. Sometimes, the town is booked for private events.
When I was growing up, I read the Little House series more times than I could count. My mom made me a prairie girl dress and bonnet that I wore all the time, even to school when I could. When the Little House series came out on TV, I watched that too. The western frontier gripped my imagination and kept a firm hold. Visiting Rawhide, I was reminded of that little girl who dreamed of cowboys and horses, covered wagons and picnics among wildflowers. Today, Ellie is reading the Little House books and loving every minute.
Rawhide provided free dinner and complimentary arm bands for the purpose of this review.  All opinions are my own and Ellie's. We were not required to give a positive review.  To learn more, read
my disclosure policy
.