"Mommy, tell your readers they have to ride the New Test Track at Epcot! It's soooooo much fun!" — Ellie, age 9
There you have it, folks! My daughter — who two days before riding Test Track at Epcot was terrified of all rides big, fast and loud — loves it! As for the rest of us… we think it's pretty awesome too.
What is the "new" Test Track at Epcot?
We loved the original Test Track ride, but the cheesy video intro left a lot to be desired. The queue area, the cars, and even the ride itself looked tired. The new Test Track at Epcot, sponsored by Chevrolet, offers interactive features that make the ride entertaining time after time. In two days, we rode it four times — each experience a fresh thrill.
In the stand-by queue, riders learn about four different elements that go into creating a great vehicle:
Capability (handling)
Responsiveness (maneuverability)
Efficiency (fuel-saving and environmentally friendly)
Power (speed)
Fast pass riders do not learn how these factors interact, so they do miss out on a bit of the experience.
Finally through the queue, riders get to "create" their own virtual concept car in the Chevrolet Design Center. Each choice made affects the rating for the four elements. The goal is to design the best overall car, though when you have a nine year old girl along, sometimes the goal is just to make a fun-looking, pink, "flowerdy" car that will never be available in the real world. 🙂
After designing your vehicle (there's a five minute time limit), your vehicle gets "tested" against all other vehicle designs in your car to see which performs best in each area and overall. The new Test Track at Epcot runs on the same track as the original ride, but the entire place has been reimagined for a more futuristic experience. It's loads of fun! And… it ends with the thrilling 65 mph ride on the outdoor track.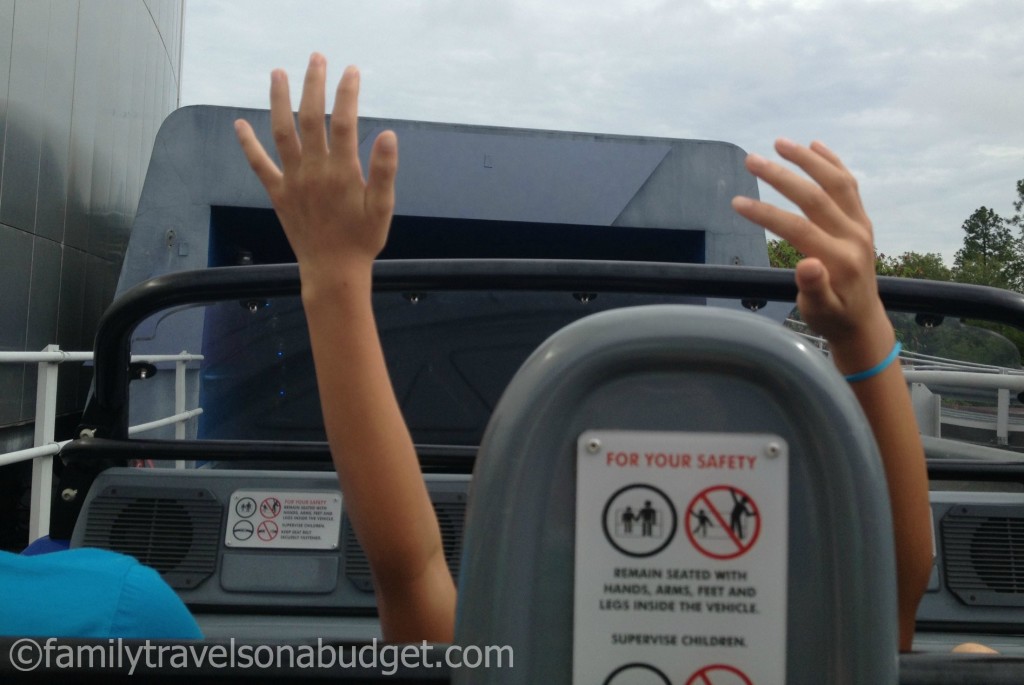 After riding, park guests can create commercials featuring their concept car, use their concept car in a virtual video game, check their performance against other riders that day, and more. The changes to Epcot's Test Track made for a fabulous interactive experience every member of our family thoroughly enjoyed.
Tips for riding the New Test Track at Epcot
The line for Epcot's Test Track gets long quickly. When entering the park, skip Spaceship Earth, Innoventions and other attractions to get here first. If the standby queue is 30 minutes or less, get fastpasses for later in the day AND ride now. It's worth riding twice!

Disney has changed fastpass rules, so if you ride using a fastpass, be sure to arrive during your scheduled time or risk not being allowed to ride.
When creating your concept vehicle (share this with other members of your group if you want — or treasure the secret and marvel your family with your high score!):

Remember you have only 5 minutes to create your car — don't get too bogged down in details.
Wider, lower cars tend to perform better overall.
Look at each "add-on" option available to see which improve your score the most (some lower it — though they look cool)
Allow young riders/non-competitive family members to select the color and decorations (last step) — just save some time for it!
Have FUN!

Test Track does shut down in inclement weather. If rain is in the forecast, make Test Track a priority!
We emailed ourselves "commercials" of our concept cars and had a great laugh after getting home from our trip. Enjoy Epcot's Test Track!
Have you ridden the New Test Track at Epcot? Any advice for our readers? What's your high score?