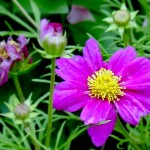 An Irish St. Patrick's Day week is not complete without Irish Photos to show off the Emerald Isle's natural beauty. My friend and photographer, Steffanie Lafors, had the opportunity to visit Ireland. Enjoy the gorgeous Irish Countryside through her lens.
Looking at these Irish photos, it's clear that Ireland has earned its nickname as the "Emerald Isle." Did you know the country is also called "The Land of Saints and Scholars," referring to the many monasteries here during the middle ages. Some say that the scholarly monks of the Catholic Church single-handedly saved western civilization during this dark season of barbarian rule.
I hope you've enjoyed our St. Patrick's Day journey into Ireland. Have you visited the Emerald Isle? What's your favorite memory? Share your Irish Photos (whether here or there) with us on Facebook.