Every December, I review the past year — where it went, where it should have gone, and what needs to change. I do the same thing for my blog, each year building on skills to improve it and stay relevant.
The past few years, I've focused on improved photography, more engaged social media, and better writing generally. This year, the focus is a little different.
Maybe it's because I turned 50 last year. Maybe it's because in five years of travel blogging, I have changed. Probably it's a bit of both.
So, in 2017, you'll get a bit more Karen — my perspective, my interests, my challenges. Not to be all about me, that's not my style. I hope it will inspire you. To try something new. To go someplace different. To say yes instead of no.
Like the way I ended 2016… The local CycleBar asked me to come check out their cycle classes (spinning but a bit more fun) and share the experience with you. I got the email request and let it sit a few days… and then, for some crazy reason, I said yes.
CycleBar is 40 minutes from my house, so the distance alone should have made me say no. And the invitation came at the holidays, as if I don't have 1,000 other things to do. AND, the email first arrived when I was in the midst of a 10 day migraine. 10 days!
You know what? I loved it!
And it changed me. Maybe it just sped up the process of who I am becoming. Anyway, this year, I'll be seeking more adventure (not adrenaline junkie stuff, but outdoorsy, healthy stuff) and pushing myself to be less of a chicken.
And if this 50 year old mama can do it, then you can too!
How about starting with CycleBar?
There are 58 CycleBars open in the United States with another 60 or so scheduled to open soon. Considered a "premium indoor cycling" gym, CycleBar is essentially a thoughtful spin gym. They take care of the details and you just show up for class. Enough babble — watch this:
CycleBar at Brier Creek opened in April and offers classes from early morning through the evening. Some classes are themed, like the holiday class I took which played Christmas music. They offer introductory 30 minute classes as well, so you can get a taste of cycling before you jump in.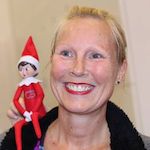 I met Heidi G., one of the CycleBar regulars, and she offers this tip for newbies, "When you start cycling, focus on the resistance first. When the instructor gives you a new level to work, go there. Don't worry about the speed yet. As you get stronger, the speed will come."
How it works
Create a profile online where you also register for classes and select your bike,
Go to CycleBar for your class — I recommend arriving 15 minutes early to check in, change and adjust your bike,
Check in at the kiosk,
Get your shoes,
Lock up your stuff in the free lockers,
Find your bike and adjust it to your perfect fit,
Enjoy class!
It's that easy! CycleBar also provides water bottles, fresh fruit, towels and a fully stocked shower room. They think of everything, so you can focus on fitness! (Thanks to CycleBar for providing three classes for purposes of this review. All opinions are mine)
But wait, there's more!
One of my greatest struggles these past few years has been figuring out how to be strong enough for the things I want to experience. To be honest, until I turned 40, I was afraid to try new things. I wouldn't ride roller coasters, hike rough trails, jump off a cliff into the water or zip line. All those things intimidated me. Then, my boys became teens and, being competitive generally, I had to push the fear down and try living. I hated sitting on the sidelines.
My adventurous soul set free, I found that not only do I enjoy these crazy adventures, I crave them!
I'll be adding a section to the blog called "Fit Fridays." I'm not a hard-core fitness guru, but I have learned how to incorporate healthy living into my travel lifestyle. I'll share exercise tips — such as how to work it in during travel, healthy eating tips for the road and healthy lifestyle activities in this section once or twice a month! (You can find a quick link to the Fit Fridays posts at the top of the blog, above the Family Travels on a Budget logo.)
This is new, so I'd appreciate your feedback! What's hard about being healthy when you're traveling? Or what keeps you from stepping out of your comfort zone? Leave a comment, and I'll address your questions in this section as I can!
Happy new year! Happy new you!