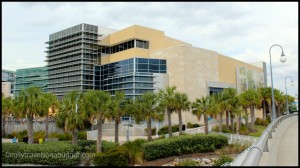 I want my blog posts to have catchy titles that will grab your attention — but today, I'm struggling. When I was growing up, history museums were boring. I hated going to them. But history museums have changed, and they are fun. Read on to learn why to add a history museum to your itinerary. Will I convince you?
Our recent trip to Tampa, Florida was packed with excitement, like the Saturday market in Ybor City (pronounced EE-bore), the Children's Gasparilla Festival, and a ride on the electric trolley. Of course, if you never heard of Ybor City (like us) or Gasparilla (also like us), you might think (like us), that this trip sounds lame. Okay, I didn't think that way, but my teenage sons sure did.
We learned long ago that history centers (or museums) help us appreciate our vacation destination so we included a visit to the Tampa Bay History Center (pictured above). Some of the best things we learned at Tampa's history museum were:
The Cowmen & Crackers Exhibit, which includes a movie to watch while sitting on horse saddles, helped us appreciate the significance of cattle ranching to Florida's economy. We also learned that cattle ranchers, called "Crackers," got their nickname from the sound of their whips cracking. They don't crack the whip at the cattle, but to communicate their location with one another.

Coacoochee's Story Theater (pronounced Co-ah-coo-CHEE), tells the story of this Seminole Chief during the Second Seminole War. Coacoochee made the difficult decision to move his people to Arkansas rather than continue fighting the white immigrants. (This exhibit is the History Center's most popular and rivaled Disney productions in quality.)
The Cigar City display helped us understand historical significance of Ybor City — a Cuban/Italian immigrant community and cigar manufacturing.
Henry B. Plant's railroad and steamboat strategies laid the foundation that led to Tampa becoming a great port city.
The Gasparilla Parade (and surrounding events) has been a part of Tampa's culture since 1904. Gasparilla memorabilia is a local collector's item to be cherished. (Come back tomorrow to learn more about José Gasparilla and his piratical krewe!)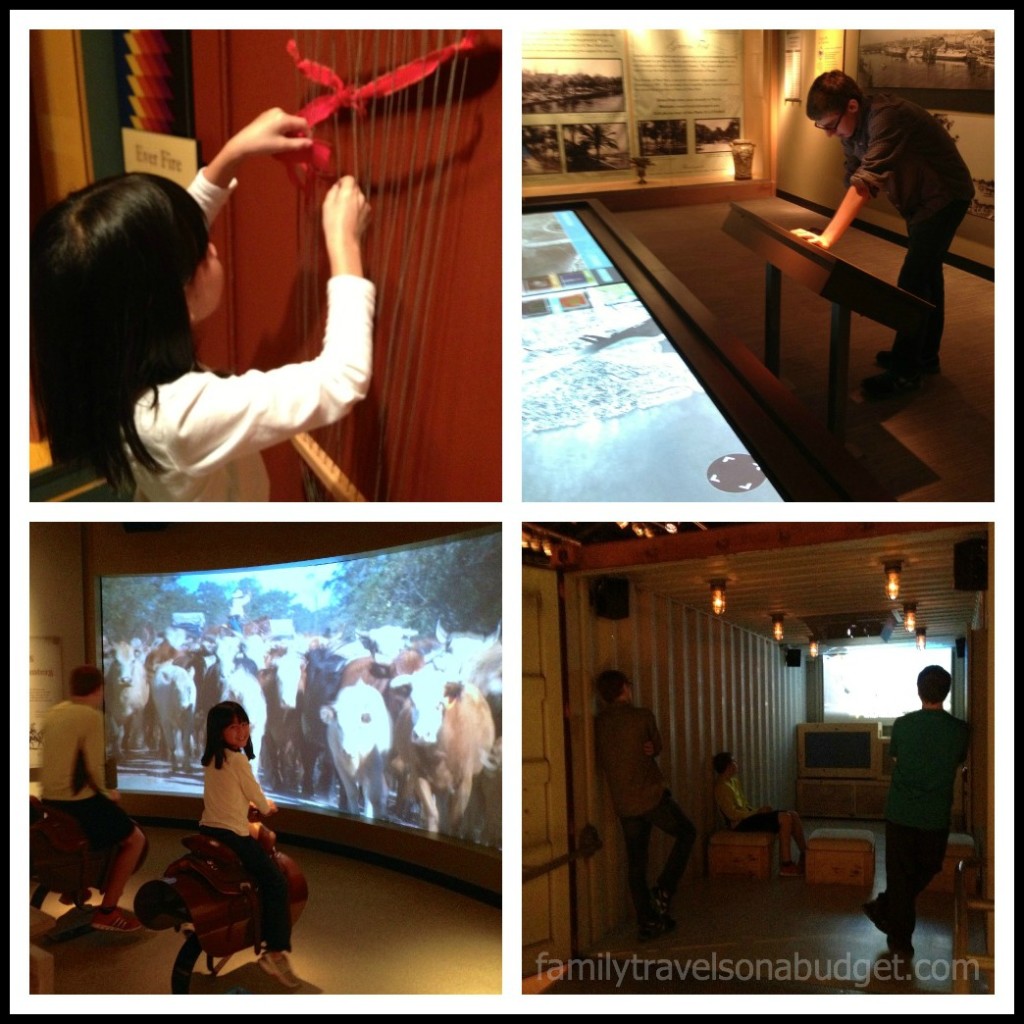 PHOTO: Top left, Ellie learns a Native American weaving pattern. Top right, Nathan explores the topography of the Tampa Bay area. Bottom left, Ben and Ellie watch the Cowboys and Crackers video. Bottom right, Ben watches the history of railroads in Tampa.
Since our trip included a visit to Ybor City, I enjoyed the History Center's Cigar City display. We learned why Cuban cigar manufacturing was so successful in Tampa. We saw dozens of cigar boxes, each sharing a unique piece of history. We also learned about immigrant life in Ybor City. I also enjoyed reading about pirates and the mythical José Gaspar. It helped me appreciate the fun behind the Children's Gasparilla Festival that we attended.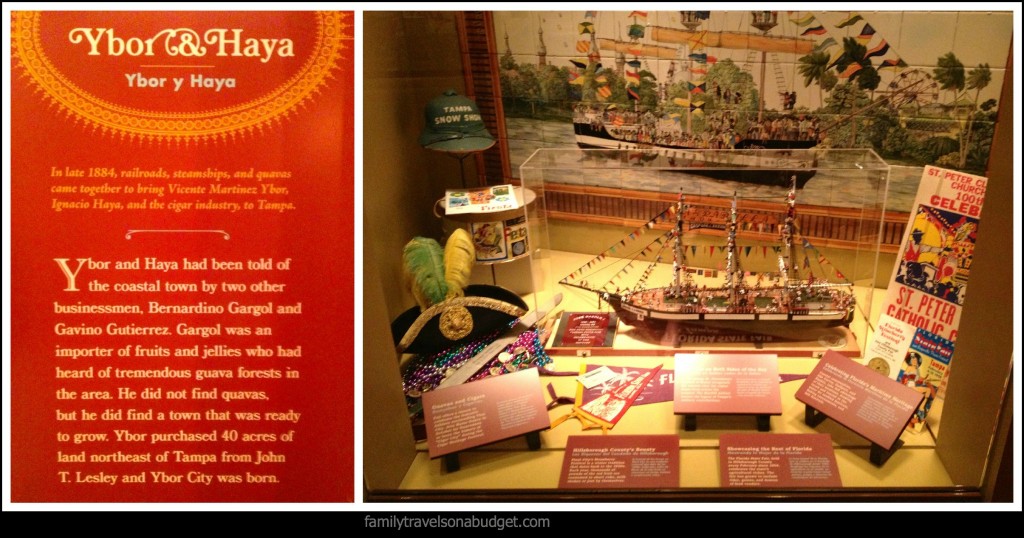 PHOTOS: Left, an introduction to Ybor City. Right, a look back at the Gasparilla Parade and festivities through the years.
Even after our trip as we drove home to North Carolina through Florida's cattle country, we talked about the Seminoles (as in Florida State University). We also looked for "crackers," though we only saw the cattle.
The Tampa Bay History Center offers much more. The war display is quite impressive. The children's area, which our daughter enjoyed for close to an hour, offers many hands-on activities so little ones can explore.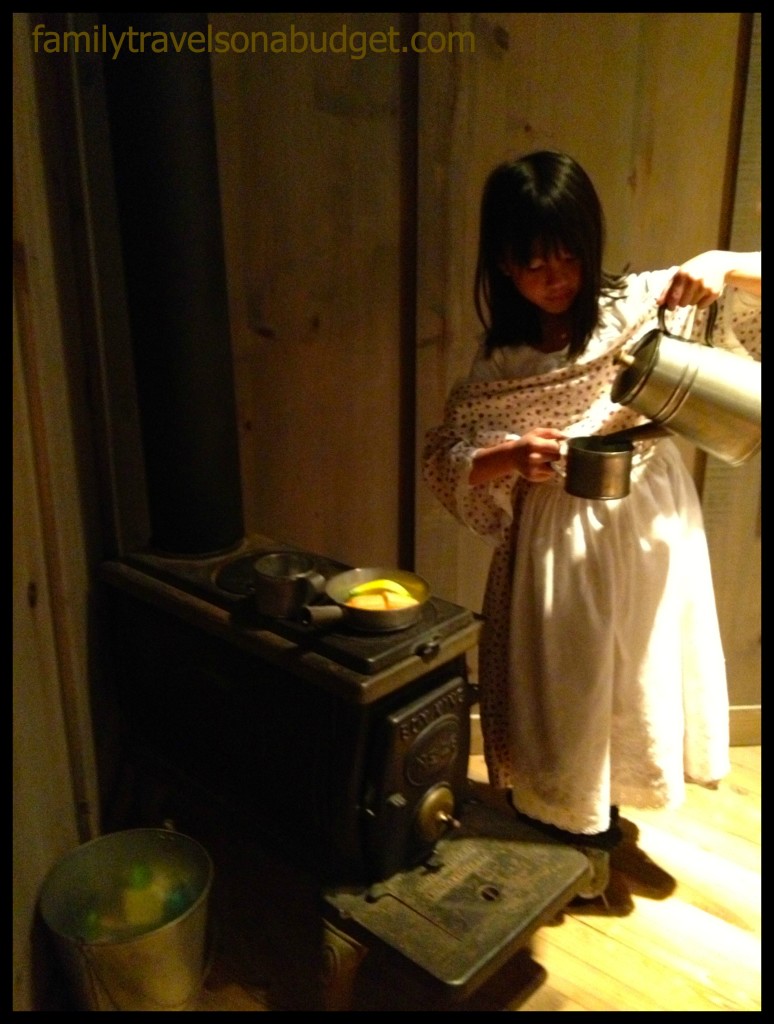 PHOTO: Ellie plays house in A Land Remembered, which includes a kid-sized pioneer cabin, original artifacts and a hands-on discovery center.
Let's get back to WHY to add a history museum to your itinerary:
It provides an opportunity to understand the local culture,

It offers a glimpse into the lives of the people who shaped the area,
It encourages a greater appreciation for local arts and industry,
It allows kids (and adults) an opportunity to appreciate history — and the world beyond their home town.
It enriches your vacation experience.
Our visit to the Tampa Bay History Center improved our vacation experience. My teenage sons enjoyed Ybor City and the Children's Gasparilla Festival. On your next trip, visit the local history center (or museum). Your overall vacation experience will be better for it. And when you're spending money, don't you want the best experience possible? That's why I suggest you add a history museum to your itinerary. Did I convince you?
I would like to thank the staff at Tampa Bay & Company and the Tampa Bay History Center for hosting our visit. The opinions expressed in this piece are entirely my own.
Like this post? Please share!