How to guide for Epcot, Hollywood Studios and Animal Kingdom
This post may contain affiliate links. Click here to see what that means.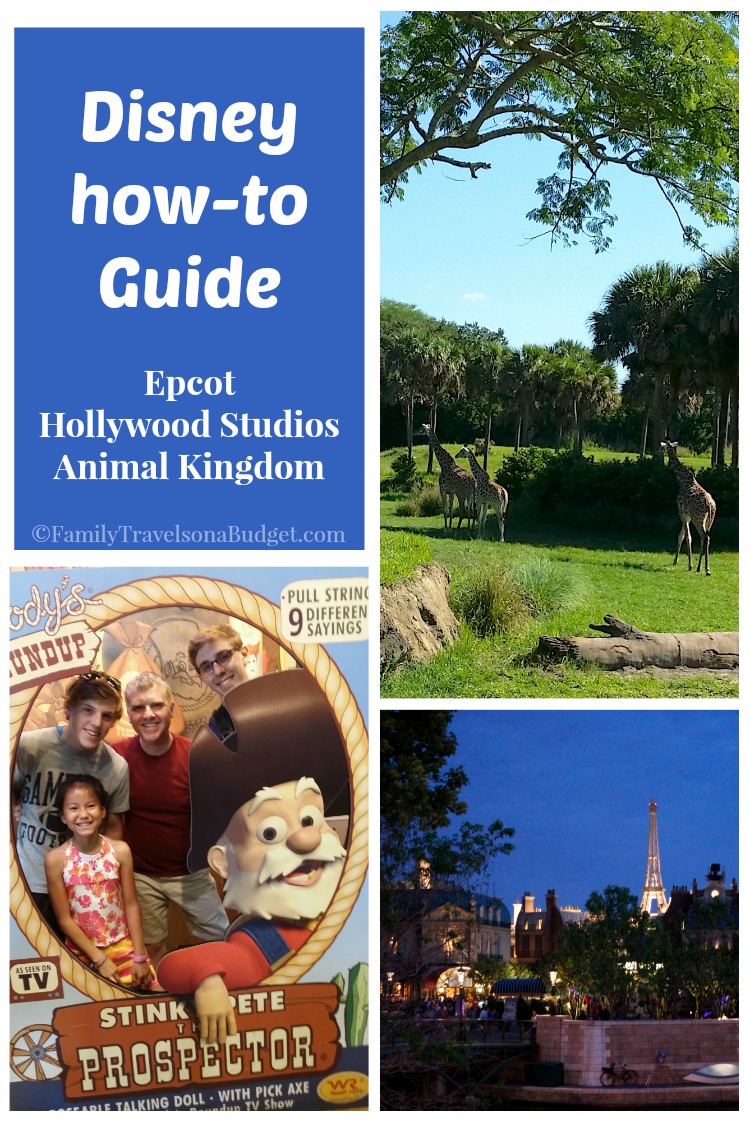 **Post updated May, 2015**
Epcot, Hollywood Studios and Animal Kingdom are fantastic parks, as incredible as the Magic Kingdom. Yesterday's post on the Magic Kingdom includes essential information to create customized, interactive maps, FASTPASSES, dining and general park survival skills. Be sure to read that post for those details.
Let's plan your day (or days)!
Epcot
Epcot is essentially two parks in one: Future World, encouraging creative ideas, and World Showcase, a collection of international pavilions set around the World Showcase Lagoon. Generally, Future World opens two hours before World Showcase each day.
Fastpass essentials: With the changes in Fastpass policies, you can only get 3 per day per person. Epcot has tiered fastpasses means you can only get Test Track or Soarin', not both. I recommend you get the Soarin' fastpass as that's the slower standby line (with waits up to 90 minutes). Test Track's standby queue tends to move quickly and is interesting, so it's easier to wait.
Other good Epcot Fastpass options include: Mission Space (if riding the Orange route. You will not need it for the less intense Green option) and Spaceship Earth. Get morning times for all of them.
Future World
Entering Epcot from the front gates, guests are immediately immersed in Future World. The iconic Spaceship Earth, an easy ride encouraging guests to consider communication — past, present and future, dominates the central plaza. Beyond Spaceship Earth are Innoventions East and West, indoor pavilions offering hands-on exploration… think kids' science museum, Disney style. East offers hands on exploration of ideas including health, conservation and futuristic dreaming, while West offers fire safety, conservation ideas and other smart living ideas. Innoventions is worth a visit any trip, especially when mom and dad need a break! Beyond Innoventions, Future World includes, on the right as you face the fountains: The Seas with Nemo and Friends, The Land Pavilion, and Imagination Pavilion. On the left, you'll find: Ellen's Energy Adventure (a 45 minute ride probably soon to be removed), Mission: SPACE, and Test Track.
Using Disney's customized online map feature, you can plan your day using these tips:
• If you arrive at or before park opening, ride TEST TRACK early while the line is short.
• Mission: SPACE includes two versions of the attraction, one for those who want the sickening thrill and a tamer one for those who don't. Make sure you know which line you're in.
• The Sea with Nemo and Friends is a hit for preschoolers and older kids alike. Don't let the preschool-friendly decor at the entrance keep you from visiting. (Though if time is limited and kids are older, skip it)
• The Land Pavilion offers some of our favorites: SOARIN', is a popular ride and has the longest standby line of everything in the park. The Garden Grill Restaurant constantly revolves, entertaining for young and old alike, and the all-you-can-eat family style food service is excellent. Throw in visits from Chip, Dale and friends to round out this entertaining experience. Other interactive experiences are offered throughout the day as well.
• The Imagination! Pavilion area includes a coca-cola tasting center, offering free tastes of soda from around the world. I highly recommend the watermelon soda from China!
• Visit early and stay for a couple hours. When World Showcase opens, move on. Future World, except Test Track and Soarin' is generally less crowded by mid-afternoon.
World Showcase
As its name suggests,
World Showcase
offers a glimpse at life around the globe. Each pavilion is carefully created to reflect the architecture of the culture. Entertainers, food and shopping reflect the regions as well.
• Kidcot Fun Stops are offered at each pavilion. Designed for preschoolers, and enjoyed by elementary aged children too, activities here entertain little ones so that parents may shop or relax.
• Agent P's World Showcase Adventure, loosely based on Phineas and Ferb's Perry the Platypus character, recently opened offering a much-needed fun-boost to exploring World Showcase. Using a F.O.N.E, "secret agents" explore clues to solve missions in the park. This is fun for kids and grown-ups alike. Read here for more detailed information and photos of the adventure.
• Disney character meet and greets are found at Japan, Morocco, France and the United Kingdom (though locations change from time to time, so check the park map when you visit for up to date information).
• The only hard part about dining in the World Showcase is deciding where to eat! This post offers a great overview of all the restaurants in Epcot, including guest ratings.
• IllumiNations: Reflections of Earth offers an incredible end to each day. The show is set in the World Showcase Lagoon. Arrive at least an hour early, earlier during peak times, to get a good view. Sit "upwind" of the smoke coming off the lanterns that encircle the lagoon.
Hollywood Studios offers some of the best all-around entertainment at the WDW parks. Including two of the greatest adult rides in the Disney parks, the Rock'n'Roller Coaster and Twilight Zone Tower of Terror, the park is also home to great shows for the whole family.
Fastpasses here should include Toy Story Midway Mania! It's loads of fun for the whole family and the standby wait gets really long. This ride tends to break down later in the day, so get a late morning fastpass. Other fastpasses to consider are for the fireworks show (preferred seating section), Rock 'n Roller Coaster (anytime of day and standby moves quickly too) or Twilight Zone Tower of Terror (again, standby times aren't too bad).
Because the park is show-intensive, guests should preplan visits to the park. Use these tips to get started:
Know which shows you want to see. If you can get a map the day before, plan your visit based on your most desired show times. Add in other activities as time allows.
If you don't have fastpasses, ride Rock'n'Roller Coaster OR Twilight Zone Tower of Terror early in the day to avoid most wait times.
Beauty and the Beast live on stage usually offers an early show and might be a good place to start. The pre-show is hilarious so arrive early. This is a great place for a midmorning snack. **There are rumors that this show is on its way out.**
The Magic of Disney Animation, formerly one of the best kept secrets at Hollywood Studios, is a popular attraction offering guests an opportunity to discover how animation works and learn how to draw popular Disney characters. Character meet and greets are scheduled here as well. Preschoolers might want to watch the preschool show at Disney Jr. Live on Stage while older family members participate in Animation Academy.
The best dining, hands down, at Hollywood Studios is the popular 50's Prime Time Cafe. Be sure to make a reservation well in advance if you want to dine here. We usually eat a midmorning snack brought from home during a show and eat at the restaurant around 2:00.
The Fantasmic light show uses water screens. If you sit close to the front, you are likely to get wet. Note also that this show can be scary to younger children. Families with young kids might want to sit toward the back.
Disney's Animal Kingdom
Guests enter
Animal Kingdom
, the largest of the four WDW parks, at the Oasis. The park is designed much like a bike wheel. The Tree of Life is the center of the wheel. All the other areas of the park extend away from it like spokes. The major disadvantage to this layout is that walkways can get congested.
Be patient!
The tips listed here coordinate with the "spokes" of the wheel clockwise around the park.
Festival of the Lion King and Camp Minnie-Mickey. Offering a worldclass show, rated among the best at all four Disney parks and shaded character meet and greet areas, this "spoke" is a must visit. Arrive early for the show and try to sit in the first three rows near the aisle for a chance to have your kids participate in the show.
The Kilimanjaro Safaris spoke is best visited early, before the day's heat sets in. The safari adventure takes guests through the wildlife preserve area for up-close looks at amazing animals. The ride is both bumpy and entertaining. Tucked away is the Wildlife Express Train taking families to a younger child focused "petting zoo" and more. This spoke also features buffet dining at Tusker House Restaurant, with characters at breakfast and lunch.
The major ride attractions of Animal Kingdom are located along the next spoke: Kali River Rapids will get you wet and Expedition Everest churns stomachs (I did outlast my sons on this ride!). Maharajah Jungle Trek takes guests on a walking tour through Asian lands where you'll see beautiful foliage, tigers, bats and more.
The last spoke of the wheel takes guests to the spectacular Finding Nemo show. Shows in this theater have a tendency to be loud, so if your little one has sensitive ears, be prepared. Often criticized but still entertaining, this section of the park offers a roller coaster, children's rides, arcade activities and the intense Dinosaur attraction, not suitable for young children who scare easily.
Back at the hub, examine the Tree of Life, enjoy "It's Tough to be a Bug," and watch the parade. Flame Tree BBQ offers quick service dining in this area as well — convenient for pick up and dining while waiting on the parade to begin.
Leaving the park, wander through the Oasis, enjoying the birds and other wildlife that call this tranquil place home. (Don't get caught up on it as you enter, though, because Kilimanjaro Safaris and Festival of the Lion King are waiting!)
Animal Kingdom is not the best park to visit on a rainy day. Most attractions are outdoors, the walkways are narrow and indoor dining is limited.
NOTE: Animal Kingdom has undergone some major changes since my last visit. Be sure to explore the park online to familiarize yourself with all it has to offer.
Taking just a couple hours to familiarize yourself with park layouts and choose the attractions that most suit your family will help you enjoy the Disney vacation of your dreams.
Experienced travelers, share your best Epcot, Hollywood Studios and/or Animal Kingdom tips with the rest of us!
If you have questions, ask. Loyal readers and I will answer them to the best of our ability.
Happy travels!