Golfing: File under "Cool Skills to Learn"
Here I am at 53 years old, realizing that I've still got lots of cool skills to learn in life! Sure…. I've done some awesome things like indoor skydiving, snow tubing and overcoming a fear of heights by parasailing in Illinois!
But, I wasn't always adventurous.
For a very long time, I kept my feet planted firmly on the ground watching others, envious but secure.
My journey to cool began when…
A few years ago, I started saying yes. I tried wake boarding (oh my…. scary). My son was a natural, though.
Another trip, I took a group stand up paddle boarding lesson. I was the only one who got to her feet! It wasn't pretty getting there. Or easy, either!
The first time I tried to stand, I messed up and fell backwards off my board. It was the best thing that could ever happen — I fell. I did not drown. I got up. I tried again. And I did it!
In that moment, literally, I realized I love learning things, and I can overcome my fears!
And then came 2019…
This year, the world has conspired to push me to the one thing I really never wanted to learn. Golf.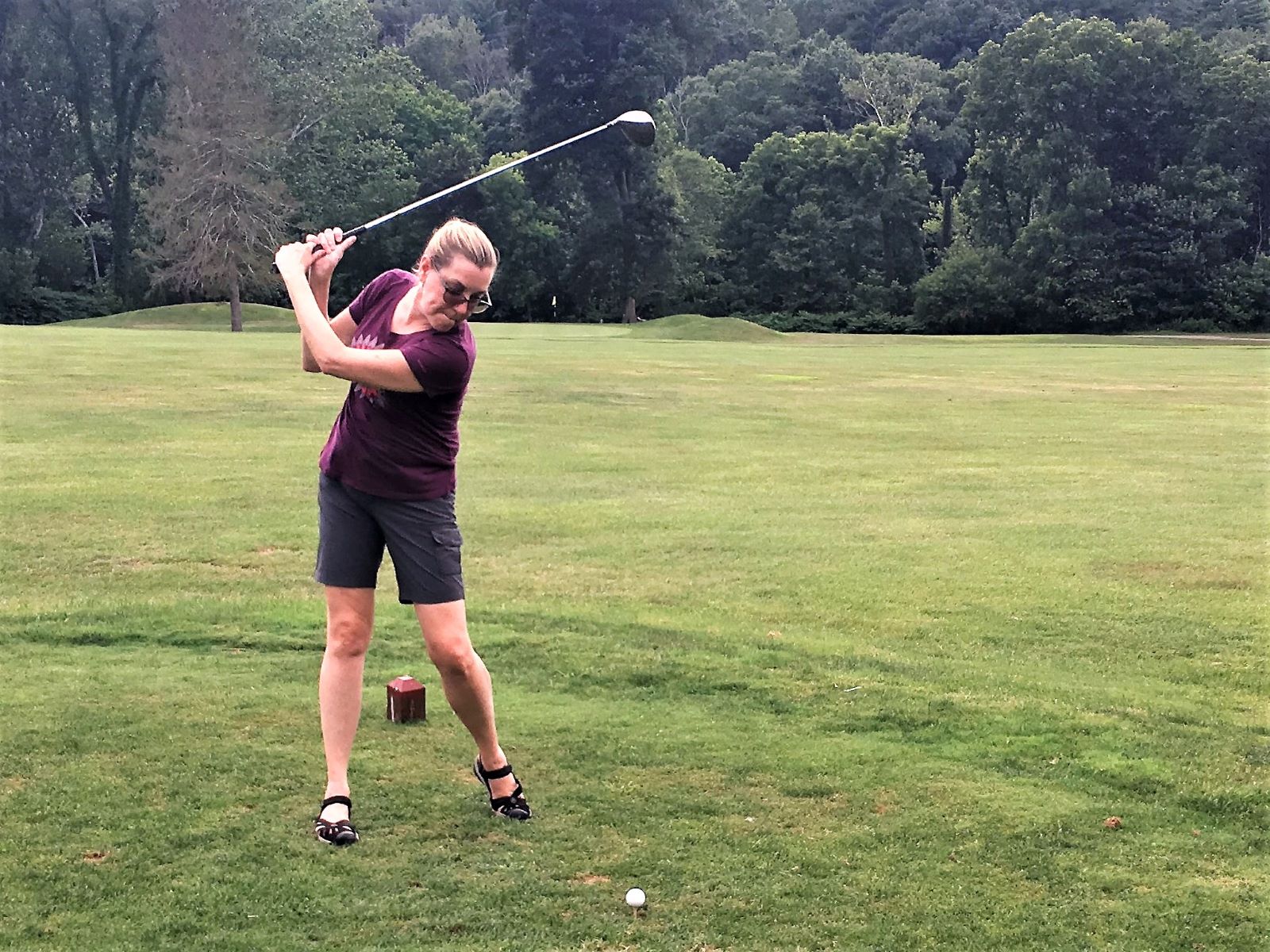 It's really bad, y'all. My husband taught me how to drive a stick shift (back in 1987), but he refuses to teach me golf. Refuses! I get mad enough when my shot goes wide at the putt putt course, my hubby can't imagine teaching me on the real course! Honestly, I don't blame him.
Competitive + Unskilled = Disaster in the making.
Golf, one of the best cool skills to learn!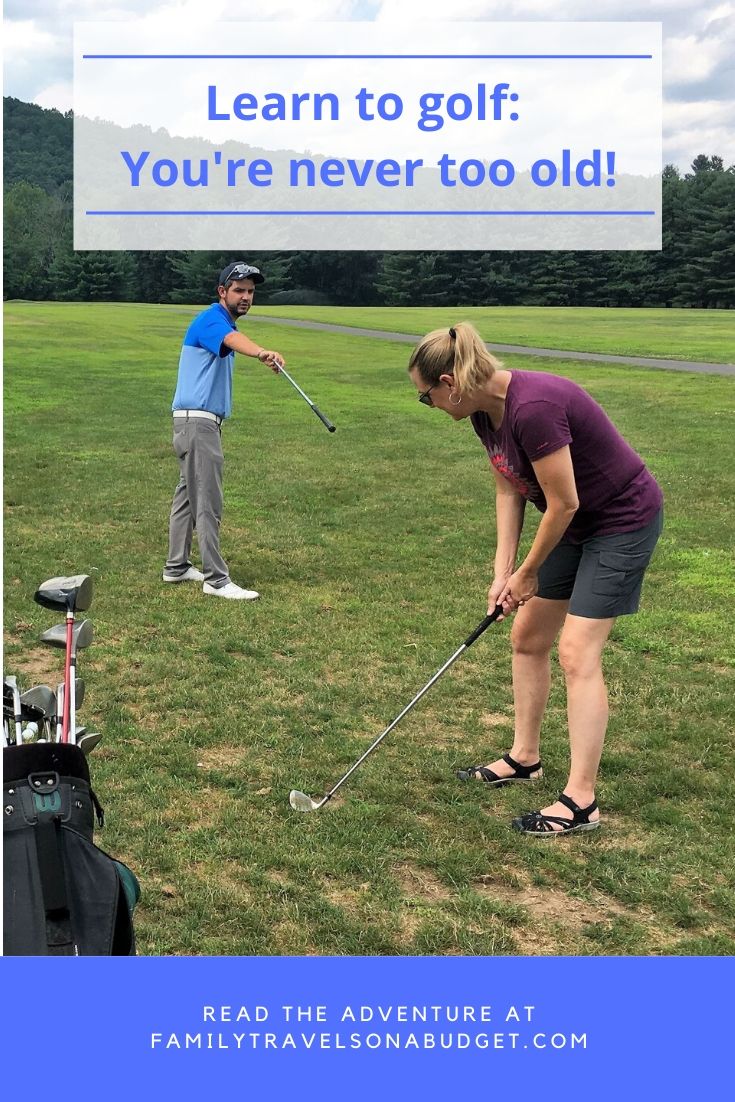 It all began on a solo travel trip for the blog to the Endless Mountains of Pennsylvania. The itinerary included a private golf lesson with the brave golf pro at Shadowbrook Inn & Resort in Tunkhannock. As I toured of the property before my lesson, I suggested — somewhat seriously — to the property manager that he offer a hazard pay bonus to his pro!
Tour complete, I could put off the dreaded lesson no longer. Armed with a good dose of self-deprecation and a side of humor, I met Adam and told him my experience level. ZERO! To its credit, Shadowbrook's website says they "welcome all levels of golfers." And Adam certainly didn't back down at the challenge to help this reluctant learner some cool skills.
Adam explained the keys to a good golf swing:
P — Posture. Not just standing over the ball, but knowing how the shoulders, arms, hips and legs align from start through swing.
G — Grip. How to position my hands on the club and how tightly to grip. Or, in my case, how to relax my stranglehold on the club.
A — Aim. Amazingly, the ball goes where my toes tell it to! (And, for me, this was the easiest part.)
Do you see that? Golf is simply PGA!
After some work on my posture, grip and aim, Adam had me swing at an actual golf ball, in a space where other humans, glass windows and he existed. No helmet, brave man!
Thanks to Adam's patient coaching, I actually hit a golf ball multiple times! Not only that, the ball went in the direction I wanted it to (good aim), through the air (about 40 yards). I don't have a distance game, but I'm pretty darn good with a sand wedge!
HA! "Pretty darn good!"
NOOOOOO!!!!!
THAT would be a massive exaggeration.
For me, who has never golfed, who thought these cool skills to learn were way beyond her ability, I am pleased that I could hit the ball anywhere close to where I intended!
This old dog is not done learning things! WOO HOO!
Back at home, I found myself practicing in front of the bathroom mirror with the broom stick. WHAT?!?!?
And then, I went to Richmond.
Where I golfed again…
On another hosted trip, this time to Richmond, Virginia with the MidAtlantic Tourism Public Relations Alliance (MATPRA), I got to keep learning skills of golf the Independence Golf Club in Midlothian, a nearby suburb.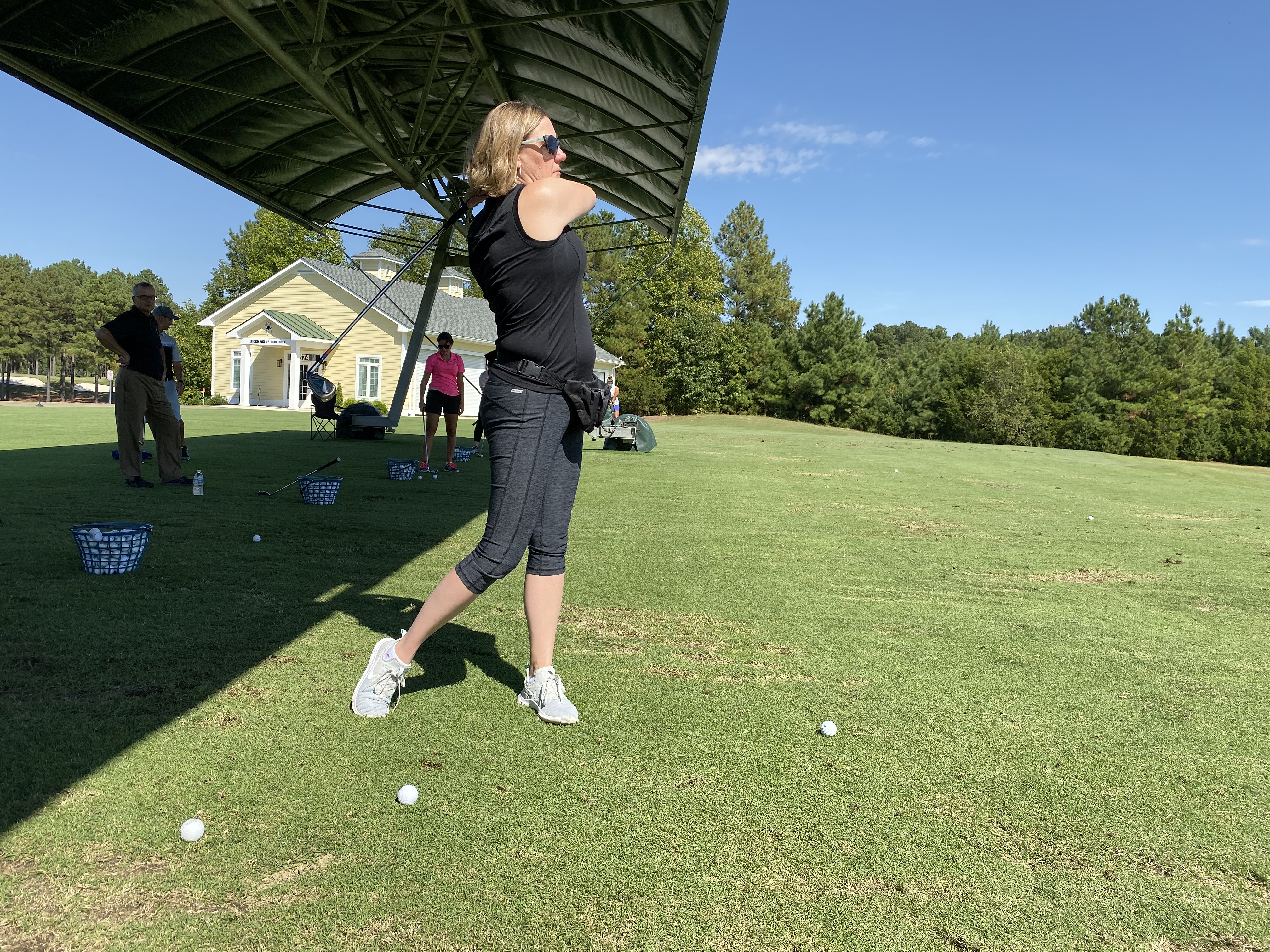 This golf club is unlike any other I have seen. Beyond the driving range, putting greens and golf courses, Independence offers many other fun, outdoor diversions the whole family will enjoy (and a great restaurant that serves incredible gourmet ice cream sandwiches among other things). So, if you don't consider golf among the cool stuff to learn, maybe you'll enjoy one of these activities:
Corn hole,
Laser Tag,
A ropes course/Zipline adventure (it was still under construction when I visited),
Art classes,
Fishing, and
Foot Golf.
On my visit to Independence Golf Club, I participated in a group golf lesson at the driving range. The pro worked with us on the same skills Adam had taught me. The pro explained posture and had us all work on that element. Then he worked with us on grip, showing a few different ways to grip the golf club and the benefits and drawbacks of each. And finally, he explained aim — your feet decide which way the ball will go. It all made sense, so apparently I am learning things in these endeavors!
He gave us all a bucket of golf balls and set us free to practice. My posture stinks! But, my grip is improving and my aim is still true.
If I keep practicing, I might agree to try a par three course next year. Maybe.
And then, I was introduced to foot golf…
In case you missed it in the list of activities, Independence offers a sport called foot golf! This sport, a hybrid of soccer and golf, is a bit easier to learn. You may have heard of it called soccer golf or kick golf. It's all the same thing.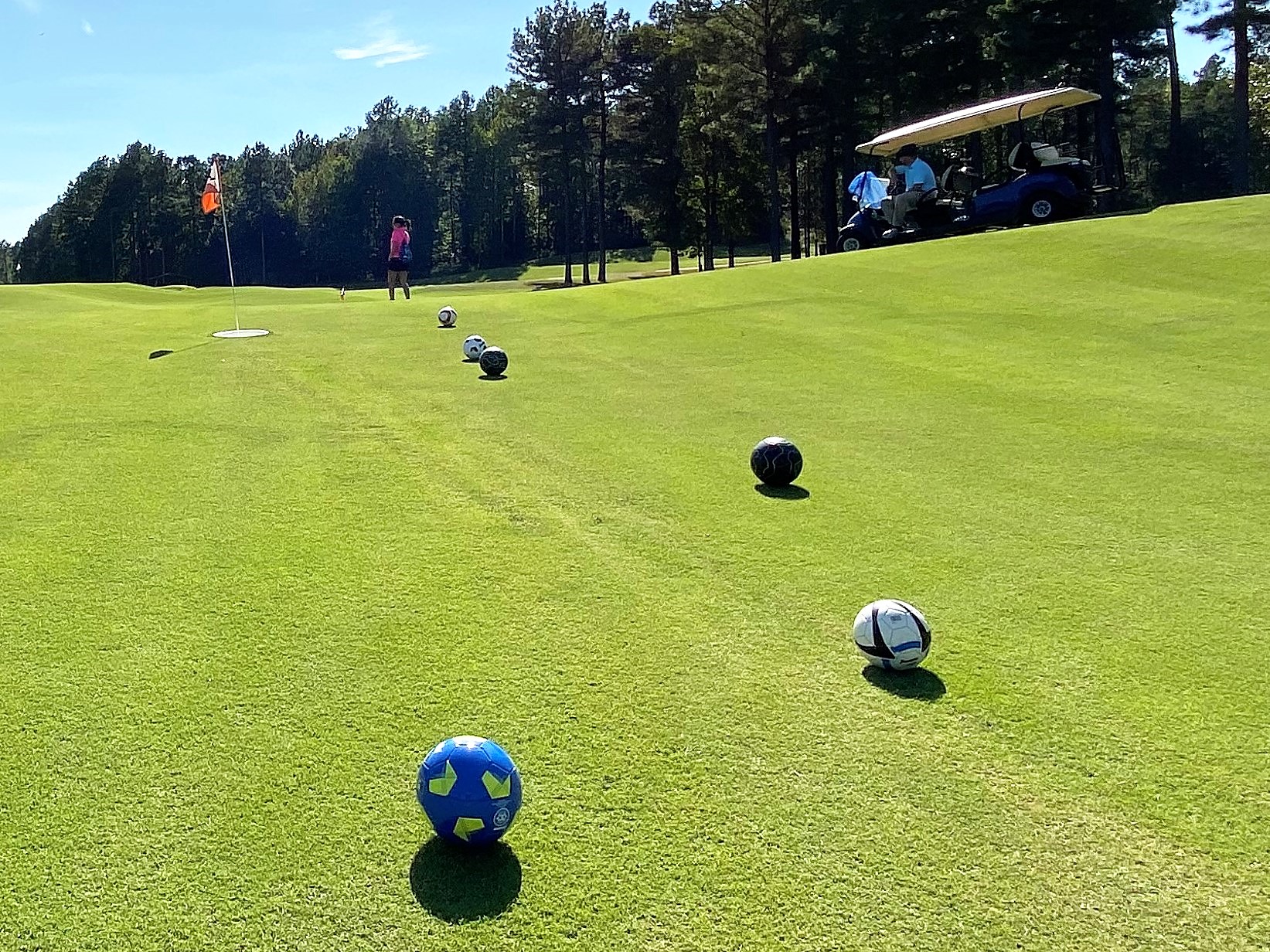 Most of us know how to kick a ball, right?
You might even be thinking, yeah… I can kick a ball. Easy peasy!
In foot golf, you take that elementary ball kicking skill to the traditional golf course. Instead of kicking from a tee, there's a line marker. Set a soccer ball behind the line and kick away, just like kickball for kids.
Instead of trying to kick golf to the small hole of traditional golf (that obviously doesn't work), the holes for foot golf are set just off the green and are 21″ in diameter. That's big enough to soccer golf that ball into and next to the green, there's no competition with traditional golfers.
Played on a regular golf course, the foot golf holes have the same par. At Independence Golf Club, you can play kick golf alongside your regular golfing pal.
Foot golf has its advantages:
Since most people know the basics of kicking a ball, it's easy to learn. (Though, it's hard to master!)
There's a ton less equipment to carry — just one ball (like this famous Wilson ball) and two feet!
It's a lot cheaper. Kick golf is only $25 per round on weekends at Independence Golf Club, while a round of golf starts at $95.
And it's hilariously fun!
I should have taken video of our group playing foot golf. We laughed hysterically as we played, some of us marveling at the cool skills we learned.
I will continue in my quest to learn cool skills. I'm sure, just like foot golf (or even regular golf), I might surprise myself. I haven't tried axe throwing yet. Or curling. Or ice climbing… The list is long!
I'm just getting started!
How about you? Will you try something new in the coming year?