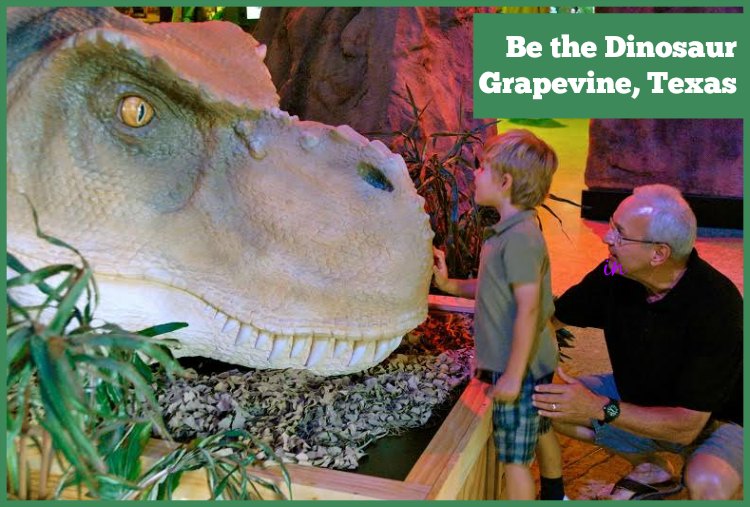 Have some "dino"-mite fun this summer at the interactive "Be The Dinosaur" exhibit in family-friendly Grapevine, Texas. The exhibit opens tomorrow at the Grand Gallery, and will run through September 18. This one-of-a-kind, Life in the Cretaceous interactive exhibit encourages guests to be the dinosaur as you see, do and learn through exploring fossils and interactive displays.
Developed and produced by Eureka Exhibits, LLC, "Be The Dinosaur" is the world's first interactive museum exhibit featuring an accurately recreated virtual Cretaceous ecosystem that plays like a video game. All exhibit content was developed in consultation with a team of expert advisors from the fields of paleontology, museums and media.
Visitors face real challenges with their dinosaurs designed to engage and address questions about their daily lives: How do I find food? Should I go it alone or join a herd? How do I defend myself against a marauding T. Rex? Can dinosaurs swim? (My kids think this sounds like the dinosaur super-version of the Oregon Trail game.)
Other features of this exhibit include full scale T. Rex and Triceratops skulls, flesh restoration T. Rex head and Pteranodon and other exciting hands-on fossil replicas. Guests also can explore the Dino Safari jeep, Paleontology Field Station, a massive stylized Volcano Gateway and an assortment of other displays.
Next door to the Grand Gallery, The Settlement to City Museums at Ted R. Ware Plaza, at 208 W. Hudgins St., will also feature a variety of fun dinosaur-themed activities including a mock dinosaur dig, create your own Grapevine dinosaur scenes using paint, stamps, stencils and paper and the ticketed Grapevine dinosaur T-Shirt printing workshops using a vintage 1881 printing press.
Visiting "Be the Dinosaur"
Where: Grapevine Grand Gallery, 636 S. Main St., Grapevine, Texas
Cost: $4/person ages 24 months and up. (Purchase tickets in advance at Grapevine Texas USA
Hours: Monday-Friday, 11 a.m. – 5 p.m.; Saturday 10 a.m. – 6 p.m. and Sunday 12 p.m. – 5 p.m.
**Information about this exhibit provided by our friends at Grapevine Texas USA. To plan your visit, including hotels, packages, dining and other attraction information, visit their site.**