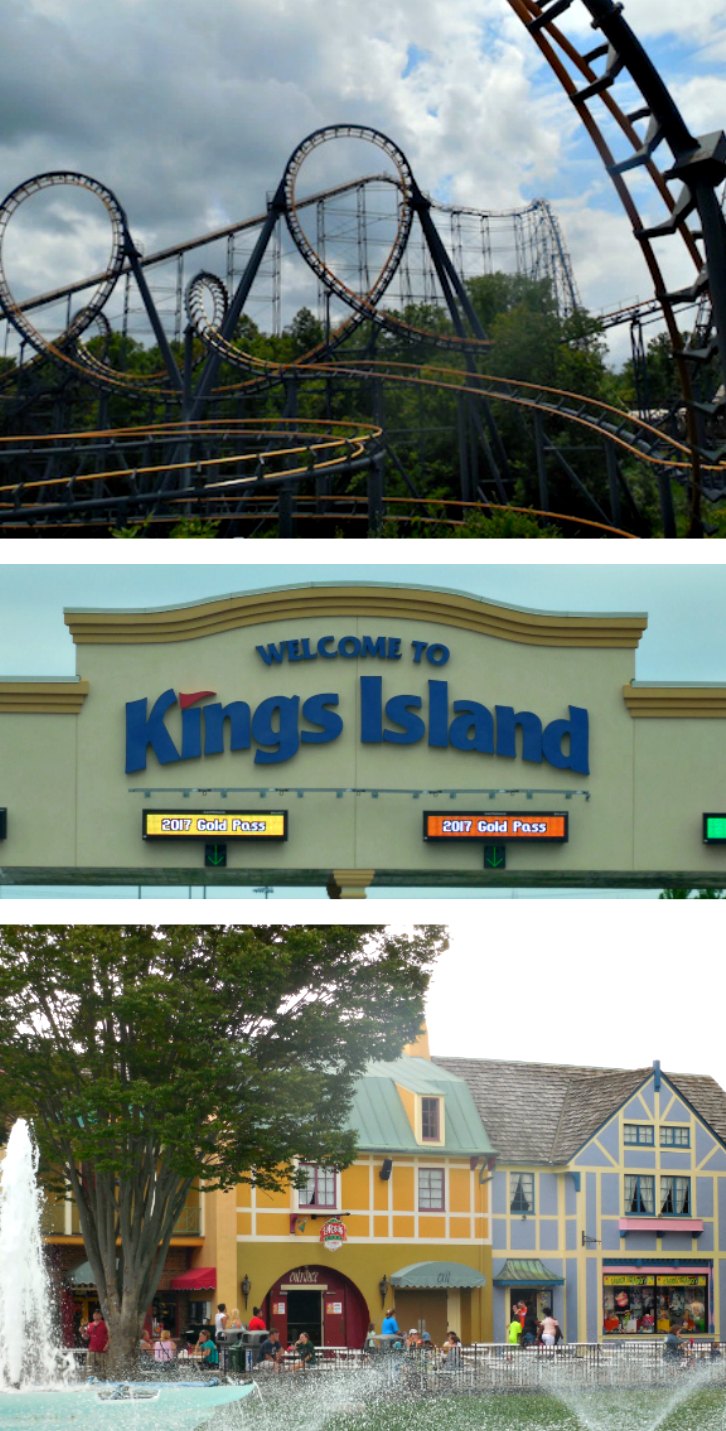 This post is written by Molly, my amazing summer intern!
One of the things I love about living in Ohio is that we have TWO fabulous theme parks! Kings Island, near Cincinnati, and Cedar Point, in Sandusky. Summers in the Buckeye state are lots of fun.
Before I tell you about Kings Island, I have a confession to make: I don't like roller coasters. Despite my dislike of roller coasters, I love visiting Kings Island. The park's smaller rides, like the Shake, Rattle, & Roll and the White Water Canyon, offer thrills without making me feel like I'm going to pass out. Oh, just thinking about the excitement as we pass through the entrance gate — I could go back today!
We go to King's Island every summer, so I know the park well. I hope this guide helps you plan your perfect day, whether you love the coasters or not!
Kings Island Rides
Coasters
I might not like roller coasters, but Kings Island offers plenty of options for those of you who do!
Mystic Timbers
Mystic Timbers is Kings Island's newest roller coaster. I confess, I almost considered riding it when I saw it… almost! Like other park-goers, I wanted to know "What's in the shed?" But, I decided not to find out. This 109-foot-tall wooden roller coaster sends riders airborne 16 times at speeds up to 53 mph!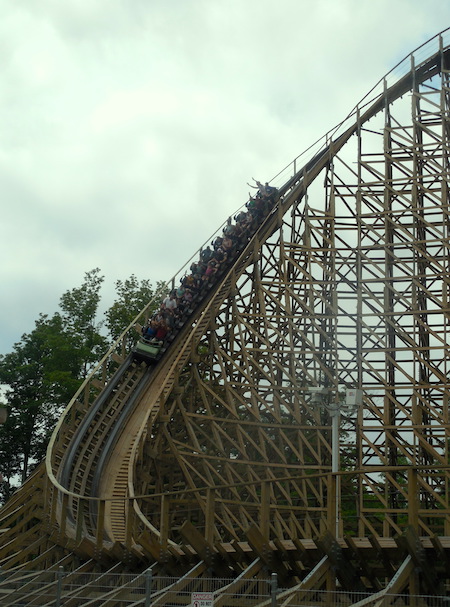 Tip: What's in the shed is constantly changing. We heard one family say they had been on the ride 14 times already! If you're like them, you might want to look into Fast Lane passes to avoid the line.
Diamondback Roller Coaster
Named after a snake, you'll "slither" your way through drops, twists and turns at speeds up to 80 mph before a spectacular splashdown on the Diamondback Roller Coaster. I'm not surprised that this coaster is ranked one of the best steel coasters in the world, though I'm also not planning to ride it!
Vortex
While it's a bit slower than Diamondback Roller Coaster, traveling at "only" 55 mph, Vortex sends riders through two vertical loops, a double corkscrew, a boomerang turn, and a 360-degree helix for good measure. Just taking a photo of this ride made me dizzy!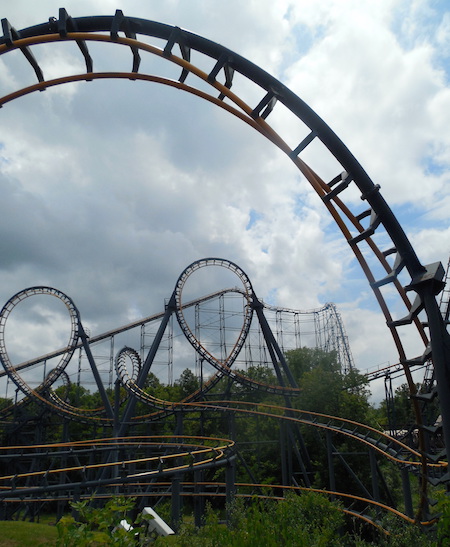 Check out the complete list of roller coasters by clicking here.
Family Rides
For those of you who (like me!) don't enjoy roller coasters (or you enjoy other rides in addition to roller coasters), Kings Island has you covered! The theme park offers plenty of thrilling family-friendly rides, including these — my favorites.
Shake, Rattle & Roll
Shake, Rattle & Roll sends riders on a whirling, twirling, rotating flight. Similar rides to Shake, Rattle & Roll are the Monster and the Scrambler, both of which I also thoroughly enjoy!
Viking Fury
I love the Viking Fury, the traditional swinging ship ride! Though, I'm also slightly terrified that someone will throw up during the ride. For this one, I don't let my ridiculous fears stop me from climbing aboard.
White Water Canyon
This water canyon raft ride guarantees you'll get soaked, but it's also loads of fun.
Tip: Ride toward the end of the day. It's a great way to cool off after a hot day in the sun! (Also, you won't be walking around the park soaking wet.)
Check out the complete list of family friendly rides by clicking here.
Kids' Rides
Like its sibling, Cedar Point, Kings Island features "Planet Snoopy," full of fun rides for families with kids!
Race For Your Life Charlie Brown
This ride is great for the whole family! Hop aboard a log and take a wet ride down the shoot with Charlie Brown and his friends. Warning: you will get wet!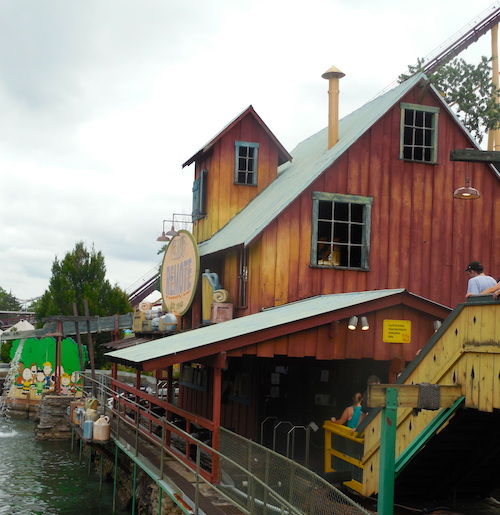 The Great Pumpkin Coaster
For those not quite ready for Diamondback Roller Coaster (or not yet tall enough)! Take a ride through the pumpkin patch on this mini roller coaster and keep your eyes peeled for the Great Pumpkin!
Woodstock Whirlybirds
Soar over Planet Snoopy in this helicopter ride! "Get a birds-eye view! Kids and parents can enjoy a scenic view of the award-winning Planet Snoopy kids' area on this high-flying aerial tour!"
Check out the complete list of kids rides by clicking here.
Kings Island: Entertainment
In addition to the rides, I really like Kings Island because of the entertainment options. I watched "Off The Charts" at Festhaus last year. I really enjoyed seeing the performers dance and sing the hottest hits through the decades! This year we stopped by the Kings Island Theater to watch "Origins – A Cirque Experience." I love the circus and I really enjoyed getting to see all of the cool tricks the performers did during the Origins show!
Origins – A Cirque Experience
This show is back at Kings Island Theater by popular demand! Watch and be amazed by this amazing showcase of strength and flexibility. This was probably one of my favorite parts of my trip to Kings Island this year. Be prepared to interact with the performers if they come to you!
Amazing Dobermans
Any dog lovers out there? You definitely want to check out the Amazing Dobermans Show! This is a great way to get out of the sun and off of your feet.
Peanuts Party in the Park
A must-see for families with young kids! The Peanuts gang is ready to party with your kids at Bandstand at 4:30 pm every day of the week except Monday. To top it all off, the characters hold a 10 minute meet and greet after each show.
Click here to see the full list of entertainment options at Kings Island, as well as check out the times.
Kings Island Food
Kings Island offers plenty of eateries for you to satisfy your hunger pangs. Here are some of my favorite places to eat at Kings Island:
Festhaus (air conditioned dining to beat the heat — and enjoy pizza, salad or burgers)
Graeter's Ice Cream (an Ohio ice cream company making some of the best ice cream you'll ever have — try the Buckeye flavor or their famous raspberry chocolate chunk!)
Rivertown Funnel Cakes (theme parks and funnel cake — enough said!)
And these are just a few. Click here to check out the full list of dining locations.
Tip: Dining Deals are available for purchase, including the all day dining deal for $29.99/person (2017). Check menus and prices to determine if the dining plan is a good value for your family — it didn't work for us, but it does for many.
Soak City at Kings Island
Perhaps the best part about Kings Island is that admission to Soak City is included. You don't have to pay for a separate ticket to visit the water park! How refreshing.
Beyond that, Soak City's water rides are a blast! One of the newest attractions at Soak City is Tropical Plunge, the ride for thrill seekers who don't mind an almost vertical free fall from 65 feet in the air!
Some of my favorites are:
Tidal Wave Bay, the wave pool. It's not easy to stay afloat in the wave storm!
Zoom Flume is my favorite fast ride because the whole family can go in one tube.
Splash River, Soak City's version of a lazy river is fun, too.
Note: Soak City hours are different than Kings Island theme park, so plan accordingly.
Recommendations for the best day at Kings Island
Kings Island is definitely one of the best things to do in Ohio! It includes something for everyone. Whether you're a family of adrenaline junkies or a mixture of crazy people and sane people (I'm just kidding, but you get my point!), I guarantee you'll have the Best Day at Kings Island!
Here are some of my personal tips to guarantee you'll have the Best Day at Kings Island:
Start at Kings Island and end at Soak City (unless you want to stay at the park later). It's nice to end a hot day in the sun playing in the water!
Do the math to figure out if a dining plan is best for your family.
Go clockwise so that you'll get to the water rides (White Water Canyon and Race for Your Life Charlie Brown) at the end. This way you won't be soaking wet on all of the other rides. Also, it's very refreshing after a long day in the sun! (Tip: You'll end up at Planet Snoopy last if you do this, so if you have young children, you might want to go counter-clockwise instead.)
Hydrate! You can ask dining locations for free cups of water.
Don't forget the sunscreen! We forgot the sunscreen on our first visit to Kings Island. Please learn from our mistake!
Shop! Tip: The Emporium has great Ohio-themed souvenirs.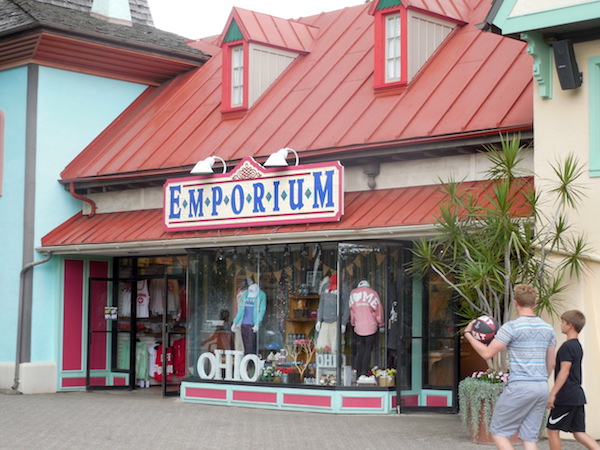 Plan your visit to Kings Island
Address: 6300 Kings Island Dr, Mason, OH 45040
Hours: Kings Island and Soak City hours vary. Click here to see current hours.
Admission (Save by purchasing online in advance):
Weekday tickets (Monday-Thursday) can be purchased ONLINE for $44.99. Tickets can be purchased at the gate for $67.
Daily admission tickets for the weekend (Fri-Sun) can be purchased ONLINE for $47.99. Tickets can be purchased at the gate for $67.
Junior tickets (juniors are guests under 48 inches tall or 62 years or older) can be purchased for $39.99 ONLINE or $42 at the gate. (Any day, Mon-Sun.)
The Kings Island Gold Pass or Platinum Pass is another way to save — especially if you live within an easy drive.
Click here to learn more about admission prices.
Budget stretchers for your Kings Island vacation
Purchase your tickets in advance online! (See prices above.)
You can save more money if you get "After 4pm Admission" (tickets start at $32 for late admission).
Consider if a dining deal is a good option for you.
Look into the hotels in the area that offer discounts on Kings Island tickets.
You might also enjoy:
Like this post? Please share!