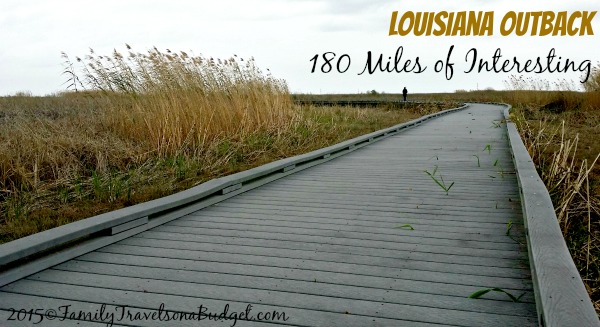 The Outback: any remote or sparsely populated region (not just in Australia)
Most people think Australia when they hear the word…. but you don't have to travel that far to see spectacular scenery, unusual creatures or expansive marshland.
Tucked away in Southwest Louisiana, the Creole Nature Trail All-American Road offers 180 miles of quiet, natural beauty sure to capture the imagination of visitors young and old. You might not see kangaroos, wallabies and koalas here, but we think you'll love it just the same.
Louisiana Outback: 4 reasons to go
Birds!
The Louisiana Outback is made up of prairie grasslands, marshes and cheniers (ridges of live oak trees along beachy areas) which offer birds from as far away as Alaska a place to rest during long migrations north and south. Add in the crawfish, crabs and small fish that live in the shallow waters, and well, it's no wonder the birds love it here.
Boudin!
Visitors to the Creole Nature Trail All-American Road can enjoy a picnic at a number of places along the trail including Intracoastal Park, Holly Beach, Rutherford Beach and the Cameron Jetties Fishing Pier. Coolers and portable grills are allowed. You know it's great when the locals do it too!
For the sake of preservation, please respect the environment and pick up after yourself. Also, don't feed the wildlife! There's plenty for all the critters to eat in their natural habitat.
If you didn't bring a picnic, no worries! Enjoy boudin (pronounced boo-dan) from one of the many boudin trail restaurants in the region. Pick some up in the morning, like the locals do before they go fishing for the day, or stop in for lunch after a morning of exploration.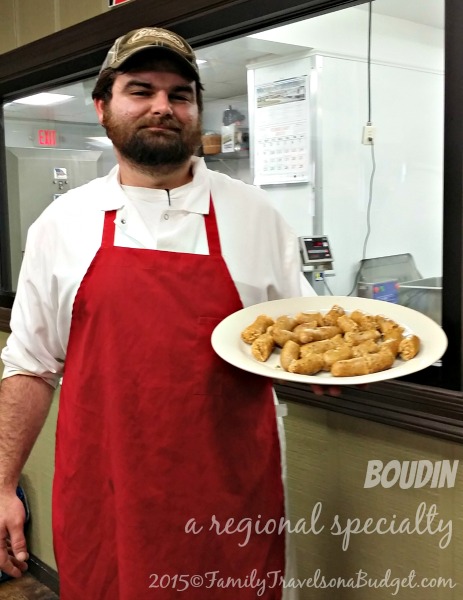 Wide open spaces!
The Wetland Walkway at Sabine, which is wheelchair and stroller friendly, offers 1.5 miles of paved and decked walkways to step into nature. Along the walkway, wildflowers and marsh grasses make homes for birds, alligators and other marsh creatures. The gators don't tend to show themselves unless it's warm and sunny. On my last visit, an otter scurried across the walkway right in front of me. He was too fast for a photo, but certainly fun to watch! Benches and shaded pavilions offer places to relax along the trail.
The wide sandy beaches provide lots of space for shelling, walking and running along the shore. A local's tip: the further you walk from the main beach area, the more you are likely to find large shells. Not surprisingly, birds call these beaches home, too.
Whether running along the Wetland Walkway or the wide beaches, kids are sure to enjoy nature's playground! Who am I kidding…. grown-ups will enjoy them too.
Crabs!
Crabbing is common in this region, especially at bridges along the canals and in the national wildlife refuges. Don't worry if you've never crabbed before! All you need is some thick string and crab bait (the locals recommend turkey and chicken necks or chunks of fish), a dip net and an ice chest to store them. Tie your bait to the end of the string, toss it in the water and wait for that crab to pull on it. Drag the line in gently and scoop that crab into your net.
If this sounds hard, just ask anyone hanging out at the local shops or other crabbers nearby. The people here are friendly. They'll show you how it's done and help you find a good crabbing spot too!
Locals tip: Crabbing is best between May and September, when the water is warmer.
A budget-friendly bonus: Crabbing for recreational purposes (with a line and bucket) does not require a fishing license. To learn more visit  the Louisiana Department of Wildlife & Fisheries website.
Louisiana Outback: Planning your visit
The Creole Nature Trail may be remote and sparsely populated, but it's high tech! Use these resources to explore the region before, during and after your visit to learn more about this interesting region!
• Creole Nature Trail Website: Provides information on the region, interactive maps, a trip planner and multimedia tour (know before you go!)
• Creole Nature Trail Interactive App: FREE! And available for download on iTunes and Google Play.
• FREE GPS Explorer unit: Available at the Lake Charles Visitors Bureau, 1205 N. Lakeshore Drive, Lake Charles, LA. (A great alternative for those who don't have a smartphone)
• Topic specific guides (Nature Trail Experience Guide, Birding, Shelling, Fish and Seafood guides), downloadable here (scroll to bottom of page for links)
• Creole Kids online game: Whether used before or after your visit, this interactive and educational game lets kids explore and learn more about the Louisiana Outback.
There's so much to see and do in the Louisiana Outback that you can't see anywhere else in the country. Explore the great outdoors, no passport required!