Who Has Time To Vacation?
Most everybody loves vacations. Unfortunately, vacations never seem to last long enough. Maybe one reason why people don't get enough out of their vacations is because no one really wants to be completely separated from the rest of the world. I personally know plenty of people who would gasp in horror if they had turn their phones off for more than a couple hours.
A simple solution for people who want a vacation but who don't really want a "vacation" is to take a small trip. And although family outings to the zoo or amusement parks are nice, they require a lot of walking and being out in the sun. Walking around in the sun might not be preferable if you're going to be taking just a few hours to relax. So what are your options? A picnic in the park could be nice, or maybe a short (emphasis on short) nature hike could do the job. Or how about a boat ride? My group and I were lucky enough to go on a canal boat the other week and it was very relaxing.
Relaxing on the Canal
Getting to experience the canal boat ride in Canal Fulton was not only relaxing, it was fun, too! I highly recommend this trip for families looking for short vacation ideas and relaxing vacation ideas. This ride is a great way to get out of the hot sun and still enjoy the beauty of nature. My group and I saw a ton of beautiful flowers, some fish, and even a fawn! We also got to see some old buildings and what used to be part of the Underground Railroad. I took a ton of pictures to document our trip. After all, a picture's worth a thousand words!
Along with admiring the scenery, we got to hear the history of the Ohio & Erie Canal. I don't want to spoil anything for future visitors, so I won't go into great detail.
Our guide dressed up in an old-fashioned costume and told us about how the Ohio & Erie Canal first came to be, how it was built at the expense of many lives, how people actually lived on the boats, and how there's only so much of the canal left. He even played the banjo for us!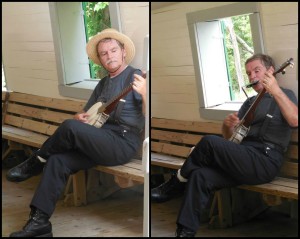 The Ohio & Erie Canal was Ohio's main transportation and it helped boost the state's economy. The canal used to span for many miles. Unfortunately, only a few parts remain today. There are only a few areas where you can ride on a canal boat down the Ohio & Erie Canal, and Canal Fulton was the first of these places to offer the ride. Canal Fulton's canal boat ride is definitely a unique vacation idea!
It's such a shame that there are only a few places where you can have this experience. If you ever get the chance to visit an area that offers a canal boat ride, I suggest you take advantage of the opportunity!
The ride itself is about two miles long and it takes about an hour from start to finish. The canal boat, the St. Helena III, is modeled after the original St. Helena, which traveled on the Ohio & Erie Canal over 100 years ago. The boat is pulled along by two Percheron horses, which was how the canal boats were able to move up and down the canals.
The guide tells you practically the entire history of the Ohio & Erie Canal up to the present day and how the canal is pretty much only used for historic and tourist purposes now. Who knows how much longer the canals will remain? Make sure to take advantage of the ride and explore what's left of the canal!
Want to Ride the St. Helena III Down the Canal?
Location
125 Tuscarawas St.
Canal Fulton, OH
44614
Admission
The canal boat ride operates at 1 pm and 2:30 pm. The website recommends that guests arrive a half hour before the ride begins. During Spring (May 3rd -June 1st) and fall (Sept. 6 – Oct. 12) the ride is open weekends only. During the summer, (June 3rd – Aug. 31st), the ride is open Tuesday through Sunday. The ride is non-operable during the winter season due to the fact that Ohio has nasty winters.
Cost
Tickets cost $8 for adults (18-59), $7 for seniors (60+), and $5 for children ages 6-17. Children under the age of 6 get to ride for free with a paid adult.
If you would like to know more about the ride, you can visit this page here.