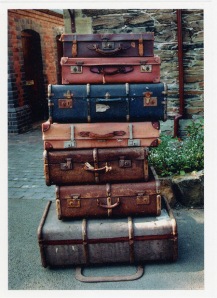 https://aroundthesphere.wordpress.com/2010/05/07/lift-my-luggage-baby/
One of the greatest frustrations with travel is that you can't take everything with you! Vacationing would be "so easy" if we could bring along every item we possibly might need, but a car is only so big (though I have seen families vacation with a uhaul before)! Airlines will let you bring whatever you want, though they demand a hefty fee for the service.
So, how do you pack for vacation — without overpacking AND without forgetting anything? Use our packing tips, of course!
Vacation Packing Tips
1. Make a packing list!
I recommend you begin with the customizable packing list at Family Vacation Critic.
Prepare a clothing list for each member of the family.
Cross off items as you pack them — do not cross them off the list until they're in the bag! (Once I set my allergy medicine on the bag and checked it off. It slid off the bag and under the couch. I never noticed — until the first night on vacation when it wasn't there!)
2. Trim the excess!
Your daughter might have a closet full of the most adorable clothes — and you might want vacation pictures of her in all those cute outfits (or yourself in yours) — but you're on vacation! Packing tip: Take only what you need. Edit the list!
Can you wear shorts or pants twice? I pack navy pants, black pants and jeans for a week's vacation. Each pair of pants is worn twice, with a different top. No one EVER notices that I've worn the same pants twice! NEVER!
Layering helps, especially in spring and fall. Pack ONE sweater that matches your wardrobe and simplify! (On a recent trip, I packed a black sweater to layer over my outfits on cold days. It matched my jacket and kept me warm. Perfect!)
3. Weigh your luggage!
Airlines won't bend on luggage weight limits. Your luggage might hold 70 lbs., but the airline still allows only 50 lbs., so weigh the bags before you go. (If the bag won't balance on the scale, weigh yourself. Then weigh yourself with the bag. Subtract your weight and you will know if the bag is too heavy or not.)
Pack lighter things in larger bags. I carry my favorite pillow when I travel. It fills out the space in my large, checked bag without adding much weight. (Yes, I know this breaks the trim the excess rule, but I sleep so well with my pillow. It's worth leaving something else home!)
4. Manage your carry-on items.
Today's traveler carries cell phone, ipad, computer, camera, medication and more. It's a lot to juggle…. and lose!
Pack all these items into a carry-on duffel bag so you have less to juggle at the airport.
Remember to pack travel sized liquids (that includes toothpaste and makeup) in bags. (See the TSA website for more information). I keep these in the outside pocket of my carry-on bag for easy access during security screening.
5. Count your bags!
Ever since we forgot a bag on our first "family vacation," we have counted luggage.
Every bag, including purse, laptop, kids' airline entertainment bags and suitcase is counted. Every time we stop — at the airport shuttle, after loading onto the airport shuttle, getting off the airport shuttle, at the check-in counter and at baggage claim — we count the luggage again. We haven't lost a bag since that first trip!
I could offer more packing tips, but I'm sure you have great tips too! What is your best packing tip? Or your favorite vacation packing story? Please share with us!
Related articles