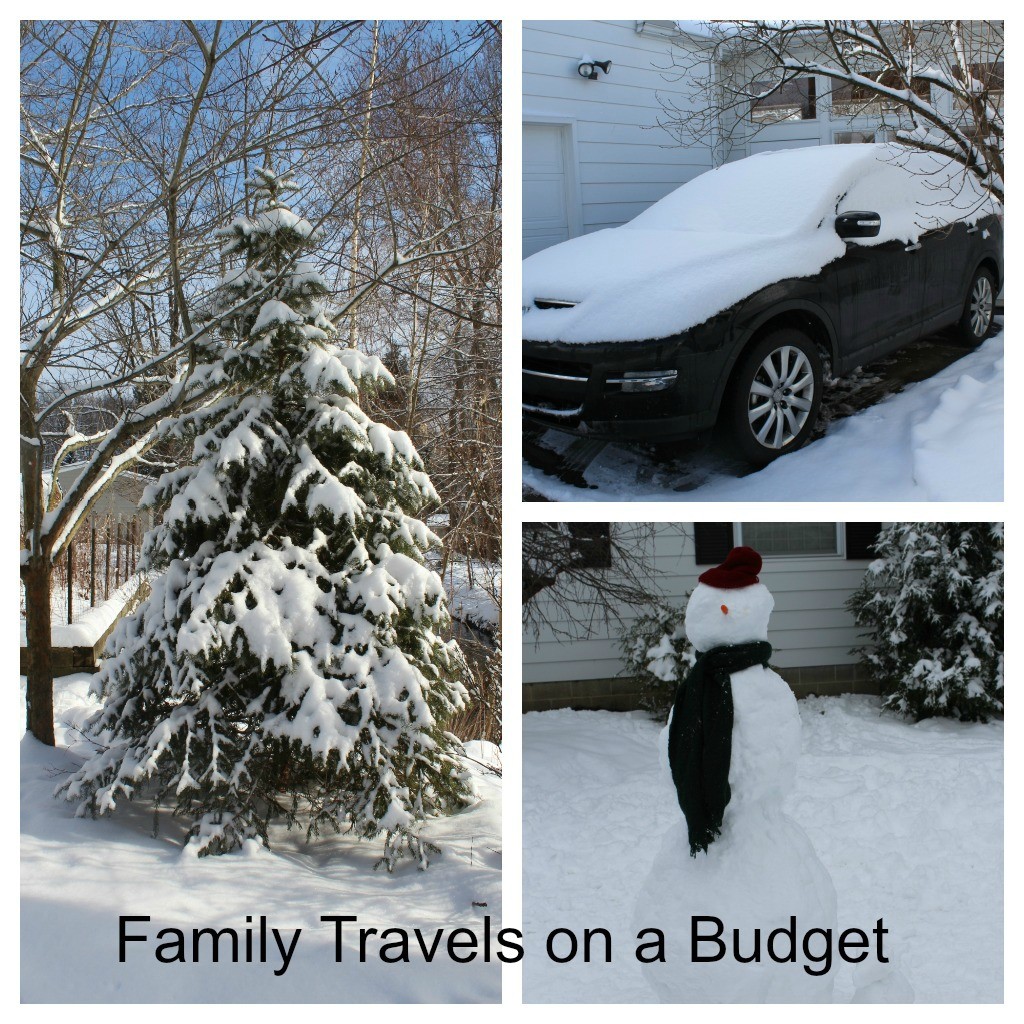 Winter Travel means icy roads, reduced visibility, and cold toes!
To close out 2012, we traveled to Ohio to visit grandma. We had planned to leave early the day after Christmas, but the forecast for snow and ice in West Virginia and Ohio left us doubting the plan. Weather improved, so we headed to Grandma's just in time to see all of this (well, not the snowman… we added him the next day!).
Winter Travel Forecast Information
Traveling in winter weather is somewhat tricky, even for those who live in such blustery places. We relied on the information at the Weather Channel Interstate Forecast webpage to determine when we could safely travel. Simply enter your route and the site provides road condition information all the way to your destination. It works on smart phones too.
Winter Travel Safe Driving Tips
Beyond checking road conditions, we also practiced safe driving techniques (as did most everyone else which was nice).
Maintain a greater distance between you and the vehicle ahead of you,
Accelerate slowly, especially in heavy rain and on snowy/icy roads,
Do not accelerate or brake on bridges,
Use your headlights during rain and snow storms,
Stay in your lane. Hazardous road conditions make passing dangerous,
Pack an emergency kit in case you get stranded. Include: flashlight, batteries, blanket, snacks, water, gloves, boots, first-aid kit, ice scraper/snowbrush, jumper cables, road flares.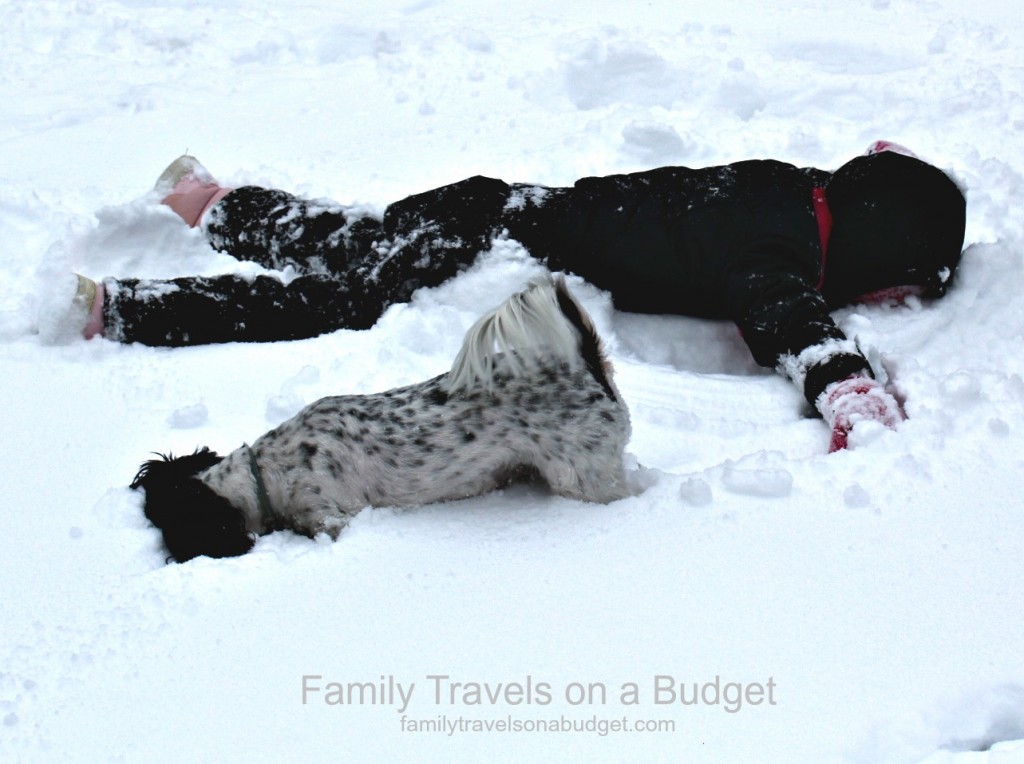 One of my kids didn't know that snow angels are made while lying on your back… just like some drivers don't know road safety rules! (She's so cute!)
Winter Travel Packing Tips
Winter travel means coats, boots, mittens, and hats. All that winter gear takes up a lot of space. To make packing easier, use a plastic tote for your gear. Our family of five was able to pack winter coats, hats, mittens, heavy socks and boots in a 20 gallon rubbermaid tote. Squish that fluffy gear in and snap the lid on top. Voila!
As an added bonus, wet snow clothes and boots can travel home safely contained in the bucket. Nothing else gets wet or dirty!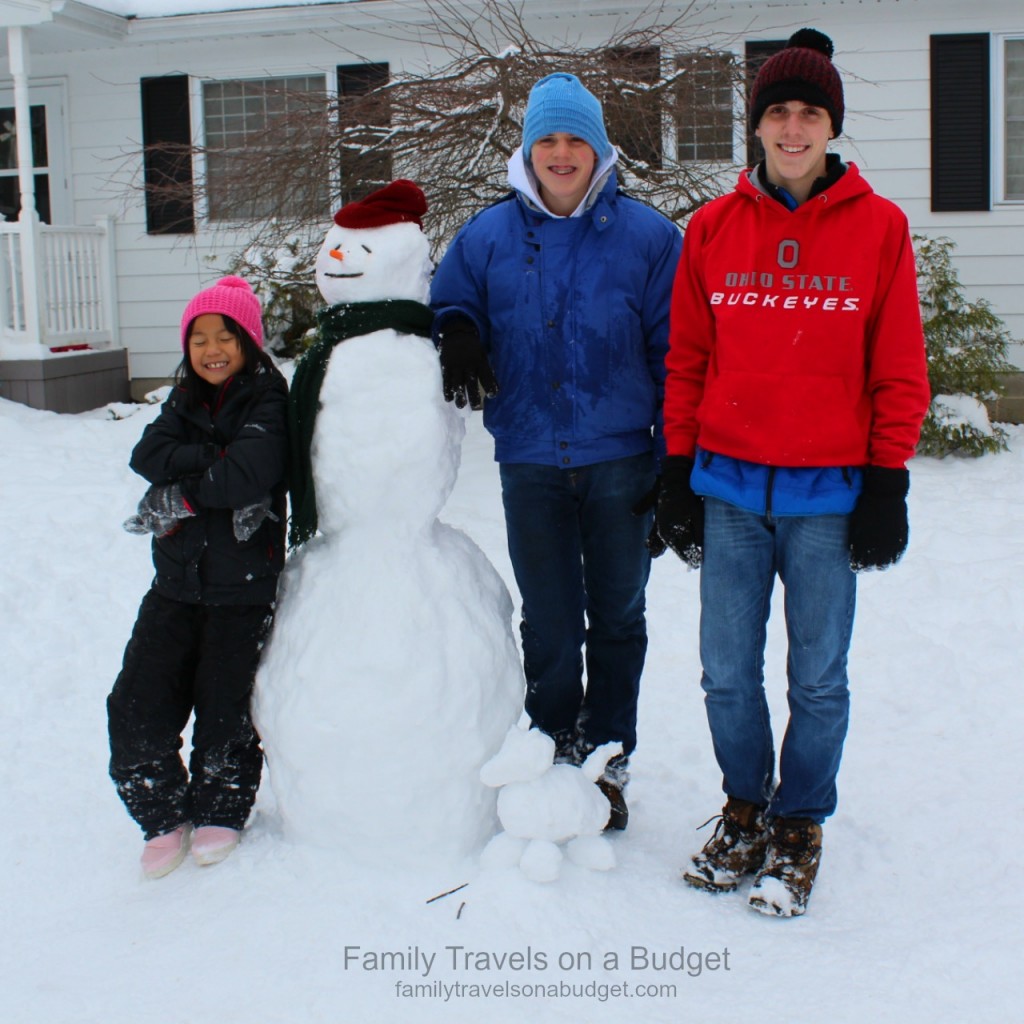 The kids in their winter travel gear made "Snow Caroline" and "Snow Doggie"
Wherever your winter travel takes you, be safe. Plan ahead by checking the winter travel interstate forecast. Pack smart — including a winter travel emergency kit in case you do get stranded. Remember to include all your winter gear — simply packed in a rubber tote. Smart planning makes winter travel easy!
Share your winter travel smart tip with the rest of us! What did I forget?