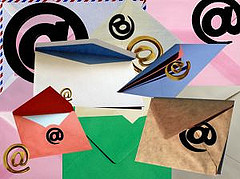 For people who plan their own vacations, keeping track of everything can be tough. Hotel reservations, rental car confirmations, airline ticket purchases, and activity information is easy to get, but how do you keep track of it all?
In our family, we have a traveling teen in the mix as well. He's 18 and attending college nine hours from home. I schedule his plane rides home or my hotel stays when I drive to Alabama to see him. Having an email travel organizer helps me manage his trips, my trips and our family trips. No more searching the inbox frantically to find important reservation numbers or confirmations the day before travel for me!
Create your own email travel organizer and plan like a pro! Here's how:
Create a folder or label (for gmail users) for your trip. Label it "<Destination> <month> <year>." For "simple" vacations, such as beach trips or mountain home rentals, this may be all you need.
If you'll be doing a lot on your trip or will have multiple destinations, consider subfolders:

Reservations/Confirmations. Hotel (including overnight stays along the way), airline and rental car.
Activities in <city/location>. I use this for tickets purchased online, groupon and living social deals that I actually purchase.
Ideas to consider. I make this for travel and tourism info that I collect (I email myself links to websites about attractions in the area), because I can never remember everything I request. That way, when we review ideas before travel, I can easily find the information. As I eliminate ideas, I simply delete the email. Eventually, we get down to the things we really want to do.

Once folders are set up, simply drag the email into its appropriate folder for safe keeping. You'll never have to hunt for important information again.
Creating an email travel organizer for each trip, whether long or short, helps me keep track of actual trips and even those "maybe someday" dream vacations. I can easily manage my son's travel, family weekends at his college, trips to grandma's house, and vacations far and near, long and short. Since creating my email travel organizer system, vacation information is easy to manage.
Do you have an organizing tip to manage your vacation travel planning? Please share it with us!
Happy travels!