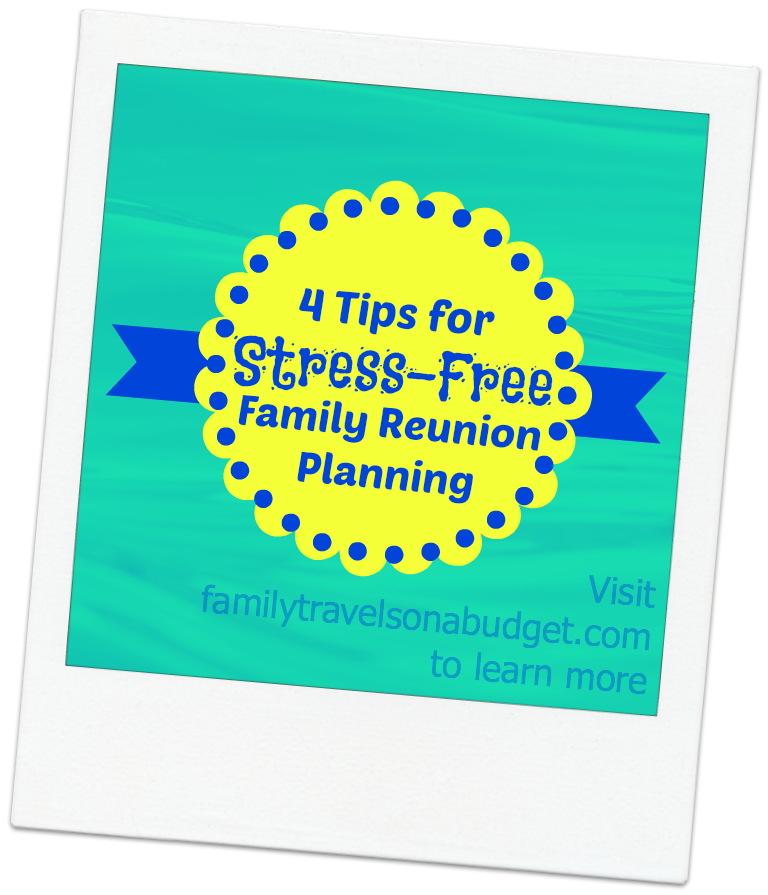 Today's post comes from
our partners
at Orlandovacation.com, specialists in family travel. They know a thing or two about family reunions!
Planning a family reunion can be a lot of fun and a little stressful at the same time. The key to a successful reunion filled with great memories is to have the reunion at a fun location which offers a lot of activities, and it also must be affordable.

4 Tips for Stress-free Family Reunion Planning
1)    Start Planning Early– The key to a good turnout is to allow families time to plan and budget. We suggest planning at least 9 months to a year in advance. This will do a couple of this for you. Obviously it gives you time to build up excitement about the event. Also, by making reservations early, you should be able to negotiate some really good rates on lodging and activities.
2)    Start a Family Reunion Website– This is relatively easy and cheap to do. I suggest going to WordPress.com and starting a blog. The blog is a great tool for you to create a lot of excitement. One of the neat things you could do is spotlight a family that is planning on going to the event. This spotlight should tell a little bit about their family such as jobs, where they live, ages of their children and family interests. It should also outline why this family is so excited about attending the family reunion. Other things which can go on your blog is to upload pictures of the resort, hotel or vacation community where the event is being planned and also an itinerary of planned events.
By starting a blog, you can easily stay in touch with all your family members about the reunion especially if you have a large family. It should also be an easy way for families to not only sign up for the event but also to see which other families are planning to attend.
3)    Choose a great location: The first thing you must consider is where most of the families are traveling from. Do most family members live in Georgia, or Michigan? The key to a good turnout is having the reunion at a location which is easy for most family members to get to. Then decide what the interests of most family members are. Do a lot of families have young kids or are most of the family members older? By picking a place that is easy to get to and offers activities which most families will enjoy, you can ensure a great turnout.
Since Orlando has so many attractions, restaurants, family events, and it is easy to get to, this has long been a favorite spot to hold a family reunion. One tip if you are planning your reunion in Orlando is the theme park tickets are usually the most expensive item, so you might want to plan family get togethers in the evening or give the families a couple of "Free" days for them to do stuff with just their immediate family members. A 4 day ticket to Disney runs around $282 for an adult, and many families (especially if they have 4 or more members) might not want to fork over so much money. To save money, check Orlandovacation.com for competitive ticket prices and package deals for group coordinators.
4)    Choose a Resort, Hotel, or Vacation Home: The key here is to pick lodging which is affordable and offers a lot of activities. If your family reunion is going to be quite large you might be able to negotiate for the resort or hotel to provide catering and a meeting room for some of your events. If they will do this for you, it will free up a lot of your time and reduce a lot stress.
One lodging choice which is gaining popularity with family reunion coordinators is renting vacation homes. Large vacation homes provide enough space for 2 or 3 families to share, which brings down the overall cost. Most homes have private pools, and they all come equipped with fully functional kitchens. This allows family members to save money on food since they don't have to go out as much to eat and it also allows for the reunion coordinator to put together pot luck dinners and lunches. (A NOTE from Karen: Friends of ours coordinated a weeklong reunion vacation in NC, and used vacation homes instead of hotels. They said the cost savings was significant. They also liked having kitchens available to keep costs down and offer flexibility to work around kids' nap schedules.)
What is your best tip for family reunion travel planning? What works? What doesn't? How did you keep costs down?
Special thanks to Trey Duling of Orlandovacation.com for providing these family reunion planning tips. If you are planning a family reunion in the Orlando area please check out their reunion planning section which helps Family Reunion Coordinators plan a magical family reunion.
Related articles