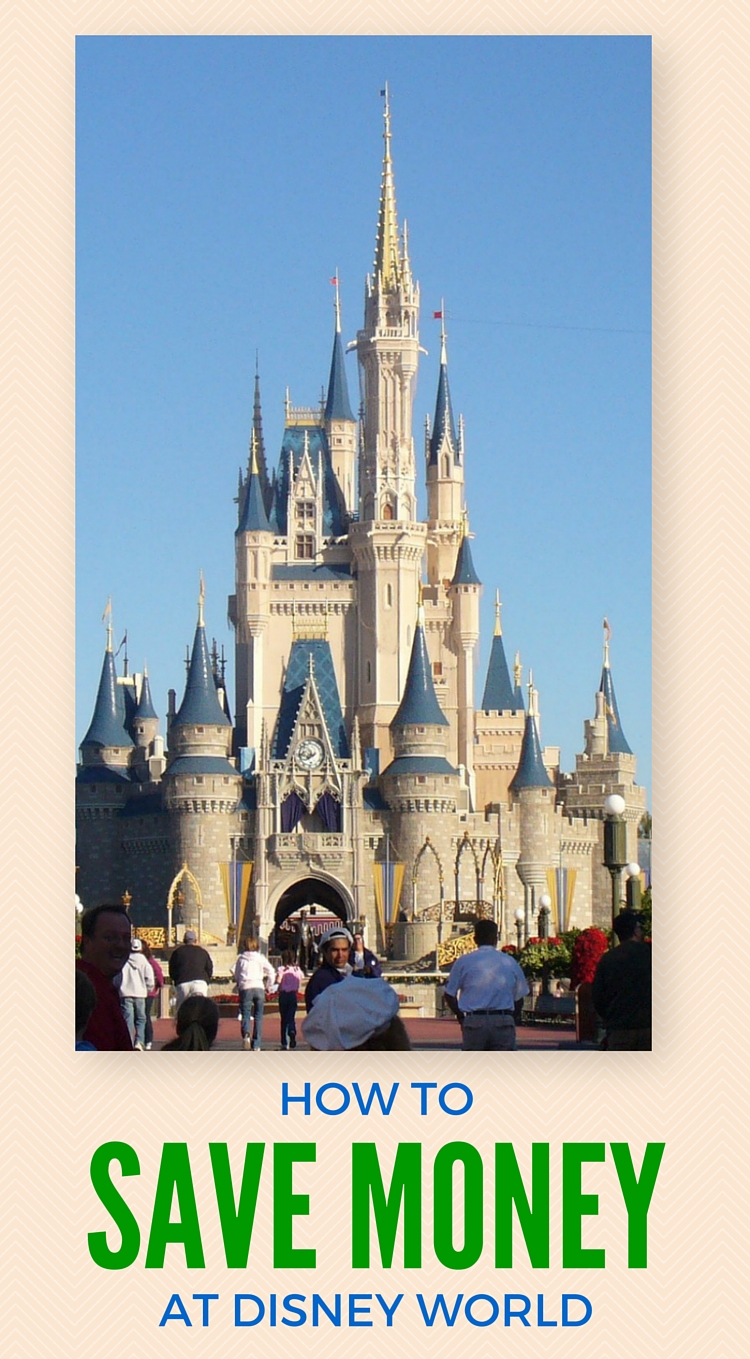 Planning a Disney vacation is so exciting! With more than 20 visits to WDW under our belts, we've found ways to save money at Disney World without sacrificing any of the fun. These practical tips to save at Disney are super easy to do, too!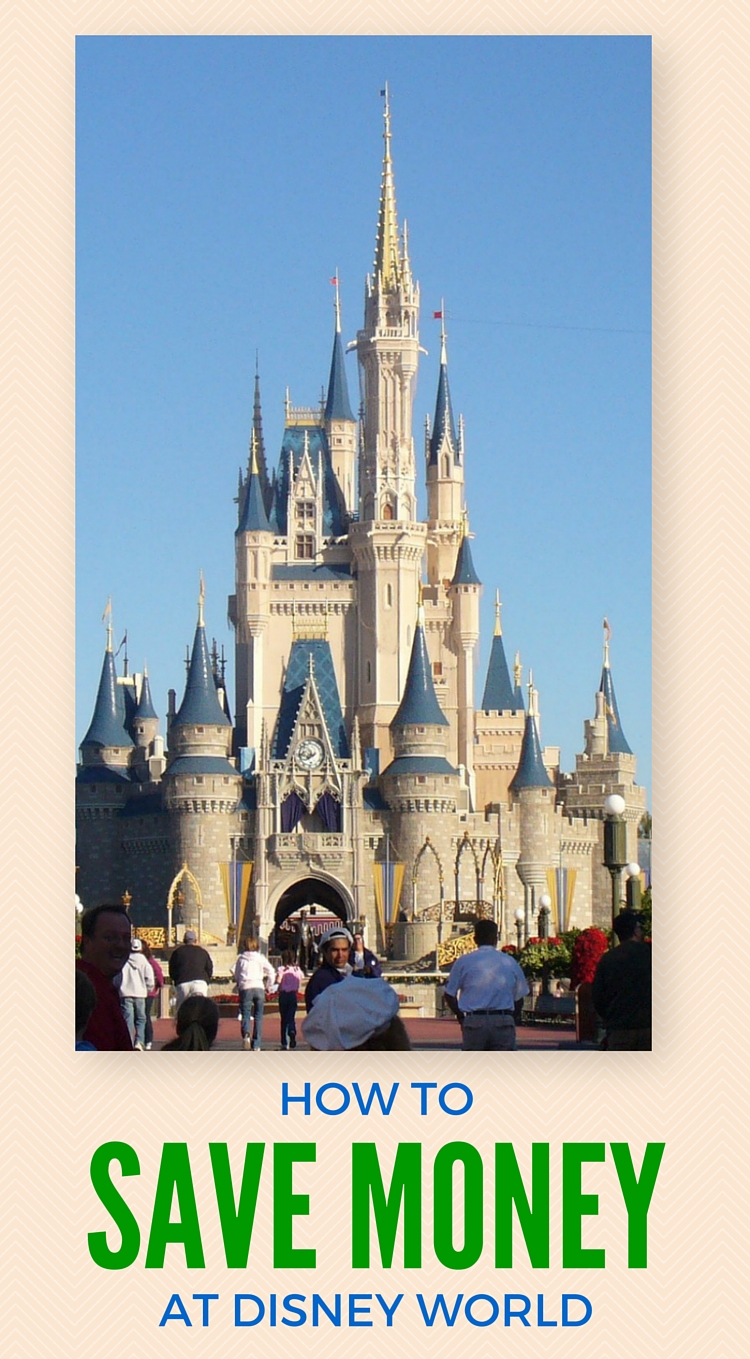 5 tips to save money at Disney World
Save $53on a Disney World 4-Day Park Hopper! Hop through all 4 parks.
1. Don't buy a dining plan!
We have tried every meal plan Disney offers (for the sake of research, you know), and we never come out ahead, even with teen boys. Unless you drink soda (pop for our midwestern readers) and eat dessert with every meal, there is not a plan out there worth buying.
The cost of the 2018 Quick Service Dining Plan is $52.50/adult and includes two quick service meals and one snack per day. It also includes the refillable mug for resort use only (you cannot use it in the parks).
Using our most expensive meal at Be Our Guest in the Magic Kingdom, with beverage and dessert, two meals cost $30.26. Add in a Dole Whip Float at $5.29 and the total cost of food for the day out of pocket is only $35.55. To break even on the quick service dining plan, you would have to drink the value equivalent of $8.58 in sodas at the resort!
But don't take my word for it. Use theDisney Dining Plan calculator to see if the dining plan is a good value for you.
Other Disney experts agree: Click here for a detailed breakdown of cost and value for the Disney Dining Plans.
So, who should buy the Disney Dining plan? If your Disney vacation budget can afford it AND the convenience of pre-paying for meals will help you relax, then the Disney dining plan might be a good option. Check the costs, first, though!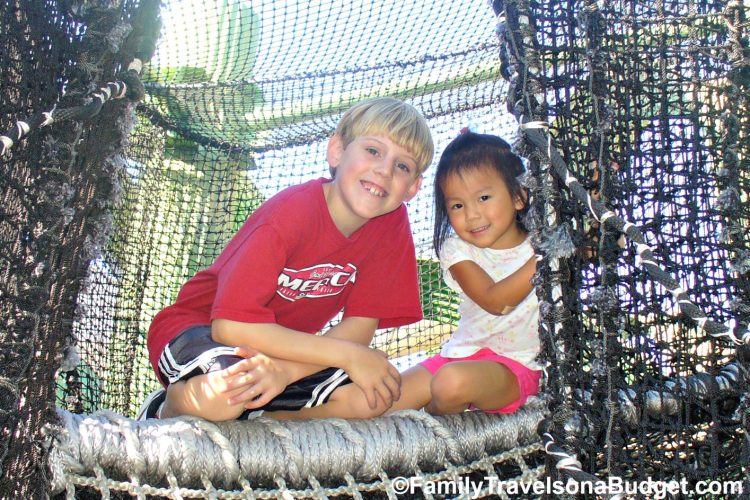 2. Eat your big meal mid-afternoon.
Eating your big meal at the parks between 1:30 and 3:00 p.m. is a great way to save money on your WDW vacation. It's also a great way to sneak in some downtime without the kids' even knowing it!
This is also a great way to do Disney on a budget because lunch meals are generally less expensive than dinnertime meals, especially at table-service dining restaurants at Disney parks and resorts.
You can push lunch a little later by eating breakfast at your normal time, then taking snacks to the park (granola bars, cheese sticks, PBJ sandwiches or fresh fruit) OR buying a late morning snack from a cart. Then, eat a late lunch.
Eating one big mid-afternoon meal generally means being less hungry at dinnertime so you can eat a less-expensive quick service dining meal for dinner.
3. Set a souvenir budget and stick to it.
Disney Parks and Resorts are designed to "help" you spend. When you get off rides and attractions, you have to walk through the attraction gift shop to get back into the park! You feel all warm and fuzzy after riding the Winnie the Pooh ride with your 3 year old. Of course, you NEED that plush Pooh Bear to remember the experience. Right?
Just like smart grocery shoppers know to "shop the perimeter first," to avoid those pesky end caps with all the yummy impulse purchases, having a strategy at Disney is important.
Our tips for success:
Set a budget and STICK TO IT! Budget for the day, by kid, for the whole trip — whatever works for you, but BUDGET!
Distract the kids!!! As you exit attractions, ask them about the experience. If they're old enough to talk, they'll probably share their excitement without prompting. Engage their eyes and just keep walking. If kids have your attention, they'll be less distracted by the cute, outrageously over-priced goodies. And you'll be distracted too!
4. Shop in advance.
Our souvenir budget is about $40/person for a weeklong trip to the parks. That's plenty for a t-shirt, stuffed animal, light saber and/or Mickey ears.
When our kids were little, we spent even less! By shopping in advance at our local Disney store and big box stores that sell Disney merchandise, I could pack special treats for them and save money too. A Mickey Mouse t-shirt from your local store is about $15, much less than the $25+ you pay at the parks.
Several years ago, we got a Snow White costume for our daughter on sale for about $35 just after Halloween at the Disney Store. Just before our brunch with the princesses, we presented her with the adorably wrapped gift. We popped the costume over her head and walked in for photos with her "heroes." That same dress at the parks was more than $80! How's that for saving?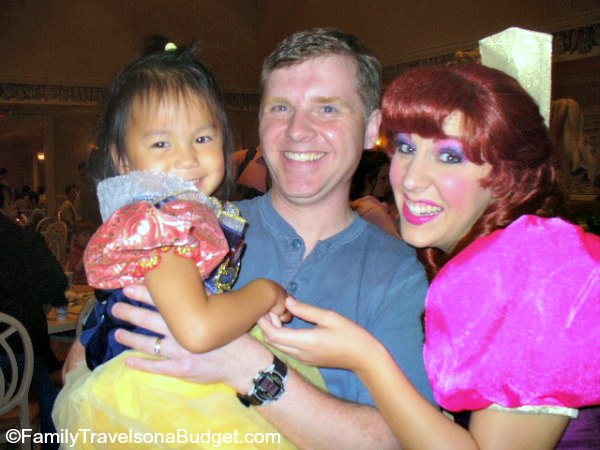 5. Drink water! It's free!
Every quick serve window location at the Disney parks will give you a cup of water — for free — anytime you ask. Drink lots of water throughout the day, rather than fill up on sugary drinks and you'll beat the heat, too!
Usually, our family of five spends less than $100/day on dining at the Disney parks — supplemented by "healthy" snacks we bring from home (nuts, microwave popcorn, fruit, beef jerky, peanut butter and crackers, cereal and milk). And our souvenir costs are generally less than $150/vacation. And, we don't sacrifice one moment of fun.
Other Disney vacation experts, how do you save money at Disney World?
And a bonus tip! Get your tickets through Undercover Tourist, a verified discounter you can trust!
Research has shown you might also like: