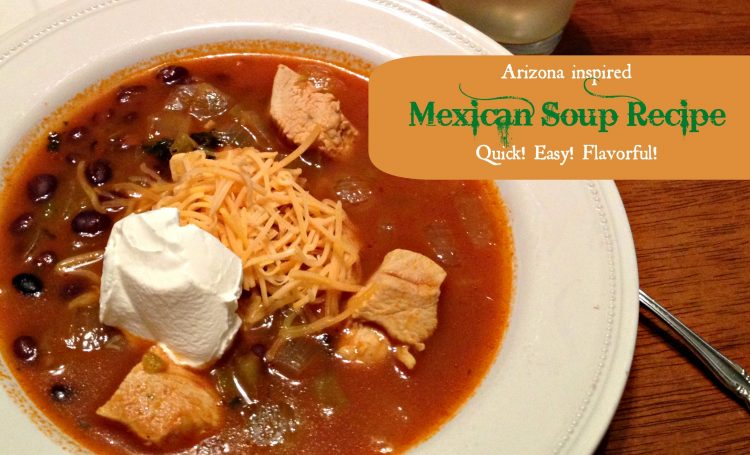 Ellie and I just returned from an inspiring trip to Tempe and Chandler, in southern Arizona. Besides horseback riding and exploring desert gardens, we got to eat at some fun restaurants. My favorite (though I liked them all) was Serrano's, a family-owned restaurant that first opened in 1979. Inspired by Serrano's fresh flavors, I created this fresh, flavorful Mexican soup recipe for my family. They loved it, declaring it a "keeper!"
When you get to Chandler, Arizona, enjoy a freshly prepared meal at Serrano's. I highly recommend the chips, guacamole and carne asada taco. The family has expanded to seven additional locations in Arizona if that's more convenient.
In the meantime, enjoy our Arizona inspired Mexican Soup recipe. It's a keeper!
Mexican Soup Recipe
Ingredients (In order of use)
1 Tbsp. vegetable oil

1 large onion, chopped (large bite-size pieces)

1 clove garlic, finely diced

8 cups chicken broth
1 can diced tomatoes or tomato sauce
1 ½ tsp cumin
½-1 tsp crushed red pepper flakes (adjust for heat desired)
2 cups chicken breast or thigh meat cut into cubes
1 can black beans, rinsed and drained
4 Tbsp chopped fresh cilantro
Salt and pepper to taste
Juice of one lime
1 cup Cheddar, Monterey Jack or Mexican cheese, shredded
Sour cream for garnish
Tortilla chips
Directions
Drizzle oil in bottom of a large pot and heat on medium.
Add onion and cook, stirring to keep it from browning, for two minutes.
Add garlic and cook an additional minute.
Add chicken broth, tomatoes, cumin, and red pepper flakes to the pot. Turn heat up to medium-high and bring to a boil.
Add chicken cubes and turn heat back to medium. Simmer for 10 minutes.
Add black beans and cilantro.
Add salt and pepper to taste. Simmer 5 minutes more to heat the beans through.
Remove from heat and stir in the juice of one lime.
To serve: Ladle soup into bowls. Top with cheese and sour cream as desired. Crush tortilla chips over all or serve alongside.
We enjoyed our soup with fresh lime soda (my hubby's recipe), chips and guacamole. Corn bread would also taste great with this soup.
Crock Pot Version (fix it and forget it)
Skip the oil. Dump the next 8 ingredients into the crockpot. Cover and simmer on low 6-8 hours. Taste and season to taste with salt and pepper about one hour before serving. Just before serving, stir in fresh cilantro (or 15 minutes before stir in dried cilantro to allow it time to rehydrate). Just before serving, stir in the lime juice. Serve as above.
Do you have a favorite travel inspired dish? What inspired it?
**HINT: If you like this Mexican Soup recipe, share it on your Facebook page, so you can find it easily! And who knows, maybe you'll inspire someone else to cook, too!**