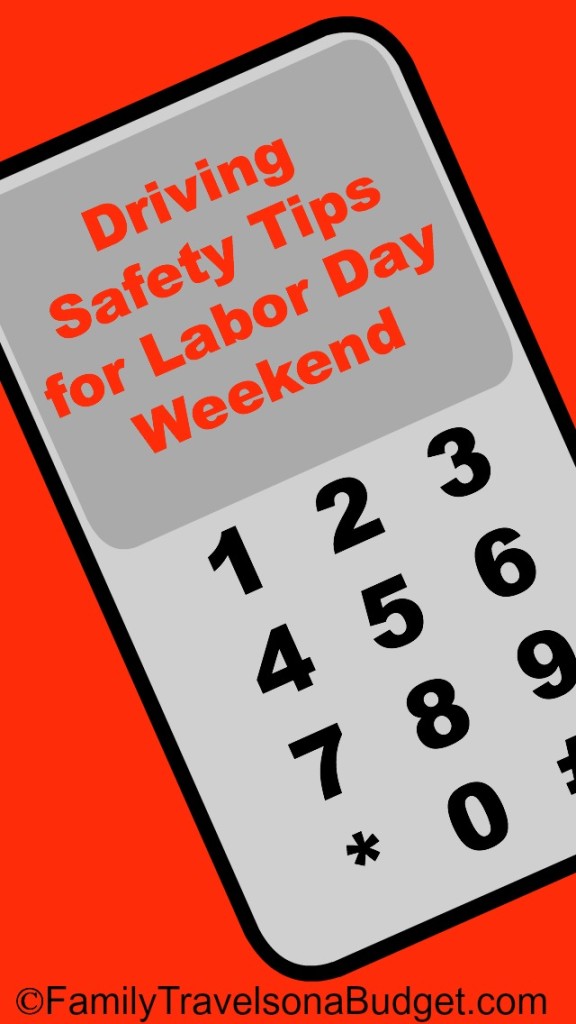 If you're hitting the roads this Labor Day Weekend, please be safe out there! Way too many people die unnecessarily on our roads… Road rage is a problem. Hurried drivers, just wanting to get to their destination and get the kids out of the car, are a problem. Distracted driving, whether to get food from the snack bag, adjust the kids' headphones, or to change a CD (or the Pandora station), means you're not paying attention to the vehicles and people around you. That just doesn't work!
Some of you may have heard about my brother's car accident a couple weeks ago. He's recovering at home now, but not without difficulty. He's got broken ribs, a broken sternum, a shattered clavicle (repaired surgically), a broken femur (the big leg bone — broke into 3 pieces. His leg is held together with a rod). And he has a shattered kneecap.
My brother was struck by a guy who ran a red light at 40 mph. I don't know why the guy missed the light, and I am not accusing him of texting while driving. Something other than driving had his attention, though… and my brother's life has changed. My brother's awake for 2 hours a couple times a day and sleeping uncomfortably the rest of the time. He had to withdraw from a triathlon in October. Something about shattered bones and triathlons doesn't mix. His life was turned upside down. (Side note: He is thankful to be alive and is thankful that his brain, back and internal organs were not injured. So am I!)
AT&T and other cell phone carriers are doing what they can to encourage safe driving. Certainly, the "don't text and drive" message is out there. Unfortunately, that hasn't slowed the deaths related to distracted driving. David J. Hanson, Ph. D., a professor at SUNY, says,
Driving a vehicle while texting is six times more dangerous than driving while intoxicated according to the National Highway Traffic Safety Administration (NHTSA).1 The federal agency reports that sending or receiving a text takes a driver's eyes from the road for an average of 4.6 seconds, the equivalent — when traveling at 55 mph — of driving the length of an entire football field while blindfolded.2
It's not just texting, either. Checking the GPS takes drivers' eyes off the road. Making a phone call requires drivers to look away from the road. Even the act of leaning over to get the phone can cause drivers to drift. Those who use Pandora or other music channels while driving get distracted while making changes to the channel. ANY use of a cell phone is a driving distraction.
The results are tragic– just watch.
What can we do about it?
Dear readers, there is so much we can do.
1. CHOOSE not to use your phone while driving. Lock it in the glovebox or the trunk if you have to, but don't use it! When I travel, I stop at a rest area or fast food restaurant to check my GPS or make a necessary call. (Or adjust pandora, check texts, update Facebook or anything else.) Sure, it adds a couple minutes to my overall drive, but I know I won't kill anyone this way. A few minutes of my time is NOT worth someone else's life. Don't you agree?
2. Activate phone apps that control usage while driving.  For AT&T customers, the "DriveMode" app locks the screen when a vehicle is in motion. It sends a text message when I get a text that lets people know I'm driving and will reply when I'm safely at my destination. Phone calls go directly to voicemail when I'm driving, though I can set certain numbers to come through. Drive Safe Mode is another app that provides similar protection.
3. Teach kids to be safe passengers! When my kids were little, they learned quickly that driving safely is important. I would tell them, "Guys, we're headed into heavy traffic. Help me out and stay quiet until I get through this area, okay?" Then, when we got through the area, I'd thank them for being such great driving assistants. When the kids would fight and kick, as kids do, I pulled into a parking lot or rest area and explained that until they could cooperate, we'd wait right there. They learned to settle down quickly. Most of those lessons were learned driving around town — there's something about losing 15 minutes at the pool that helps kids learn quickly. Quick discipline coupled with praise for their help makes the car a calm place — and allows me to drive without distraction.
4. Watch out for others! If you see a car ahead of you swerving or driving erratically, get the license number and call 911. Report distracted driving! You might just save someone else's life. Of course, this is easier done when you have a passenger in the car. Don't become a distracted driver by reporting someone else.
5. Stay focused. I don't know about you, but sometimes the errands I need to run, a conversation with a friend or other thoughts pull my mind from driving. When I'm close to home, I can go to "autopilot" and drive by habit. Whenever we let this happen, we are distracted — yes, by our own thoughts! Esurance reports that most car accidents occur within 25 miles of home. (My brother was just a few miles from his house when he got hit last week.)
Wherever you're headed this Labor Day Weekend, whether driving around town or hitting the road, remember that your only concern while driving should be DRIVING!
Let's make a change that matters! Will you commit to safe driving and take a stand against distracted driving?
Related articles