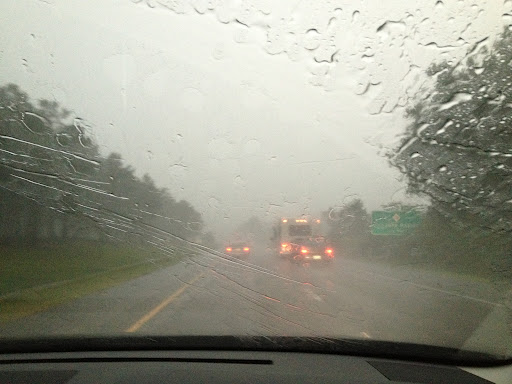 Driving home from Virginia in a horrific rain storm, my husband noticed that all the truckers had moved to the left lane of the highway. He asked, "Okay travel blogger, why do 18-wheelers move to the left lane every time it rains?"
He's confused, of course. I plan trips and execute routes with precision.
I do not drive a big rig!
We tried to figure it out and came up with a couple reasons that made complete sense to us:
If they drive on the left side, they can see the yellow line right outside their window and stay on the road…. but really, if visibility were that bad, don't you think they'd pull over instead?
Water drains to the right, which means there's a greater chance of hydroplaning when driving in the right lane…. again, if driving conditions were that bad, wouldn't they pull over?
Unwilling to give up, I googled "truck drivers left lane rain." Yes, I'm convinced that the answer to every question lives somewhere on the internet! But this time, I was proven wrong. The internet is silent on this topic. Every keyword search I attempted led me nowhere.
But I did find two great articles by blogger,
TruckerMike
. He's a professional truck driver and an excellent writer. If every "four-wheeler" in North America read these two articles, we might actually
make the roads safer
. Won't you take a moment to read them? But then, come back. I asked a trucker friend my question from the weekend… and he gave me the answer (the internet will be silent no more!)
Why do truckers do that? Does wacky truck driver behavior make you crazy when you travel? Find out why they do what they do. You might be surprised! I sure was.
Things that irritate truck drivers. Believe it or not, we "four-wheelers" don't own the road. We share it. TruckerMike shares his frustrations, most of which fall into the safe driving category. Truckers don't want to crash into your car — so help them out!
Now back to the question: Why do trucks move to the left lane in heavy rain?
My trucking friend says he moves to the left lane whenever conditions cause many cars to slow down. In heavy rain, cars, aka "four-wheelers" tend to drive slowly, hazards blinking. They pull to the right lane and continue to brake. Moving to the left lane, trucks can maintain a more steady speed with less risk of hitting a car that slows suddenly (faster than a truck can brake). Basically, trucks move to the left lane to keep the roads safe for us — and them.
Drive safely, everyone. Let's make it a habit to share the roads a little more thoughtfully.
Happy travels.