We talk travel about unusual vacations a lot at our house. "Someday, I would like to visit _____________." Fill-in-the-blank: the Amazon River, Thailand, or the Swiss Alps. "I'd love to stay in a/an _____________." Irish castle, yurt, or ice hotel. We dream about a lot of adventures, though I can't imagine we will ever do them all. Of course, I never thought I would climb the Great Wall, either. But I did. Or eat baguettes in Paris, though now I have.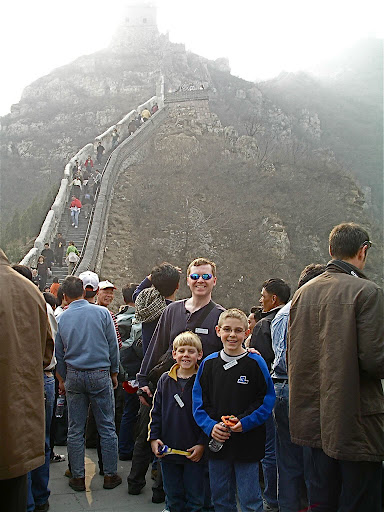 March, 2005
A cloudy day at the Badaling Gate
I'm compiling a list of unusual vacations within the United States. Here's the start:
Travel I-40 across the country from Wilmington, NC to Barstow, CA, total distance
about 2500 miles. Along the way, I would enjoy the foods made famous in the big cities along the route. I'd stop at small towns to soak up the local flavor. I'm pretty sure I'd fly home, though.
Watch the Cleveland Indians (or the Tampa Bay Rays) play a game in each stadium they visit in a single season. Baseball season spans five months, so I think I'd take this trip by RV. I can't even imagine the miles we'd rack up!
Enjoy a midwest summer festival tour. Growing up in the midwest, our hometown threw a big celebration every 4th of July. I'd love to capture those small town midwestern festivals on film — the town gazebo decked out in bunting, the high school bands playing concerts on the town green, and the food. They're all the same. Yet, they each offer their own special twist. I think on these trips, a bed and breakfast stay might help me feel more connected.
Another idea I have is a coastal trip to visit the lighthouses that dot our shores. I'd like to discover the local lore tied up with lighthouses, the ghost stories in Charleston and stories of sunken treasure off the eastern seaboard. Sure, there are books on the subject, but I'd like to see them too. This could be three trips: east coast, west coast and great lakes. Nice!
These are just a few of the unusual vacations swimming in my head. What would you do?
Happy travels!