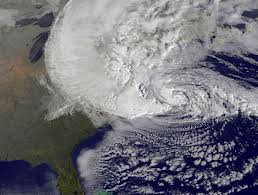 As Hurricane Sandy bears down on the East Coast, we pray for safety for everyone affected. Hopefully, everyone is heeding media and law enforcement warnings to evacuate or prepare for expected power outages.
Here in North Carolina, we are certainly no stranger to the hurricane. We respect the danger that hurricanes impose. But, we sure have learned how to make the down time a little more fun, too, once safe and sound that is.
If you're stuck at home for the next few days thanks to Hurricane Sandy, don't let cabin fever get you. Here are six fun things you can do to entertain the family — no electricity required! Of course, make sure you're safe first!
Activities with younger kids:
Build a tent city! Clear out as much space as you can in a room, then use chairs, the kitchen table and lots of blankets to make a tent town: grocery store, library, and home. Let kids fill each area with appropriate toys such as play kitchen food in the grocery store and favorite books at the library. They can visit the different buildings OR they can take their stuffed animals from place to place.
Play board games. Remember those fun kids' games stuffed in the back of the closet? Hungry Hungry Hippos. Chutes and Ladders. Pretty Pretty Princess. Pull them out and play some games. Make it fun and dress the part, perhaps in your hippo's color or as the token for the board game. It's as much fun getting ready to play as it is to play!
Build a wall. Gather building supplies, such as empty boxes, tote boxes with lids, pillows and stuffed animals. Work together to build a tower all the way to the ceiling. Mom or dad might have to help with the top. Then, have fun knocking it down to do it again!
Activities with older kids:
Send them on a scavenger hunt. Whether as a cooperative activity or competition, send them to find objects in the house that share the shape of letters in your family name and take photos of them. For instance, we have a cross hanging on the wall, which would work as a letter "t." The curve in our kitchen light would make a "c." Alternatively, you could make a list of items to gather within a set amount of time.
Play board games. With xBox, iPod and social networking, today's teens are less likely to take the time to enjoy a good, old-fashioned board game. Why not introduce them to the greats: Monopoly, Clue, or Battleship?
Tell stories. Yes, sweet and simple. Gather around the fireplace and share stories from your childhood. Tell your favorite memories from your children's early years. Or, for a change of pace, tell a progressive story. The first person tells the opening line, such as "Once upon a time, there was a farmer who had a dog that could talk." The next person adds the next line to the story, and so on. How long can the story go? How far did you drift from the opening line. It's hysterical!
An important word of caution, whatever you play, if you don't have electricity, use flashlights or other LED lanterns to light your space, not candles. One candle knocked over could set your house on fire. Be safe!
Readers, I sure would love to hear from you. When you're "trapped" indoors, how does your family pass the time?
Like this post? Please share!