Fit Friday: Surf's up at beach resorts this summer
This post may contain affiliate links. Click here to see what that means.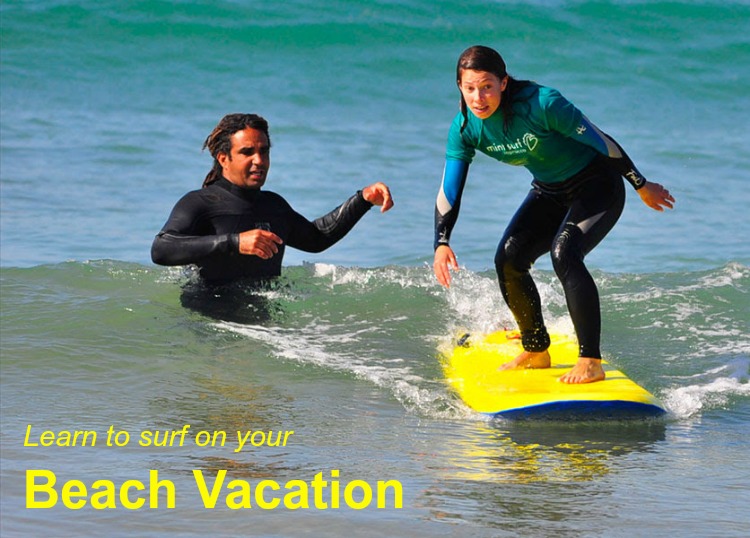 In my never ending quest to get more healthy (aka, fit), I've begun exploring water sports, particularly for their advantages over land based sports:
If you fall, you have a "soft" landing. I have not experienced a surfing wipeout yet, so that qualifies my use of soft.
The water keeps you cooler. Get too hot? Just fall in, cool off and then start again.
Speaking of "cool," people think you're cool. We went out on our stand up paddle boards last weekend, and all the neighbors were so impressed. Good thing they couldn't see my knees knocking as I struggled to look so awesome!
It's fun! Really!
While stand up paddle boarding is my go-to for water sports right now, I hope to keep adding to my skill set. Next up will be surfing. As I did with paddle boarding, I will take beginners' lessons. Those pros know how to help even the most timid adventurer, like me!
If you're planning a vacation to the beach this summer, consider a surfing lesson for the family!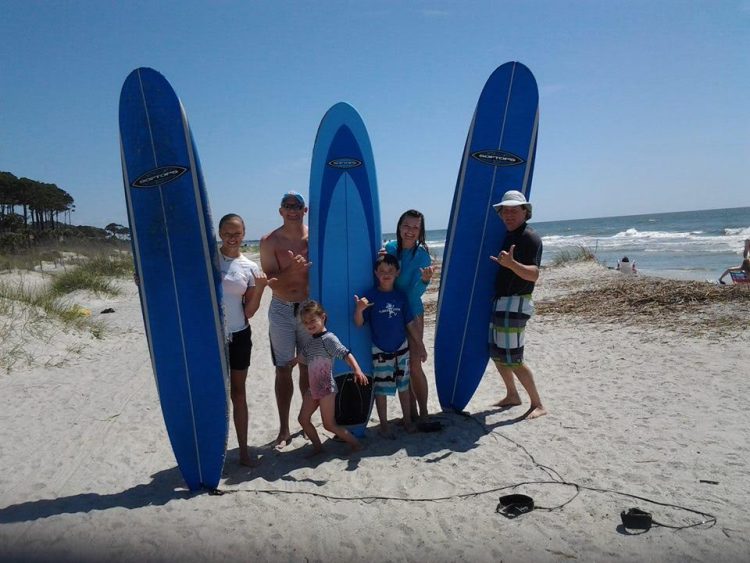 Credit Palmetto Dunes Oceanfront Resort
4 resorts offering surfing lessons this summer
Palmetto Dunes Oceanfront Resort, Hilton Head Island, South Carolina
Palmetto Dunes Oceanfront Resort, which has 3 miles of beach, offers surfing lessons as a tradition every summer. The 1.5 hour Surf School focuses on the fundamentals and water safety, starting on the sand and then moving into the water. Everyone is guaranteed to get up and ride a wave by the end of the lesson. Group lessons ($90/person) and private one-on-one sessions ($125/person) are available.
Sanderling Resort, Outer Banks (Duck), North Carolina
Ages 7 and older, who already know how to swim, can take private or group lessons at Sanderling Resort in the Outer Banks. The 1.5 hour class teaches ocean safety, such as identifying rip currents and reading ocean conditions, proper paddling and how to catch your first wave. After dry land training, new surfers spend more than an hour in the water "catching waves." Group lessons ($65/person) and private one-on-one sessions ($105/person) are available. Click here for the reservations page and scroll down to Surf Lessons toward the bottom of the page.
Blockade Runner Beach Resort, Wrightsville, North Carolina
Learn to surf at Blockade Runner Beach Resort in Wrightsville, NC, a popular area for surfing. The one hour class begins by teaching surfing basics, then students take to the water to practice their skills. Group lessons ($50/person) and private one-on-one sessions ($100/person) are available. Board rentals are also available so that new surfers can keep practicing those skills.
Ritz-Carlton Laguna Niguel, Dana Point, California
Hotel guests can try their hand at surfing some of California's impressive waves at this luxury resort in Southern California. Two hour private lessons in the resort's Surf Experience include on-beach instruction, paddling techniques, ocean safety, transportation to the surf spot and equipment. Experienced surfers can take the resort's Surf Tour to explore great surfing spots along the coast while receiving personal coaching.
I hope this post inspires you and your family to try something new this summer — whether surfing, paddle boarding or kayaking. I have found that water sports are relaxing, even if they are physically demanding. There's just something about "life on the water," that adds a sense of peace — and fun — to the experience!
P.S. If you stay someplace that doesn't offer lessons, look for independent surf schools. Just make sure they teach water safety before sending you out on the waves!