When I am traveling in an unfamiliar area, the aroundme travel app is my "go to" resource to easily find what I need. The first screen offers a variety of options, the restaurants and gas available on many travel apps, but also taxis, theaters, grocery,
pharmacies, parking, hospitals and more. Everything a traveler might need is easy to find.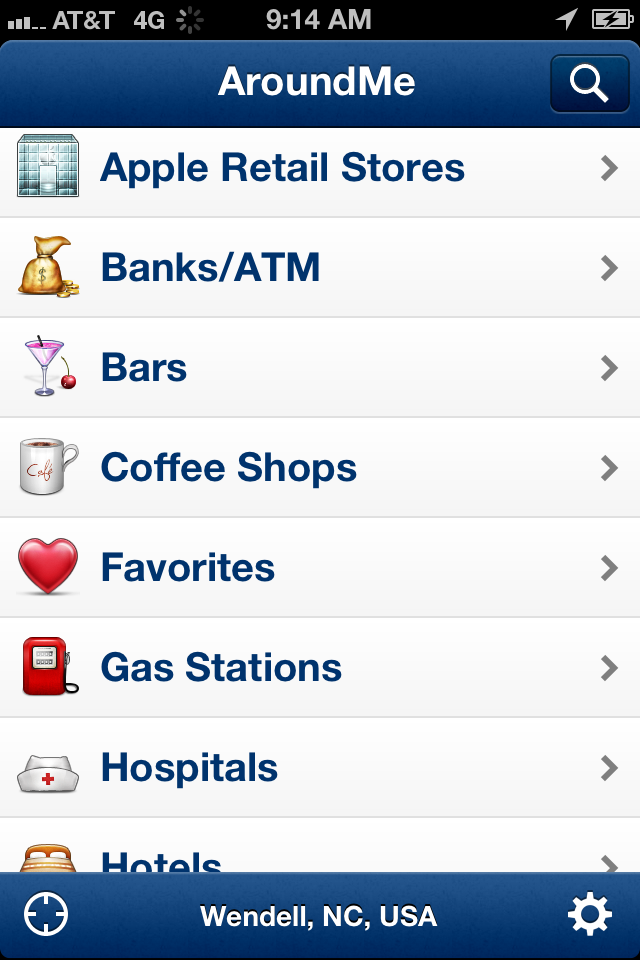 How the Aroundme Travel App Works
On the landing page, select the category desired. For this post, I'm using pharmacies in Wendell, North Carolina. The next page takes you to a list of pharmacies in the area.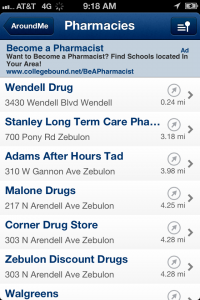 When you select the specific place you want, the next page takes you to a map of the location and its phone number.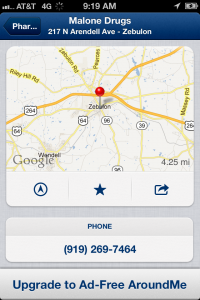 On the lower left hand corner of the map screen, tap the vertical arrow in the circle to select the map app you prefer to guide you to your destination.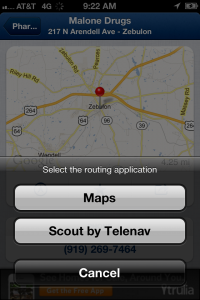 The next screen will provide directions to your destination.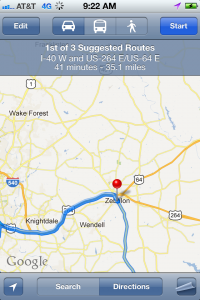 How I Use the Aroundme Travel App
On the road: When traveling far distances, I use the aroundme travel app to find restaurants further along the route. It's especially helpful when I'm trying to avoid fast food!
At my destination: I prefer to shop at certain grocery stores. I know the layout and, for some, I have member discount cards. Using this app, I can quickly determine whether any of my preferred stores are nearby. It saves me from having to look up each store by name in my regular mapping app.
Around town: While I've lived in the Raleigh, North Carolina area for eleven years, I haven't "done it all." (Isn't that the way it goes? We know more about other places than our own hometown?) Using the aroundme travel app, I can discover new things to do right here at home!
Vacation planning: Before I travel, I can use the app to search a specific area. The small circle on the lower lefthand corner of the aroundme travel app homepage takes me to a page where I can search any location. Simply enter the desired location and hit the search button in the lower righthand corner of the page. Follow the prompts to find information for your desired city.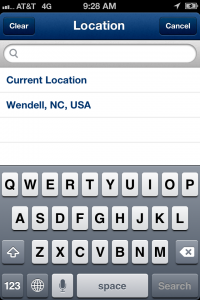 I use the free version of the
aroundme travel app
for the iPhone. An ad-free version is available for $2.99, but the ads don't bother me. Check the site for more information on the
aroundme travel app
, for iPhone, iPad, Android and Windows Phones!
Thanks for joining me at the new and improved Family Travels on a Budget!
Like this post? Please share!