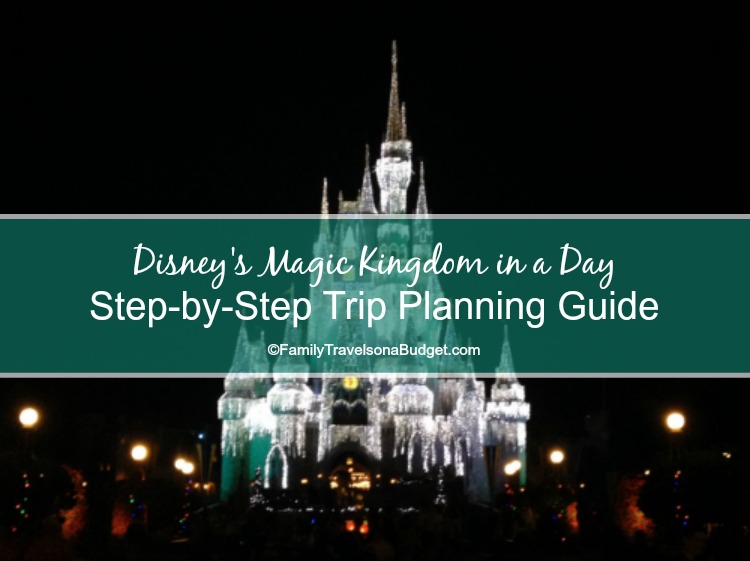 ***Updated June, 2017***
One of the most common questions people ask is how to get the most from a Disney vacation, especially Walt Disney World in Orlando. With four parks, two water parks and Downtown Disney, planning a vacation can seem overwhelming.
I've got some good news!!! Once you understand how the parks are laid out and tricks to avoid the madness (or at least minimize it), a Disney vacation CAN BE relaxing…. Well, your feet might get tired after a long day, but you won't lose your mind figuring out what to do next.
A side note: When you use a Disney vacation specialist to plan your trip and they give you an itinerary to follow, it's okay to skip ahead sometimes! Weather, unexpected crowds or kids having meltdowns might mean you need to adjust. You can do it!
With that said, let's explore the Magic Kingdom. The plan I suggest really does work. We have been taking the kids to Disney since they were 5 and 2, now 21 and 18 and 10. When they were little, it worked. Now that they are coaster junkies, it still works. Park crowds, operating hours, attraction closures and weather can affect the best of plans, though, so flexibility is also an important part of any good Disney plan (yes, it's worth repeating)!
There are essentially two ways to approach a day at the Magic Kingdom: plan or don't plan. Those who don't plan are easy to spot. Huddled together, the group studies a park map trying to figure out where they are, where they've been and how to possibly fit everything else in! They're usually grumpy! Those with a plan cruise through the day enjoying the magic of Disney.
Magic Kingdom Step-by-Step Planning Guide
This guide offers a general plan to experience the Magic Kingdom, but customize it to fit your family's needs. Using the information here, create customized maps at the Disney site to suit your family's desires. The customized maps offer suggestions based on the ages of children traveling in your group and can simplify your decision making process.
The Magic Kingdom is laid out much like a clock.
Picture Cinderella's Castle as the middle of the clock, where the hands turn.
At "noon" is the New Fantasyland with iconic children's rides like "It's a Small World," Mickey's PhilharMagic show and Peter Pan.
The Storybook Circus, at 1:30 on our clock, features "Dumbo" and other attractions geared for younger families.
On the "clock" at 3:00 is Tomorrowland with Space Mountain and Buzz Lightyear's Space Ranger Spin.
At 6:00 is Main Street, U.S.A. — where you enter the park.
At 8:00 you'll find Space Mountain and Big Thunder Mountain Railroad in Adventureland and Frontierland.
Finally, at 10:00 is Liberty Square featuring the Hall of Presidents and the Haunted Mansion.
See how easy it is?
Now, let's plan your day!
Before you go, do just a bit of research
1. Make a list using the customized map page on the Disney website of all the rides and attractions your family would like to experience. Add any restaurants you want to enjoy. If you purchase tickets in advance, plan to make fast pass reservations 30 days before your vacation (60 days ahead if staying on Disney property) — more on this in a bit.
2. Plan to arrive at the park an hour before it opens, especially if visiting during peak season. That gives you more time to enjoy the park before the big crowds hit! Include a midmorning snack and drink in your bag, especially if you have a lunch reservation at 1:00 or later (highly recommended)! We'll be traveling through the park counter-clockwise — unlike most park guests.
Your Magic Kingdom in a day experience
3. Once the park opens, stroll along Main Street. Enjoy the sights, sounds and smells, but save shopping for the afternoon when you want a break from the heat!
4. Head to Tomorrowland, which is 3:00 on your "Magic Kingdom" clock.
Notes on attractions in Tomorrowland:
Families with older kids and teens will probably want Space Mountain fastpasses for later in the day. Those with younger kids will want fastpasses for Buzz Lightyear for a second ride later in the day. You should be able to ride either of these soon after park opening, no fast pass needed. (Rider Swap works on Space Mountain)
Stitch's Great Escape is designated as a ride for "all ages," but most people I've talked with find it better for kids ages 10 and up. (Rider Swap works here, too)
Tomorrowland Speedway lines get long and hot as the day progresses. Ride early if you plan to ride at all or get a fast pass. Standby times can stretch to 45 minutes or more.
5. Continue to the Storybook Circus area of New Fantasyland — 1:30 on the "Magic Kingdom clock," to ride Dumbo and the Barnstormer. These kid sized attractions are especially popular among the preschool set.
NOTE: If you're traveling with older kids, skip Storybook Circus. This might be a good time to ride the Tomorrowland Raceway if lines aren't already too long.
6. Continue counterclockwise into Fantasyland Forest, located at noon on the clock. This is the newest area in the Magic Kingdom and features the popular Seven Dwarfs Mine Train, the carousel, Peter Pan's Flight and the Be Our Guest Restaurant. Most everyone will also want to catch "It's a Small World" and "Mickey's PhilharMagic" show, at least once.
Of these attractions, the Seven Dwarfs Mine Train and Peter Pan's Flight have the longest wait times. Use Fastpass for these attractions.
Break for lunch!
Since you're in Fantasyland, all the restaurants are easy to get to. Quick queue meals are available throughout the park. Or, use these time tested tips instead:
The standby line for Be Our Guest moves quickly so if you can't get dinner reservations here, lunch is a great option. The restaurant is large and air conditioned.
Other restaurant options are available nearby if you don't want to wait, including The Plaza Restaurant on Main Street for casual sit-down dining and the Crystal Palace or Cinderella's Royal Table for character dining. (The Plaza Restaurant is our family's favorite — large portions, excellent service and small restaurant — so it's less hectic)
We make our dining reservations for lunch around 1 or 1:30 p.m. This is the most crowded time in the park, so having reservations gets us out of the crowd and we don't have to wait in long lines for quick service food. An early afternoon lunch is also a great way to recharge for the afternoon.
Now back to the park!
7. Now that the morning rush is past at Adventureland and Frontierland let's head that direction (8:00 on your "Magic Kingdom clock.")
Schedule fastpasses for Splash Mountain or Big Thunder Mountain Railroad at 2:00 p.m. or at least one hour after your lunch reservation. Visit other attractions in this area, including: Tinkerbell's Magical Nook (see daily guide for meet and greet times), Jungle Cruise, the Magic Carpet's of Aladdin, and the Enchanted Tiki Room show.
Notes on attractions in Adventureland and Frontierland:
There's a small playground tucked away to the right of the Splash Mountain entrance offering kids too small for the ride free space to play while waiting. Parent benches allow the "big kids" to rest in cool shade.
Tom Sawyer Island (in Frontierland near Big Thunder Mountain Railroad) offers space to run, climb and explore. If kids are restless — or young kids are waiting on big kids — Tom Sawyer's Island is a great space to get out of the stroller and play! This section of the park closes around 5 p.m. My kids still love it!
Check your daily park map for parade times. The afternoon parade runs along Main Street and through Frontierland. It's quite popular and crowds vie for the best spots up to two hours before parade time. For more detailed information on parade routes, times and best viewing locations, visit

Kingdom Magic Travel

. We use parade "downtime" to snack, rehydrate, visit the restroom and take naps.
8. After the parade, move on to Liberty Square featuring the Haunted Mansion (recommended for kids age 10+ because it's a bit scary), Liberty Square Riverboat (a relaxing ride great for those who want to rest and young children), and the Hall of Presidents.
That's it! You've made one successful loop through the park. Now that you've made your way once around the Magic Kingdom, decide what your group loved most and go do it again or watch a show on Cinderella's castle stage. Using the Disney parks app, you can check standby wait times to decide the best choice. In general, Splash Mountain, Space Mountain and the Fantasyland rides thin out toward evening. Big Thunder Mountain Railroad, Buzz Lightyear, the Seven Dwarfs Mine Train and the princess meet and greets always have long lines.
As time allows, visit rides and attractions you enjoyed most while waiting for the evening parade and fireworks. If you have done all you want, head back to the hotel to escape the crowds, swim in the pool or take a nap before the evening parade and fireworks. Check the daily park map for show times. If you scheduled an evening dinner, relax and enjoy it knowing you have seen everything you planned!
Pin it for later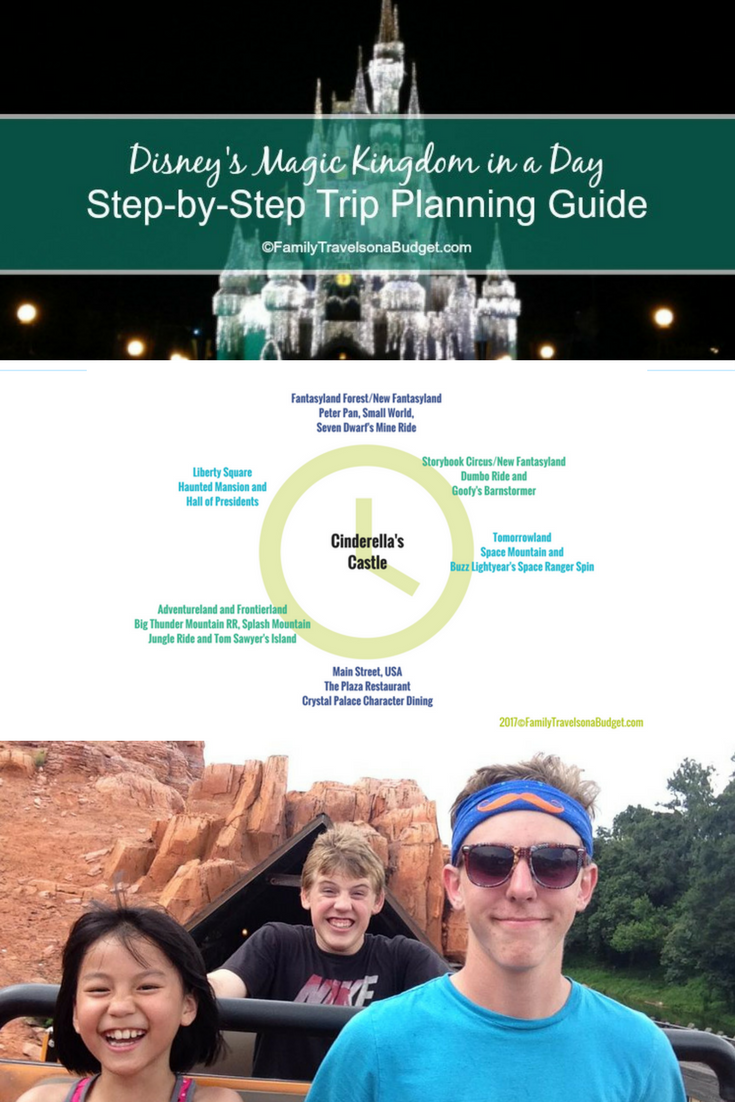 A few more tips
Regarding Rider Swap:
This feature is available for Disney theme park guests with children too young or too small to ride certain attractions. Rider Swap allows one adult to stay with young children while others ride the attraction. Afterward, the non-rider can ride the attraction without having to go through the regular queue and another guest can go too. No need to ride alone!
FASTPASS is free for all Disney guests. Each guest is allowed 3 fastpasses per day — all at one park. Park rules state that you must use your fast pass during the time stated on the ticket, though sometimes, that is waived. Most people book fast pass attractions before travel. The parks do make same-day fastpasses available to those who do not purchase tickets ahead of time, though quantities are limited. Check this out for the best Fastpass Secrets for Magic Kingdom.
Confused? I hope not! If you are, reread this post and use the included links. It does make sense! If you have questions or suggestions not addressed here, please leave a comment below. I will respond to all questions. AND I appreciate the feedback of other seasoned Disney guests!