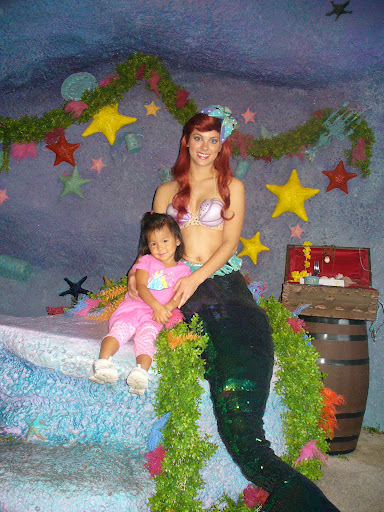 Our tiny princess meets
Ariel for the first time
I admit it, I'm a Disney fan. We've actually been to Walt Disney World so many times that I lost count. Sad but true. I've filled albums with wonderful Disney memories: my son "meeting" the real Tigger the first time, our other son learning how to fight with a light saber — trained by the great Obi Wan Kenobi himself, and our daughter's first encounter with Ariel. All precious.
Years later, we still love it, though these days I find myself longing for the Dole Whip in Adventureland, a few spins on Space Mountain, and quiet moments tucked away at Epcot's World Showcase. My husband and I took our first solo trip there to celebrate our 20th wedding anniversary, two grown-ups as giddy as kids.
First-timers find the whole Disney experience a bit overwhelming. When to go? Where to stay? What to do? see? eat? How to cram it all in… The list goes on and on. If you happen to be one of those people, tune in all week as I break it down step by step. You, too, can plan a fabulous, stress-free (if you take my advice) Disney vacation! Ready?
Questions to ask before you start planning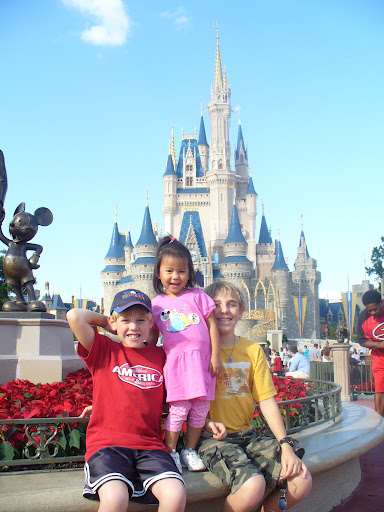 Sweet Ben is holding Ellie's hand —
he doesn't want her to fall off the bench.
What's your budget? Be honest with yourself and determine how much you're willing to spend.
When do you want to go? Different seasons offer different experiences. Summer at WDW or Disneyland is crowded and hot. Fall offers shorter hours and few crowds. Winter and spring can be crowded or not based on holiday schedules.
Where do you want to stay? On property or off property. Both have their benefits and drawbacks.
How many days do you want to visit? The longer the trip, obviously, the more it will cost — and the more you can do. However, knowing how long your trip will be affects some of the other decision making.
That's it. Answer these questions and tomorrow, we'll discuss
lodging options
.
Have a specific question? Ask below or email me, and I'll answer it later this week.
Happy travels!
Related articles