How to: Travel Bathroom Organization
When we travel as a family, one of my biggest pet peeves is bathroom organization. At home, my three kids share their own bathroom. Since they're plenty old enough to maintain it, I don't venture in there often. Tooth paste all over the counter? Fine. If that's how they want it. Personal products covering every inch of space? That's fine too. It's not my mess!
When we travel, we don't have the luxury of two bathrooms. So, their mess becomes my mess. Or, more likely, I freak out over the mess and make them clean it up.
While I could fight with them on bathroom cleanliness at home, I choose not to engage in that battle. They'll grow up, marry, and their spouses can teach them! (Tee hee!) When traveling, the five of us share a space meant for two. I had to develop a strategy for bathroom organization, because fighting about bathroom counter space is not my idea of vacation fun!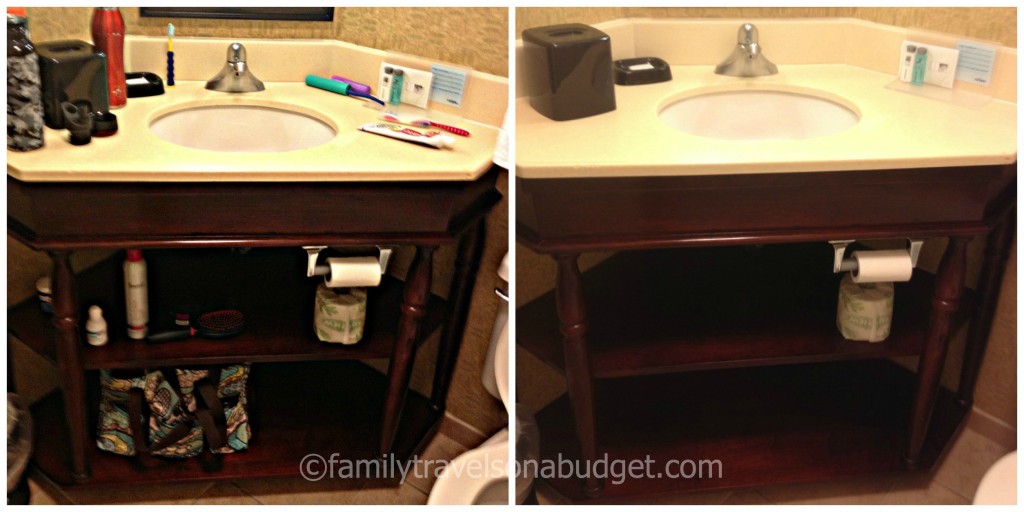 EASY How To: Travel Bathroom Organization
As you can see in the photo above left, with enough effort we can keep the counters fairly organized during travel. But, the counter on the right gives us far more space. I can actually apply makeup without knocking something off the counter.
All it takes is this: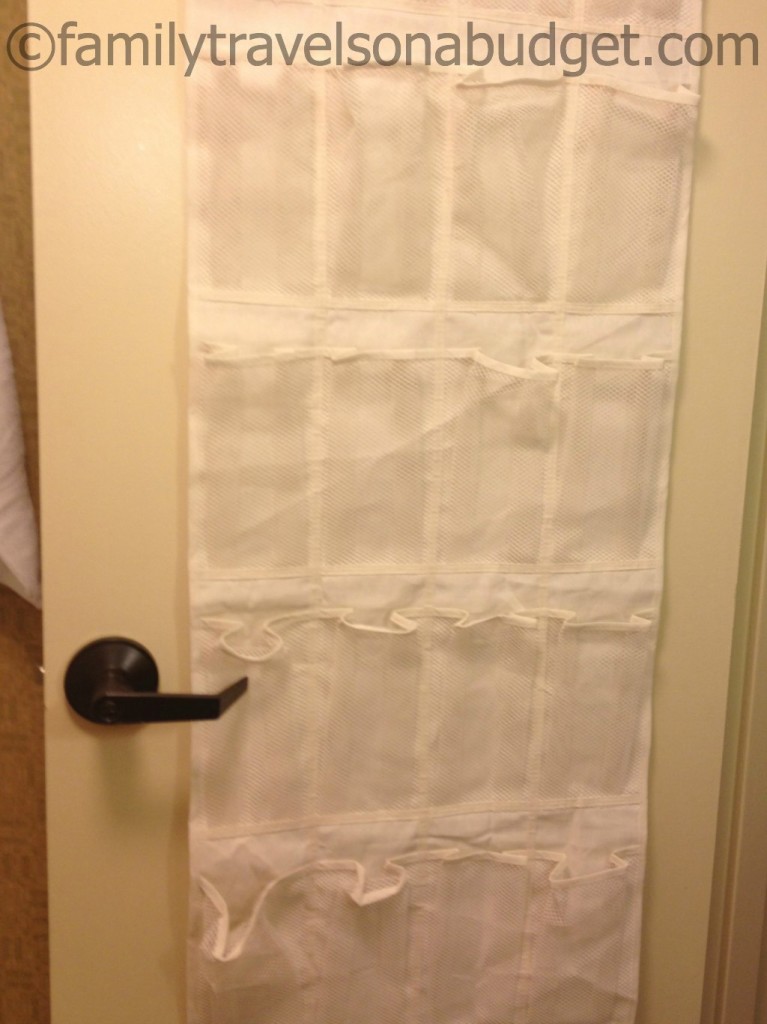 Yep! An over-the-door shoe rack is the best tool for bathroom organization! It doesn't take much space in the suitcase and provides organized storage space to make the tiniest hotel bathroom more manageable.
**It also works on cruise ships, though take zip-ties to secure it to the shower rod or closet bar. It doesn't work on most cabin doors.**
Here's how it looks when used: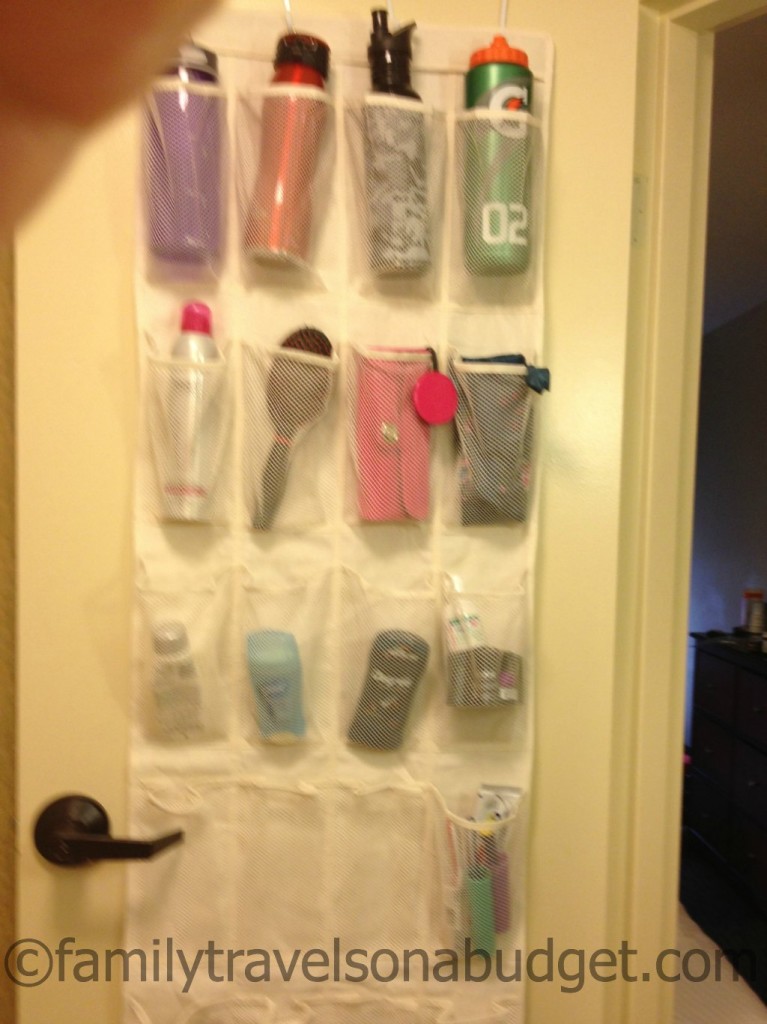 We tuck the water bottles into the top row to keep them clean and because we don't need them daily.
Below that, there's a row for everyone (if needed). On this particular trip we packed light, so we didn't use the whole thing.
Lowest pockets can be used for kids' toys, dolls and stuffed animals. Their "stuff" is easy to get to and it doesn't get lost under beds. As an added bonus, lego pieces — safely stored in a zip-lock bag or small snap-shut container — don't end up all over the floor for adults to step on!
Our bathroom organization shoe bag is made of fabric and is machine washable. I store it with my overnight bag so it's always ready to go.
This simple solution keeps the whole family happy. I don't yell at the kids and they don't have to think too hard to put things away… Now, if only they'd figure out that the drawers built into their bathroom vanity work just as well! 🙂
What's your hotel travel pet peeve? How do you manage it?
Remember, the MS Cruise for a Cure special offer ends tomorrow. Book your trip today and join us!
Chick-fil-A fans, don't forget your chance to win free #FreshMade salads! The giveaway ends this Wednesday. Easy entry — just leave a comment!
Like Us on Facebook and join our fun-loving community of moms, travelers and traveler wannabes!
Follow Me on Twitter for the latest information on travel, travel deals and other fun stuff in 140 characters or less!