Beach Bag Essentials: Everything you need to pack the perfect beach bag!
A day at the beach always brings big smiles, unless you forget something really important! Nobody wants that, so we made a checklist to help you remember all the beach bag essentials to make packing for the beach easy!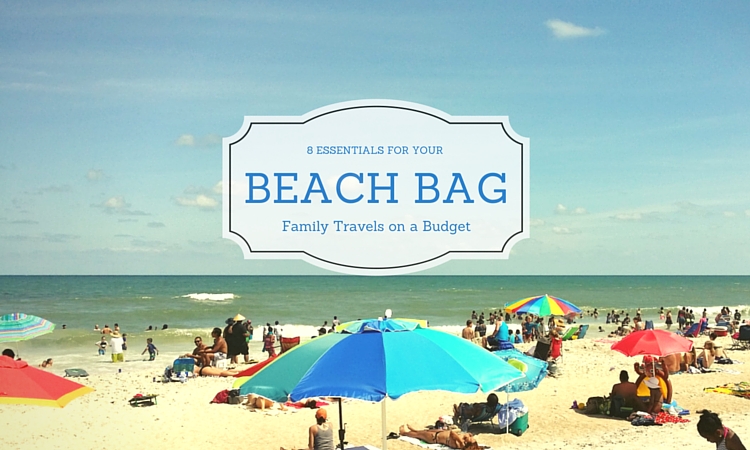 This post contains affiliate links for your convenience (at no additional cost to you). Click here to read my full disclosure policy.
Beach Bag Essentials
When packing for the beach, start with the perfect beach bag. Consider the features you most need — lots of pockets, waterproof, easy to carry? Here are a few we really like.
We like this family beach bag* for its multiple pockets, lightweight design and other thoughtful features.
A waterproof beach bag like this stylish one* comes in handy for a day on the water.
For hands free convenience, I really like this newcomer — a beach backpack* with great features any parent will appreciate.
Once you've got the perfect beach bag, it's time to fill it! Remembering all the beach day essentials is easy with this handy checklist:
Sunscreen*: Check expiration dates and make sure you have enough to reapply throughout the day.
A beach blanket: A beach blanket*, made of durable parachute material with sand anchors to stay in place, keeps towels less sandy and gives kids a larger area to take a break. It also holds less sand than a towel does and is easy to shake out before heading home.
A garbage bag: A day at the beach is great. Filling the back end of the car with sand is not. Tuck a garbage bag in the beach bag to fill with sandy towels and toys to bring home. That keeps the sand out of your car!
Snacks*: Busy kids might not realize they're hungry, but wave surfing, digging and running really do burn calories. Add healthy snacks to your beach bag list and keep kids fueled for the whole day.
Water: Sunshine and heat and activity mean kids need to drink often. We usually add insulated water bottles to our family beach bag, but a cooler and cups work too! Even better, carry an insulated cooler bag* full of drinks to make sure everyone drinks plenty!
Baby powder: Believe it or not, baby powder is your secret weapon to happy kids for the drive home! We prefer Burt's Bees Talc-free Baby Powder*. Sprinkle it on sandy arms and legs to brush sand off easily. No more complaining about the itchy sand on the drive home!
Baby wipes*: This is another of our beach day essentials to make life easy. We use unscented wipes like these* so we don't attract bugs. They're great for washing up before snacks, wiping off sunscreen before the ride home, and washing hands after bathroom breaks (it's hard to find soap at the beach)!
Sunglasses or hat: Squinting in the sun can lead to headaches, even for little kids! But, they just get cranky when that happens. They don't know how to explain their headache. Pack sunglasses, like these cute ones with a strap*, or hats to protect eyes and delicate faces from the sun's harsh rays. Don't forget to update your sunglasses to something with UVA and UVB protection, like these fashionable styles for men and women*.
More beach day essentials
And, while I don't normally pack these next beach day essentials in the family beach bag, it sure helps to include these items in a second beach bag when traveling with the family.
Beach towels: The newer, quick-dry microfiber towels* are awesome!
Flip flops or water shoes: I prefer sturdy water shoes for kids, like these water shoes*, which Ellie wears. They stay on little feet and protect them better than flip flops do. As for me, this newer style of flip flops* is awesome as it offers some extra support for tired feet! Dad might prefer this style of sandals *– which also offer arch support, but still look cool.
A change of clothes: I always pack these in a separate bag so they don't get sandy during the day! It sure is nice not to wear wet, sandy clothes home — or even a few miles back to the vacation rental.
Beach toys: We always carry our beach toys in a mesh bag* which makes shaking out the dry sand fairly easy. We can also take a garden hose to the bag to get rid of most of the sand. The mesh bag allows the toys to dry without getting mildewy.
Beach cooler: If you'll spend all day at the beach, take a beach cooler full of drinks and snacks. We like this soft-side cooler* because it's easy to carry and easy to store.
When you're packing for the beach, choose the best beach bag for your needs. Be sure to include all the beach bag essentials, like those in our list, and have a great day at the beach.
*Items marked with an asterisk are affiliate products. Links included for your convenience.