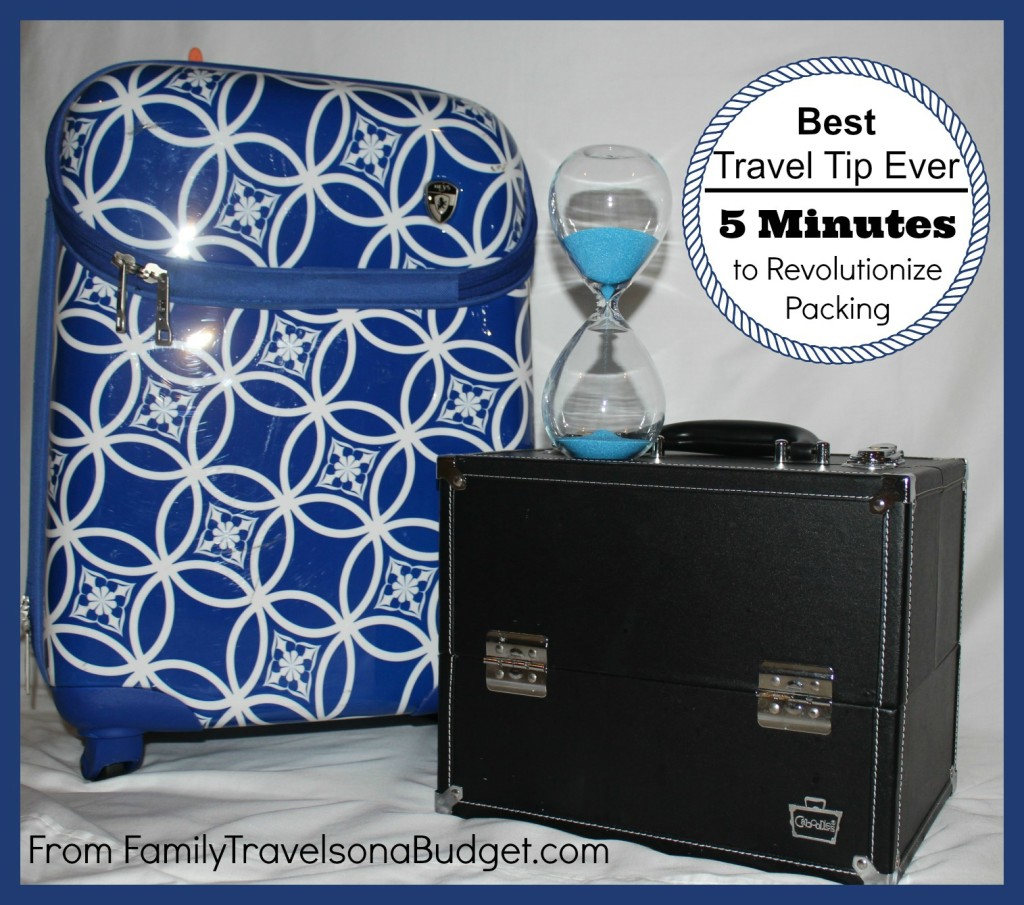 If you're like me (and 99% of all vacation weary moms), the last thing you want to do when you get home from vacation is laundry.
Unfortunately, that luggage — bursting at the seams with dirty clothes and stinky socks — doesn't empty by itself. So far, no one has invented the portable luggage washing machine… So, when vacation comes to an end, travel-weary parents have to face that pile. Sometime.
An article at Unclutterer recommends,
Walk in the door and straight to your laundry room. The first thing you should do when you get home is start a load of laundry of your vacation clothes. Once the washer is going, then you can reset your thermostat to a normal temperature and check to make sure a tree didn't fall in your backyard (or whatever it is that people do when they first come home from vacation).
But… that requires so much effort! I don't want to spend my first twenty minutes home in the laundry room!
That's where the Best Travel Tip Ever comes in!
Our family takes more than 20 trips each year, mostly quick weekend getaways. Rolling into the driveway Sunday night, the only thing on my mind is getting everyone ready for Monday. For years, I'd bring the luggage in (or my hubby would), set it on the floor in front of the washer (as if those clothes would wash themselves) and ignore it. For days! We made due with whatever clothes we could find.
One trip, something happened! A sudden epiphany as it were.
As I began packing clothes for the trip home, I sorted them. Darks in one suitcase. Lights in another. I checked pockets for little boy treasures acquired along the way (rocks, stickers, you know…). I turned socks right side out and checked for stains.
I zipped the luggage shut and set it by the door… ready to go home.
Ready for the washer!
That simple! Five minutes of intentional packing changed everything!
Here's the Best Travel Tip in real life!
Last weekend we hiked in the mountains, enjoying a short getaway with friends. Sunday morning as we packed to come home, I sorted the clothes as usual. But this time, my packing technique took about TWO minutes — TOPS!
Now that the kids are older — and experienced travelers — they already had turned their socks right side out. Their clothes were semi-sorted, darks and lights. All I had to do was check pockets and stains. Then, I folded the darks into one side of the suitcase and lights into the other. Zip! DONE!
Fast forward five hours…
We pulled into our driveway. My husband unloaded the cooler and hiking boots. I carried the suitcase to the laundry room, loaded the white clothes into the washer, added soap and turned it on. Home three minutes and the washer was working its magic. I got two loads done in just over two hours — mostly because the jeans needed some extra dry time. When I went to bed Sunday night, all the clothes were washed, dried, folded and ready for closets. Sweet dreams to me!
And that's the Best Travel Tip Ever!  Will you give it a try the next time you travel?
Do you have a great travel tip that saves time and/or frustration? Please share it!!!! I love hearing from you!