MacGyver of family travel
Call me the MacGyver of family travel! For young readers, MacGyver is a fictional spy from the late 1980's who used all sorts of everyday tools to get the job done. No gun required. I'm certain that if MacGyver wrote a travel blog, he'd include these three packing essentials too. Curious? Read on!
Binder Clips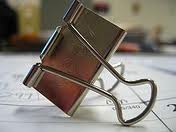 As the self-proclaimed MacGyver of family travel, I recommend these little beauties for their versatility. Binder Clips are so useful that I give them as wedding gifts! True. Some things I use them for during travel include:
Chip clips — keeps snacks, cookies, and cereal fresh.
Shade makers — clip a beach towel to the edge of the umbrella to provide more shade.
Beach towel anchor — keep the towel from blowing off my chair.
Paper organizer — holds necessary papers together better than a paper clip
Garbage bag holder — clip a garbage bag to the pocket on the back of the front car seat so kids can get to it easily
Emergency belt — yes, it's true! We forgot our daughter's belt one trip and used a binder clip to tighten her skirt. 🙂 Shhhh…. don't tell.
Ziploc Bags
Of course, you don't need the MacGyver of family travel to tell you these little guys are handy for snacks! Did you know that ZIPLOC Double Zipper Bags do so much more, including:
Ice pack — just add ice to treat bumps, bruises and sunburns!
Laundry bag– pack wet clothes for the trip home in a gallon size bag so other items stay dry
Carry-on organizer — when we travel by plane, each family member packs emergency essentials in a gallon size bag. Sickness, food spills and travel interruptions are easier to manage with fresh clothes. Bonus: the dirty clothes can be repacked in the bag keeping other items clean.
Collections — kids love to collect things. Why not give them a bag to control the size of the collection?
Barf bag!
Receipt storage — instead of carrying all the travel receipts in wallet or purse, keep them in a ziploc bag. After vacation, everything needed to reconcile the credit card statement is in one convenient place.
Medical Tape
Moms might carry band aids for small cuts and abrasions when traveling, but the MacGyver of family travel knows First Aid Cloth Tape is the real hero! It can be used for:
Treating larger scrapes — medical use, of course!
Keeping an ice pack in place
Replacing a belt (yep — I did that once too. Our daughter is really thin and, apparently, I am quite forgetful!)
Securing luggage — overpacked bag? Broken zipper? Medical tape packs small but holds strong.
Fixing a shoe
Repairing broken glasses
With these three little items packed in your luggage, you can be a MacGyver of family travel, too. I am quite willing to share the title!
Do you have a suggestion that any worthy MacGyver of family travel should always carry? Do share!
Happy travels!