When planning a vacation to major cities like New York or San Francisco, famous public parks fall naturally into the vacation plan. Can you imagine visiting Manhattan without seeing Central Park? Or my favorite, Bryant Park! In San Francisco, The Presidio and the Yoda Statue rank up there with Golden Gate Park and its famous bridge. While these aren't exactly where you go for "cheap family vacations," public parks are a great way to stretch a tight vacation budget.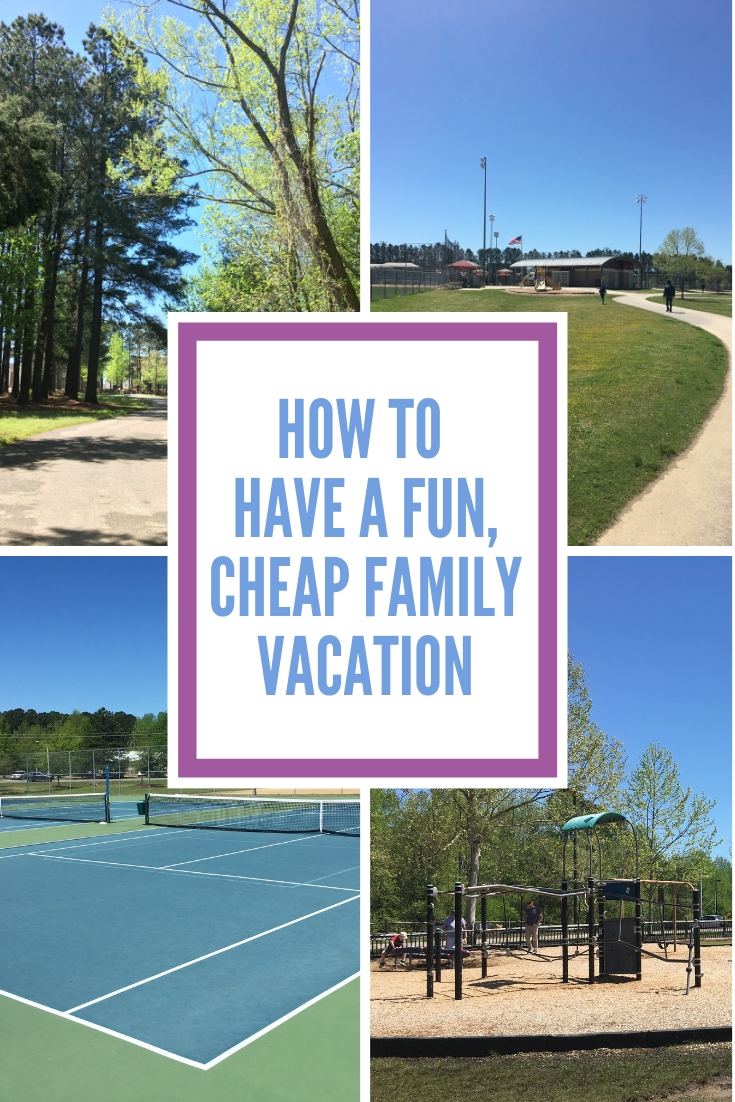 Of course, national parks and state parks are another natural choice for vacationers. A family can plan a whole vacation at a national park, or take a driving trip to visit several. And, many state parks have become vacation destinations as well, like Gulf State Park in Alabama.
Park visits are a great addition to a family vacation itinerary, even if they aren't world famous! In fact, when it comes to cheap family vacations, public parks are a wonderful budget stretcher!
We visited a city park in Tampa on our first vacation with our son, then 18 months old. He was done with the beach. More accurately, I was tired of trying to keep him from eating sand. He was intimidated by the ocean. And, there's only so much one can do with an 18 month old at a swimming pool. So, we ventured out with an old fashioned paper map (this was way before smart phones and digital cameras) to a community park with a little kids' playground, walking trails and lots of trees. He had a ball.
Ever since, on longer vacations, we've found public parks to enjoy all over the country. We even take day trips on staycations to parks in the Triangle area.
Public parks: Perfect attractions for cheap family vacations
Communities are investing more in outdoor space for their residents, creating public parks that provide services for all.
Our local community park has tennis courts, sand volleyball pits, walking trails, playgrounds, picnic tables and grills, and baseball fields. When our kids were younger, they loved going to the playground. I loved the chance to catch up with friends while they played. Now, it's usually just the dog and me at the park, walking the shaded trail. All of these great amenities are available to everyone, absolutely free!
While community parks are popular spots for family reunions or birthday parties, these same features make them a great place to visit on vacation.
Many public parks have special features for young kids like dedicated play spaces for small kids, splash pads to beat the summer heat, and educational trails that hardly resemble classroom learning.
A growing number of communities are creating accessible public parks so all people have access. These parks have ramps instead of stairs, specially equipped swings and play equipment and easy to maneuver ground coverings.
Why add a public park to your cheap family vacation itinerary
Besides being incredibly budget friendly — public parks are usually free — they are also a great place for kids to unwind. Vacations tend to be filled with hectic schedules, attractions and new experiences. Kids have to sleep in strange beds which don't smell or sound like home. They have to mind their manners at restaurants, or at the very least try. They spend a lot of time in the car not knowing what's coming next. In reality, kids have very little say over what happens on vacation.
Even though they're fun, all that new experience stuff asks a lot of a kid!
Spend an afternoon at the public park and kids get to be kids. They know playgrounds. They know how to swing, slide and run. A trip to the community park gives them the chance to do something they understand without having to think too much about it.
For parents, a couple of hours swinging, playing catch in a field or walking along a trail provides time to chat and connect with kids in a familiar environment. You might even find trips to public parks among your favorite vacation moments.
One time, when our younger son was really into skateboarding, we surprised him with a trip to a public skateboarding park on Hilton Head Island. The skate parks near our house all required admission fees, so he only boarded in the neighborhood. When we pulled into the parking lot, he saw the ramps and squealed. He was even more thrilled when my husband joined him for some skating fun…. on that one, I was happy to stay with our little one and the stroller!
How to make your public park visit feel special
"Famous" public parks like Central Park, The Presidio, and Bryant Square, share some common features. They all have a variety of things to do — from trails, to playgrounds and open spaces. They also have features that make a visit feel special — like food stands and space to play board games. Now, I'm not suggesting a marathon game of Monopoly at the park. I don't want to chase that fake money all over every time the wind blows!
But, you can play games at any park. A box of sidewalk chalk will turn any concrete spot into a giant tic-tac-toe board or hopscotch board. The family can be divided into teams for a game of frisbee football. Or, take advantage of tennis courts and volleyball nets to play games.
Here are some things we take to public parks for family bonding! (Affiliate links are included for your convenience. Click here for our disclosure policy.)
Most parks have picnic tables and grilling areas. Pack a picnic dinner and cook over hot coals. Finish the meal off with s'mores or with this amazing, easy to make alternative: S'mores Nachos!
Read our post on how to pack a cooler for a day trip (with bonus chicken recipe)
Or, you can get food from a carryout restaurant and keep it easy!
How to find great public parks wherever you travel
Wherever we go, I like to scope out free and fun things to do. Now, I could sit here and research every town across the map to make lists for you — and I might get to the town you're visiting in 100 years or so. Since that's not going to help you — or me, since I want to see more than my computer screen — here are my insider secrets to finding free things wherever you go. And you don't have to do this just for cheap family vacations — we spent a glorious afternoon at a neighborhood park in Paris, France several years ago.
Check with the local convention and visitors' bureau. Just "google" the name of the city + CVB and it will pop right up. Use their search bar to find public parks.
Check the town government website for a list of parks. Park links in most government sites will include the park features like tennis courts, playgrounds, restrooms and splash pads.
Ask Facebook! Really. In the search box enter parks + the name of the town. Many have facebook pages or posts where you can learn more. When searching on Facebook, you are more likely to find out about special events at parks and/or park closures.
Ask yelp. On their site or their app, type in parks near me or parks + town name. You'll get lots of information from people who have been there.
Check TripAdvisor. While this site is often used to check hotel reviews, you can search for free things to do just about anywhere. Use their "things to do" tab to find parks wherever you go.
And there it is, my favorite insider tip for great, cheap family vacations! Do you ever go to community parks when you're on vacation? Have you got a favorite park? Please leave a comment below. I'd love to know about it!