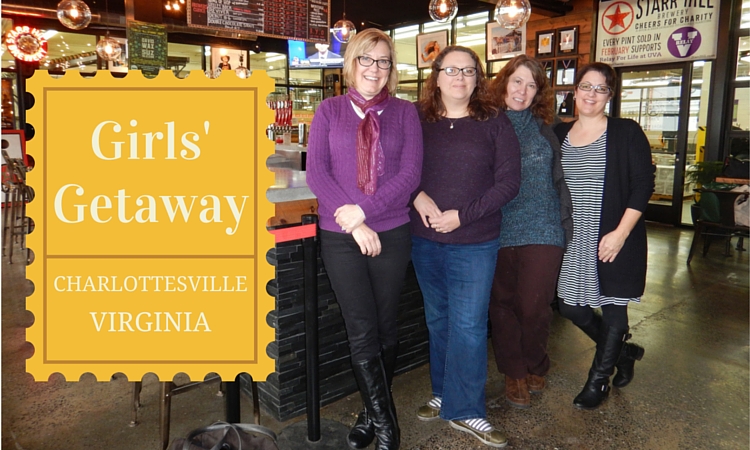 Charlottesville getaways are perfect for friends who need a little break! I should know, I've been there twice for a getaway for friends! I love Charlottesville because it offers so much to do, so many wonderful and unique places to eat and a wide array of places to stay!
A couple weeks ago, I got to go with three of my favorite blogging friends to enjoy a Charlottesville getaway, writer style! We had a blast — it's Charlottesville, thus impossible not to have fun. AND the other ladies are three of my absolute favorites to work with.
In the photo (L to R): Me, Deb of Just Short of Crazy,
Pam of Simply Southern Mom and Liz of Eat Move Make
This getaway was part work, part retreat (yes, we talked blogging strategy) and a large part play! With graduations, a wedding and two college changes coming up for my boys, this getaway was also my big chance to relax before the chaotic spring descends on me. I couldn't think of a better place than Charlottesville or better friends than these for this adventure!
Over the next three Mondays, I'll be posting a series on Charlottesville so you can plan a great getaway too! Today's post features some of the best lodging options in the region. From there, we'll discuss food and fun!
Lodging in Charlottesville
This historic city, also home to the University of Virginia, offers a wide variety of lodging options to suit any budget. We enjoyed a luxury stay at the Clifton Inn and a night at The Graduate, a funky boutique hotel. Of course, all the chain hotels have properties here, too. Whatever your budget or interest, Charlottesville getaways are easy to plan — there's something here for everyone!
Luxury lodging in the historic area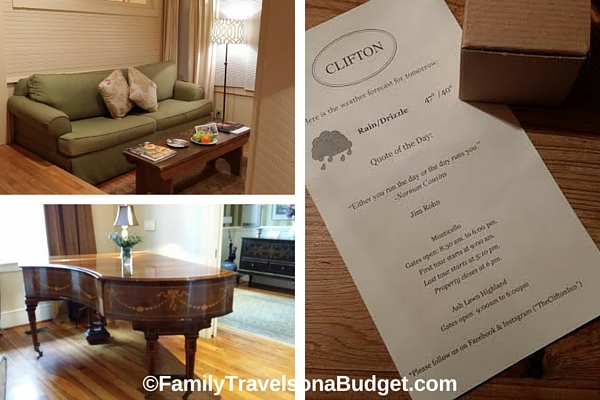 For the ultimate in pampering luxury, I highly recommend the Clifton Inn for your girlfriend getaway! Located just outside the city limits and convenient to the art trail and historic spots, the Clifton Inn offers 17 individually designed rooms and suites on a 100-acre property overlooking the Blue Ridge Mountains. The Inn's dining room has wide windows to take full advantage of the views, as well as a cozy fireplace and a fun chef's table in the kitchen. The property has hiking trails, a lavish outdoor pool, and even a croquet lawn to entertain guests. The Inn also offers an afternoon tea including fruit and finger sandwiches — think Downton Abbey! It's a great place to escape everyday life and be spoiled a little bit.
Budget Tip: While the Clifton Inn is a luxury hotel, weeknight specials (particularly in winter) mean you can enjoy all the luxury for about $150/night! Rooms sleep two and suites sleep up to four.
Funky lodging near the UVA campus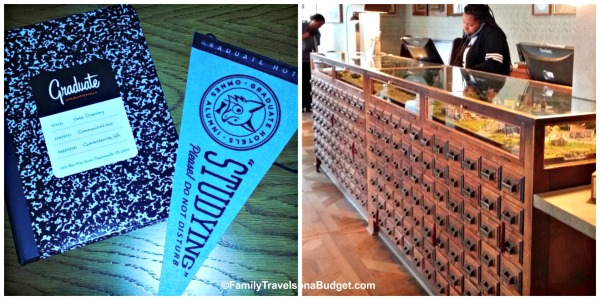 The Graduate Hotel, located on the edge of the University of Virginia campus is the perfect spot for those looking for a funky, fun getaway! This boutique hotel offers spacious rooms with retro decor — with really comfortable beds! The hotel is inspired by our founding fathers, with a nod toward Colonial Americana — an eclectic mix of old photos and prints, cameo silhouettes and collegiate fun. If you're like me, you'll chuckle at the thoughtful decor (my personal favorites were the bedside phone and the "do not disturb" sign) and the fun key cards!
The hotel has a spacious lobby with a coffee bar, a game room and a soon-to-be finished rooftop space. Those looking for a great hangout close to all the offerings at UVA will appreciate a stay at The Graduate.
Budget tip: Current specials include a credit to use at the coffee shop and complimentary valet parking.
Spacious lodging in the heart of the city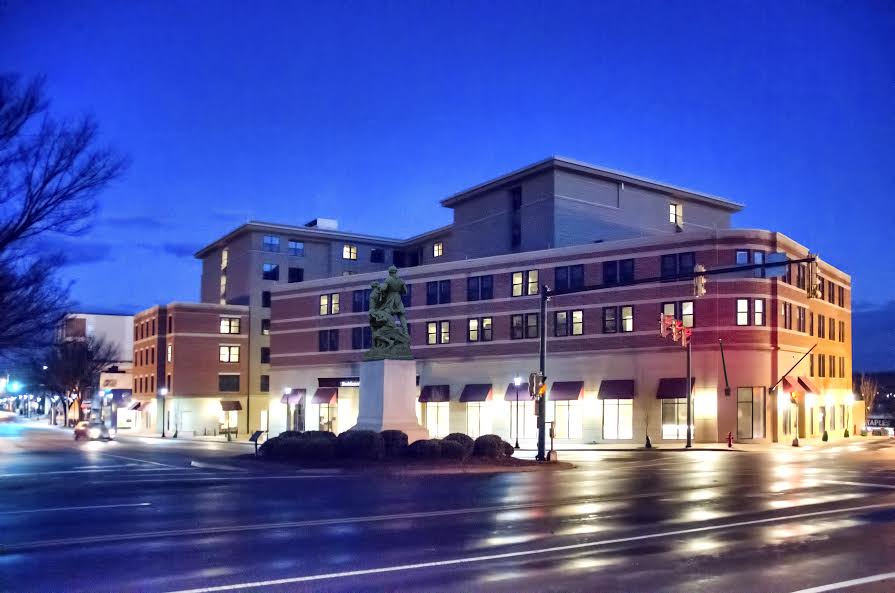 Sometimes travel writers get a sneak peek — and in Charlottesville, it's an exciting peek indeed. A new Residence Inn is coming to town, perfectly situated at the top of Market Street and across the street from the popular "Downtown Mall." Marriott's Residence Inn brand is geared toward business travelers, with conveniences like wifi, a spacious lobby with lots of cozy seating nooks, breakfast daily and casual offerings weeknights. Particularly wonderful for a getaway, each suite offers a comfortable seating area, full kitchen and dining area — perfect for talks late into the night.
Insider's Tip: The hotel's unique design includes two amazing corner, 2-bedroom suites that offer panoramic views and loads of space to relax. Trust me, we all volunteered to come test it out when the hotel opens in April. These suites are ahhhhh-mazing!
Of course, these are just three of the many options for a girlfriend getaway in Charlottesville. To learn more about other luxurious inns in the Charlottesville area, click here or here. Another great hotel consideration for Charlottesville getaways is Hyatt Place, located near the Shops at Stonefield — with shopping, dining and entertainment just outside your door.